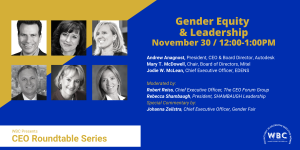 This session of the CEO Roundtable Series – "Gender Equity & Leadership" took place on November 30th at 12pm EST. This special panel of executives discussed the importance of leading with a gendered lens, and how to incorporate gender equity practices into our workplaces.
Featured speakers included Andrew Anagnost, President, CEO & Board Director, Autodesk; Mary T. McDowell, Chair, Board of Directors, Mitel and Jodie W. McLean, Chief Executive Officer, EDENS. The session will be moderated by Robert Reiss, Chief Executive Officer, The CEO Forum Group and Rebecca Shambaugh, President, SHAMBAUGH Leadership. Johanna Zeilstra, Chief Executive Officer, Gender Fair, provided special commentary.
Missed the live event? Watch the recording, here!