Flipping the Script on Private Company Board Diversity
April 27, 2021 -
April 27, 2021
7:00 pm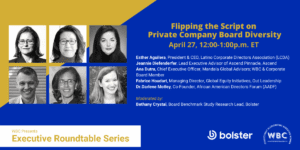 On April 27th WBC hosted an event  in partnership with Bolster about the important role Independent Directors play on private company boards – and how we can ensure more gender and diversity on private company boards.
This session covered: – Bolster's recently released Board Benchmark report of the latest findings on the state of private company boards when it comes to gender, age, and race/ethnic diversity – How VC and PE firms can leverage diverse organizations to connect with board-ready talent to help their CEOs – How the most diverse boards have been structured and built, and the role that investors play in this process.
The event featured Bethany Crystal, Board Benchmark Study Research Lead, Bolster in conversation with Esther Aguilera, President & CEO, Latino Corporate Directors Association (LCDA); Jeannie Diefenderfer, Lead Executive Advisor of Ascend Pinnacle, Ascend; Ana Dutra, Chief Executive Officer, Mandala Global Advisors; WBC & Corporate Board Member; Fabrice Houdart, Managing Director, Global Equity Initiatives, Out Leadership and Dr.Darlene Motley, Co-Founder, African American Directors Forum (AADF).
Missed the live event? Watch here!