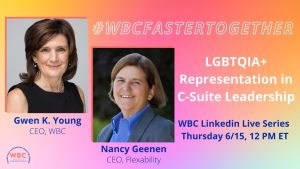 The WBC LinkedIn Live Series presents: NANCY J GEENEN – LGBTQIA+ Representation in C-Suite Leadership
As the Visionary and CEO of Flexability, a Best for the World in Governance B-Corp, Nancy drives the culture and strategy of this social impact workplace consulting firm. Nancy champions diversity, equity, and inclusion in the workplace. She believes that company culture drives growth and profitability.
Nancy developed a global equity lens while working in Geneva, Switzerland as a Senior Legal Officer at the United Nations. Her team of 12 legal professionals from 10 countries negotiated or adjudicated over 10 billion in construction and engineering claims filed by 400 businesses from 45 countries.
The SF Business Times named Nancy to the Bay Area Most Influential Women in Business for eight consecutive years and to the first class of its Hall of Fame.
Join us Live on LinkedIn for this important conversation!