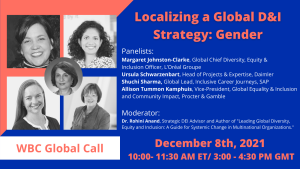 On December 8th, 2021, WBC hosted our 2021 end of year Global Call on Diversity and the first of these four sessions on "Localizing a Global D&I Strategy." This call focused specifically on gender, along with celebrating the launch of Dr. Rohini Anand's new book. The topic of gender, diversity and inclusion is of great interest to many of our global corporations and will deliver impressive insights into how global companies localize their global D&I approaches to maximize impact and benefit for their employees, companies and communities in many countries around the world.

We were honored to host Margaret Johnston-Clarke, Global Chief Diversity, Equity & Inclusion Officer, L'Oréal Groupe; Shuchi Sharma, Global Lead, Inclusive Career Journeys, SAP; and Ursula Schwarzenbart, Head of Projects & Expertise, Daimler; Allison Tummon Kamphuis, Vice-President, Global Equality & Inclusion and Community Impact, Procter & Gamble as panelists for this event.

All four events are chaired by our global Advisory Council co-chairs: Anja Skvortsova, Johanna Zeilstra, and Dr. Heidi Kleinbach-Sauter.

Dr. Rohini Anand, former SVP Corporate Responsibility and Global Chief Diversity Officer of Sodexo and author of the new book ""Leading Global Diversity, Equity and Inclusion: A Guide for Systemic Change in Multinational Organizations," moderated the event as our global subject matter expert featuring special commentary from WBC CEO, Edie Fraser.

Missed the live event? Watch the recording, below!