Mayors Taking the Lead to a Reimagined Future: Job Creation That Supports Small Business and Brings Our Cities Back to Prosperity
April 28, 2021 -
April 28, 2021
7:00 pm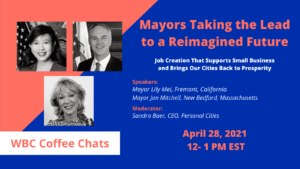 On April 28th, the Women Business Collaborative was proud to host a stimulating and encouraging conversation with two top Mayors in the US—Lily Mei of Fremont, California and Jon Mitchell of New Bedford, Massachusetts.
Sandra Baer, a Vice-Chair of the WBC Leaders Council, asked each Mayor to share their ideas and the actions they have taken to bolster their city's economy, create new jobs and support small and medium enterprises across their community, especially for women and women of color. Both Lily and Jon are considered "Leadership Mayors," exemplary in planning for a technology-rich future while always putting people first!
Missed the live event? Watch here!