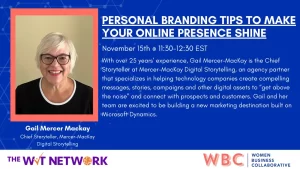 Join the WBC on November 15th at 11:30 AM ET for an event on Personal Branding with the WIT Network.
With over 25 years' experience, Gail Mercer-MacKay is the Chief Storyteller at Mercer-MacKay Digital Storytelling, an agency partner that specializes in helping technology companies create compelling messages, stories, campaigns and other digital assets to "get above the noise" and connect with prospects and customers. Gail and her team are excited to be building a new marketing destination built on Microsoft Dynamics. The software platform encourages partners to become great content marketers and storytellers with templates, workflows, education and data-driven dashboards. Mercer-MacKay Digital Storytelling is ranked as one of the Top 100 Best Companies to Work For in Canada.
As the creator of the Mercer-MacKay Digital Storytelling Digital Executive Program, Gail and her team help business executives establish a thought leadership communications plan and then execute on that plan to drive digital connections and engagement across LinkedIn. In this session, Gail will share the framework, approach and best practices for attendees to establish their own plan and take charge of their online narrative.
Watch the Replay Here: