STEM Leaders Challenge Convention in Collaboration with MWM
March 8, 2021 -
March 8, 2021
7:00 pm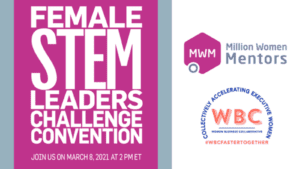 Hear from a cross-sector of leaders on how we can actively choose to challenge stereotypes, fight bias, broaden perceptions, and choose to challenge convention.
The emcee for this virtual event is Sheila Boyington, the President/CEO of Thinking Media/Learning Blade; National States Chair for Million Women Mentors; and an Advisory Council Co-Chair for Women Business Collaborative.
Co-hosts are Dr. Jo Webber, Founder and CEO of Pod and President of STEMconnector, and Edie Fraser, the CEO of Women Business Collaborative.
Mini-keynote speeches on the "Importance of Women in STEM for Leadership Roles" will be provided by: Cliona Murphy – Vice-President, Global Quality Assurance, PepsiCo; Dr. Mary Croughan – Provost and Executive Vice Chancellor, UC Davis; and Dr. Heidi Kleinbach-Sauter – Member Board of Directors at Chr. Hansen Holding A/S Denmark, Member Board of Directors at Royal Unibrew A/S Denmark.
A panel discussion will be moderated by Lakshmi Eleswarpu, CIO and Advisory Board Member of WBC, on the topic of "How Mentoring or Having a Mentor Impacts Careers." Panelists included: Gabriela Gonzalez – Deputy Director, Intel Foundation; Dr. Maria Velissariou – Global Vice President Corporate R&D and Chief Science Officer at Mars, Incorporated; and Dr. Rolanda Wilkerson – Principal Scientist and Senior Manager of Scientific Communications, Procter & Gamble.
The Lieutenant Governor of Delaware, Dr. Bethany Hall-Long, will provide the Call to Action to advance
women and girls in STEM.
Missed the live event? Watch the recording here!