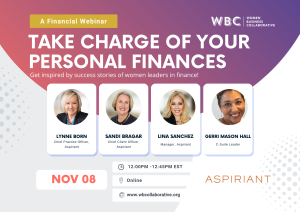 For executive women, money can be a vehicle to your vision of success, passion and pursuing your life dreams. In this 3-part series "Take Charge of your Personal Finances," Aspiriant and WBC discuss how to take charge of your financial future. We'll cover connecting your financial goals with your values, how to build a financial plan, share practical tips for actually accomplishing what's on your list and monitoring of your investments and other critical disciplines.  
Whether you're in the midst of a career transition or professional liquidity event, managing newfound wealth or navigating a divorce, arm yourself with actionable tools and a framework to embrace your financial future. Join us to connect with a community of like-minded women, share experiences and explore the building blocks to your own personal financial success. 
Please sign up for one or all of our 45-minute sessions as your interest and schedule allows, when registration becomes available. The sessions are designed to build upon each other and also stand alone. All sessions will be recorded and available for playback. 
---
Session #1:  Connect your financial goals to your values 
Wednesday, November 8 | 12:00 p.m. – 12:45 p.m. ET
In Session 1, "Connect your financial goals to your values," we discuss the two sides of money: the technical side and the emotional side. We'll demonstrate how to engage with your personal finances through productive money conversations and highlight the importance of developing value and purpose-driven goals for your financial plan through our "Slices of Life" survey.
Since your capital extends beyond just your finances, we'll discuss how you can harness your financial and human capital to forge a meaningful and satisfying path for yourself, your loved ones and the causes that hold significant meaning in your life.
Lynne Born, Sandi Bragar and Lina Sanchez of Aspiriant will lead this discussion with special guest, Gerri Mason Hall, of WBC's Board of Directors.
About your hosts:
Lynne Born Lynne Born is Chief Practice Officer for Aspiriant, where she leads all client service offerings encompassing client growth, strategic planning, service delivery and optimal resource allocation. Lynne has more than 25 years of experience in the high-net-worth space previously serving as CEO, Partner and President with high net worth accounting and wealth management firms. She is a frequent keynote speaker and panelist, and is one of the co-founders and Chair of Strategy of the Women Business Collaborative and previously Chair of Watermark, the premier networking group in Silicon Valley.
Sandi Bragar is Chief Client Officer and Partner at Aspiriant, co-host of the Money Tales podcast and a convener of women's financial literacy circles. Sandi was named as one of Forbes America's Top Women Advisors and Best-In-State Wealth Advisors in 2021. Sandi regularly shares her knowledge with the public and our profession, having been quoted by numerous media outlets, including CNBC, Bloomberg TV and Radio and the Wall Street Journal.
Lina Sanchez, manager in wealth management at Aspiriant, brings more than a decade of experience within the financial services industry and serving high-net-worth individuals and families. Lina is a member of Aspiriant's Women Taking Charge and Liquidity Events committees and serves as a subject matter expert on marriage and divorce for the firm. Lina volunteers for several organizations that promote financial literacy and women's empowerment. 
Gerri Mason Hall is a C-suite leader with more than 25 years of experience in Diversity, Equity & Inclusion. Gerri currently leads The P3 Team supporting select clients in refining their purpose and designing solutions for challenges related to their people. Her previous leadership roles include Vice President, Global Diversity, Inclusion and Belonging at NetApp and Chief Diversity Officer at Sodexo and Amtrak. A lifelong champion for diversity in the workplace, she has served on the boards of UNCF and Generations United.