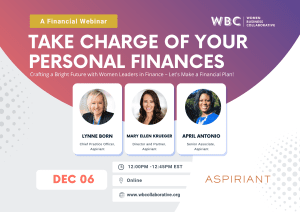 For executive women, money should be a vehicle to your vision of success, passion and pursuing your life dreams. In this 3-part series "Take Charge of your Personal Finances," Aspiriant and WBC discuss how to take charge of your financial future. We'll cover connecting your financial goals with your values, how to build a financial plan, share practical tips for actually accomplishing what's on your list and monitoring of your investments and other critical disciplines.
Whether you're in the midst of a career transition or professional liquidity event, managing newfound wealth or navigating a divorce, arm yourself with actionable tools and a framework to embrace your financial future. Join us to connect with a community of like-minded women, share experiences and explore the building blocks to your own personal financial success.
Please sign up for one or all of our 45-minute sessions as your interest and schedule allows, when registration becomes available. The sessions are designed to build upon each other and also stand alone. All sessions will be recorded and available for playback.
We like to keep our community abreast of all of our education opportunities, so please feel free to forward to someone in your network who could benefit from this topic. All women, regardless of experience level, could benefit from our conversation.
Session 2: Let's Make a Financial Plan
In Session 2, we'll discuss how to become empowered to make smart financial decisions through a long-term, intentional and focused financial plan.
In Session 1, "Connect your financial goals to your values," we discussed the two sides of money: the technical side and the emotional side. We demonstrated how to have productive money conversations and develop value and purpose-driven goals for your financial plan through our "Slices of Life" survey.
You've worked hard to get where you are today. How can you leverage your financial and human capital to get you where you want to go in the future?
Using real-life stories and through practical application, we'll discuss how to:
Use your Net Worth statement as a planning tool
Understand how your asset allocation is a lever to help secure your long-term financial future
Proactively plan for the unexpected and untimely
Feel confident making important financial decisions
Lynne Born, Mary Ellen Krueger, and April Antonio of Aspiriant will lead this discussion.
About your hosts:
Lynne Born Lynne Born is Chief Practice Officer for Aspiriant, where she leads all client service offerings encompassing client growth, strategic planning, service delivery and optimal resource allocation. Lynne has more than 25 years of experience in the high-net-worth space previously serving as CEO, Partner and President with high net worth accounting and wealth management firms. She is a frequent keynote speaker and panelist, and is one of the co-founders and Chair of Strategy of the Women Business Collaborative and previously Chair of Watermark, the premier networking group in Silicon Valley.
Mary Ellen Krueger is a director in wealth management and partner at Aspiriant. For more than 20 years, Mary Ellen has been helping high net worth clients with concentrated wealth, multi-generational planning, stock option planning, retirement planning and philanthropic legacy planning. She works with many women in transition, corporate executives, retirees and business owners. She has been named to the Forbes Best-in-State Wealth Advisor and Top Women Wealth Advisor lists in 2021 and 2022. Mary Ellen is a TEMPO Milwaukee member, serving as director of the TEMPO Foundation Board.
April Antonio is a senior associate in wealth management at Aspiriant and a Certified Financial Planner® with over 15 years of experience in the financial sector. She is an active member of the Association of African American Financial Advisors and the Financial Planning Association – East Bay Chapter. Her passions include spreading financial literacy and helping women of color succeed professionally.