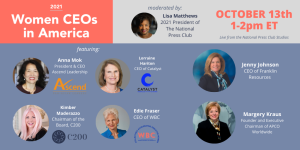 Thank you for joining the Women Business Collaborative (WBC) LIVE from the National Press Club Studios for a special virtual event commemorating the release of the 2021 Women CEOs in America Report!
Moderated by 2021 National Press Club President, Lisa Matthews, the WBC was proud to bring together a panel of CEOs and Chairs from our organizations partnering to produce this report – Anna Mok, President & CEO of Ascend Leadership; Lorraine Hariton, CEO of Catalyst; Kimber Maderazzo, Chair of the Board of C200; Edie Fraser, CEO of WBC.
The panel also included women CEOs featured in the report itself. Jenny Johnson, CEO of Franklin Resources and Margery Kraus, Founder and Executive Chair and former CEO of APCO Worldwide joined WBC for an engaging conversation on what the 2021 report means and how to increase the number of Women CEOs moving forward.
Missed the live event? Watch the recording here!