WBC Executive Roundtable Series: CEOs and the Data Speak —D, E, & I in the Investment Management Industry
March 18, 2021 -
March 18, 2021
7:00 pm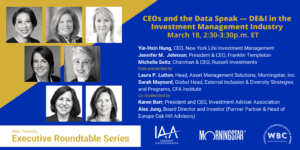 WBC, the Investment Adviser Association, and Morningstar were pleased to co-host an Executive Roundtable to discuss diversity, equity, and inclusion (DE&I) in the investment management industry in honor of Women's History Month. The investment management industry must address the issues that have resulted in its well documented lack of diversity and make meaningful progress. The industry leaders on this panel discussed the latest data on women in the industry and the path forward to accelerate change.
Co-Moderators: Karen L. Barr, President & CEO, Investment Adviser Association and Alex Jung, Board Director, Investor and Strategic Advisor (former Partner and Head of Europe at Oak Hill Advisors)
Panelists: CEO panelists: Yie-Hsin Hung, CEO, New York Life Investment Management; Jennifer M. Johnson, President & CEO, Franklin Templeton and Michelle Seitz, Chairman & CEO, Russell Investments. Data panelists: Laura P. Lutton, Head, Asset Management Solutions, Morningstar, Inc. and Sarah Maynard, Global Head, External Inclusion & Diversity Strategies and Programs, CFA Institute.
Missed the live event? Watch the recording here!