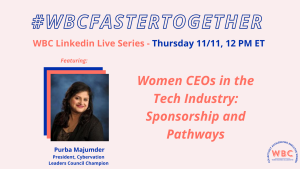 On November 11th, WBC COO, Gwen Young, interviewed Purba Majumder, President of Cybervation and a champion of the WBC Leaders Council!
This session focused on women CEOs in the technology sector – one of the most underrepresented industries for women and women of color, especially on an executive level. This important conversation centered the pathways and sponsorship opportunities women in the technology sector have, and how organizations like the WBC are working to make them more accessible.
Watch the recording on Linkedin, here!
Or on Youtube, below