WBC x IBM: Voices of Diverse Women Weaving a Movement for the Future
March 23, 2021 -
March 23, 2021
7:00 pm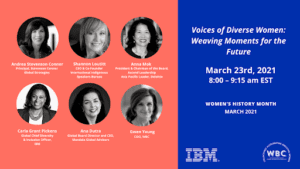 On March 23 at 8am EST WBC and IBM came together for a global conversation on how to weave a diverse movement for gender equity. We discussed how all diverse women and men can work together to build equitable pathways, truly engage, and work together to promote women's leadership. Sponsored by IBM.
Moderator: Gwen Young, COO, WBC
Speakers: Carla Grant Pickens, Global Chief Diversity & Inclusion Officer, IBM; Andrea Stevenson Conner, Principal Stevenson-Conner Global Strategies; Anna Mok, President & Chairman of the Board, Ascend Leadership Asia Pacific Leader, Deloitte; Shannon Loutitt, CEO & Co-Founder International Indigenous Speakers Bureau; Ana Dutra, Global Board Director and CEO, Mandala Global Advisors
Missed the live event? Watch the recording here!