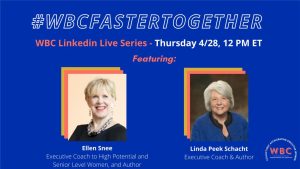 On Thursday, April 28 for the next session of our hashtag#WBCFasterTogether Linkedin Live series! Next week we will be joined by best-selling author Dr. Ellen Snee EdD and Linda Peek Schacht to discuss Ellen's new book Lead: How Women in Charge Claim Their Authority.
"I encourage women to listen to themselves and to each other and to try to emphasize what they know to be true. We have to undo the impact of a culture that has led us to self-silence." – Dr. Ellen Snee EdD
Click below to watch the recording.