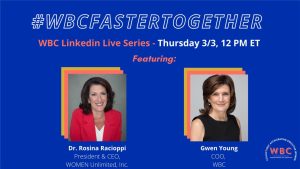 Join Dr. Rosina Racioppi, President and CEO of WOMEN Unlimited, Inc., and Advisory Champion, on March 3rd for the next session of the #WBCFasterTogether Linkedin Live series at 12 pm ET.
She will be joined by WBC's very own COO, Gwen Young for a conversation on building and strengthening the pipeline. Tune in to see how the WBC is working to elevate women.
What the Recording Here!