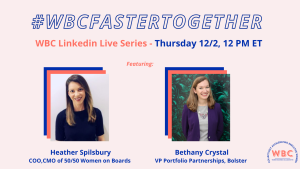 Gwen Young, COO of WBC hosted Heather Spilsbury, COO/CMO of 50/50 Women on Boards, and Bethany Crystal, VP of Portfolio Partnerships at Bolster on Thursday, December 2nd at 12pm EST for the latest session of the WBCFasterTogetherSeries.
Gwen, Heather, and Bethany discussed specific trends seen in women's leadership in executive spaces, leading to greater board diversity and opportunities for women from all backgrounds in boardrooms across the world.
50/50 Women on Boards and Bolster are WBC Partner Organizations, and we are honored to have them both join us in the fight to achieve gender parity in the boardroom.
Watch the recording on Linkedin, here!
or check it out below: