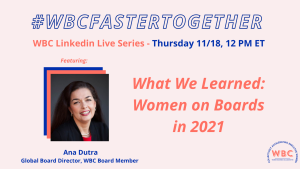 In this #WBCFasterTogether series, WBC COO Gwen Young hosts a special conversation with WBC Board Member and Global Board Director, Ana Dutra!
Since October 2020, WBC in partnership with Equilar has been tracking the number of women appointed to public boards on a monthly basis. Now that this data has been published for a year, Gwen and Ana discussed trends and insights from these reports and what this means as we enter 2022.
Check out the recording on Linkedin here!
Or watch below: