Why are Women Leaders So Successful in These Turbulent Times? The Eight Principles of Enlightened Leadership of the ATHENA Leadership Model
March 1, 2021 -
March 1, 2021
7:00 pm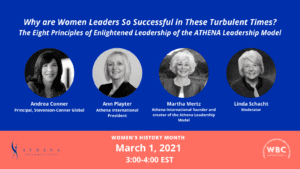 On March 1st, 2021, ATHENA and WBC hosted an event to kick off Women's History Month and take a deeper look into the ATHENA Leadership model.
Created at the cusp of the 21st century through research by ATHENA International founder Martha Mayhood Mertz, the eight principles of the ATHENA Leadership Model expanded the definition of leadership and gave us a model for these turbulent times. Thanks to those who joined Martha and former and current ATHENA International presidents Andrea Stevenson Connor and Ann Playter to explore how you can apply the eight principles to your own leadership. Attendees learned more about ATHENA International's work cultivating women leaders "from the classroom to the boardroom" to bring balance to leadership voices worldwide.
Missed the live event? Watch the recording here!