Women In The Workforce Repairing The Broken Rung
February 22, 2023 -
February 22, 2023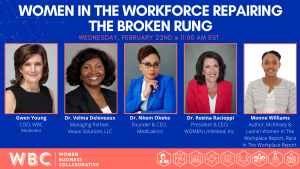 Join the WBC for our "Women in the Workforce Repairing the Broken Rung." panel on Wednesday, February 22nd at 11AM EST! Our panel comprises top HR experts and business leaders, including:
Dr. Velma Deleveaux, Managing Partner, Veaux Solutions LLC
Dr. Nkem Okeke, Founder & CEO, Medicalincs
Dr. Rosina Racciopi, President & CEO, WOMEN Unlimited
Monne Williams, Author, McKinsey Report
Within organizations, HR (or any concerned business leader) has the opportunity to influence the organization on how it prioritizes the advancement of women in their workforce. Learn more about the latest innovations in the workplace impacting both processes and perceptions of women in the workplace and why the clock is ticking for organizations to change their practices to ensure all employees have pathways to advancing. Hear the latest research, best practices and client stories on how organizations are building pathways for all women in their organization.