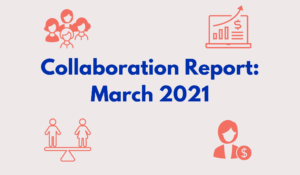 On March 30th, 2021, the Women Business Collaborative published its bi-annual Collaboration Report, detailing the ongoing progress towards the Nine Action Initiatives and their Accelerator Goals. As we continue to move towards our ultimate goal of equal position, pay and power for all women, the past six months have revealed that our alliance of partners and champions is working tirelessly towards making this a reality.
Within the CEO Leadership and Sponsorship of Women CEOs Initiative, partner organizations C200 and Working Mother Media (WMM) continue to work together on developing a pipeline for high potential women from diverse backgrounds to advance in business. In 2020, 300 women participated in this virtual program. In addition, C200 has started working with Women Presidents' Organization (WPO) and Women's Business Enterprise National Council (WBENC) to build a partnership specifically focusing on advancing women entrepreneurs. WBC, Catalyst, and C200 continue to track the data on appointment of women CEOs; the most recent percentage is at 8.4% for women occupying CEO roles.
The Women in the C-Suite and Executive Leadership with P&L Responsibility Action Initiative introduced the leadership of C200 to take on leading the Training and Learning Resource Guides and Toolkits Workstream. Meanwhile, Working Mother Media is working with the Women in the Pipeline Action Initiative to develop a white paper on best practices in succession plans. Overall, this initiative is expanding its range of influence as it will begin to share its framework for metrics and success to the larger WBC networks.
The Women in the Boardroom Action Initiative is proud to highlight its partnership with theBoardlist, as they are building a robust database of existing and prospective female Board members that can be searched by diverse sub-segments. In addition, The Latino Corporate Directors Association is preparing to release a report in May 2021 detailing their monthly reporting on women in the boardroom within each US state. WBC and Equilar publish a monthly report detailing how many women are appointed to the boards of public companies and which companies and industries are leading the way in appointing women to fill board seats. On average, women comprise 40% of monthly board appointments and at the end of 2020 women held 21.5% of total board seats.
The Women in Technology Action Initiative is designing a pilot certification program for companies that will center on creating a path to C-Suite or comparable executive positions for women. As this program is being developed, a specific curriculum will be incorporated to include and recruit BIPOC women.
This spring, the Women the Pipeline Action Initiative will release a Resource Repository Guide – a list of services offered by WBC partner organizations from recruitment to succession planning to diversity, equity and inclusion training. The guide is broken down into six categories: (1) broad consulting on DE&I (2) recruiting services, (3) succession planning and leadership development services, (4) inclusion consulting and services, (5) measurement consulting, and (6) sponsorship/allyship consulting and services, spanning a vast array of industries and possibilities.
Overall, this report demonstrates that the WBC is gaining traction in building multi-organizational collaborations and tools that will make a difference in the lives of businesswomen and women in the workforce for many years to come.