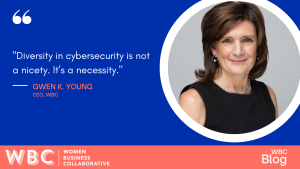 Women cybersecurity leaders are needed and their inclusion and expertise can reap huge benefits. As has been proven across the business landscape, a more diverse talent pool provides varied and creative thinking; skill sets are especially needed to stay ahead of cyberattacks which are becoming more frequent and more severe.
Diversity in cybersecurity is not a nicety. It's a necessity.
While women make up 51% of the population, they account for less than 24% of the cybersecurity workforce. At the same time the need for cyber experts grows. Attracting, training, developing, and advancing women is an opportunity that works to the advantage of the women themselves, corporations, and the country as a whole. With the number and severity of cyberattacks continually on the uptick, galvanizing women to the profession is a major strategy for avoiding cyber disasters.
Encouraging and supporting women to consider cybersecurity as a career opportunity and to stay with it once they are there, will go a long way to averting a cybersecurity crisis of global proportions. And it's not just about the volume and frequency of attacks.  The attacks impact communities and reverberate globally. Hackers and other actors are becoming more diverse in their approaches and disruptions, creating a greater need for different points of view on how to avert cyberattacks.
4 Strategies for Attracting and Retaining Women in Cybersecurity
Here are 4 relatively easy-to-implement strategies that can go a long way to solving the cybersecurity talent shortage.
Create better pathways for women already in the field to advance and grow

.

Women in tech leave the industry two times more than their male counterparts, often because they do not believe there is growth and advancement for them. Stopping that exodus is crucial. By creating an environment through dialog, feedback, and development where career advancement in cybersecurity is not a long shot, but a reality for women, we can keep more women in the field, and eventually see significantly more of them advance to C-Suite levels.

Look beyond the tech talent pool.

The skill sets needed for success in the cybersecurity arena are often prevalent across a wide range of areas. For example, risk assessment, data analysis, strategic thinking and planning are highly translatable to the cyber tech field.  By recruiting and training women who have shown these skills in other disciplines and by assuring them that their talents offer numerous opportunities for growth, we can take a major step towards simultaneously advancing women of talent and confronting the cyberattack crisis.

Focus on DEI.

In order to meet the demand for cybersecurity professionals, it is not enough to focus on women in general. Organizations must ensure that their recruiting, training and advancement initiatives look to women of color, Latinas, women of diverse ethnic backgrounds and women from the LGBTQ community. These women are severely underrepresented in the profession and can play a key role in assuming positions from entry level to C-Suite.
Individualize strategies and opportunities.

It's clear that women are far more taxed by the combined responsibilities of home and profession. For the cybersecurity profession to attract and retain this talent pool, where there is already a reluctance among women, flexibility is key. Corporations must provide options for when and how women work, offer caregiving assistance, and allow realistic care and parental leave for both men and women.
I am proud to say that WBC is a major driver in achieving these goals. We provide on-going information and resources to create diversity, equity and parity in the cybersecurity field. Our tech partners include leaders from the cybersecurity profession, and we are continually working to create resources that detail best practices for informing women of the advantages of a career in cybersecurity; and for retaining and advancing them once they are there.
Most notably, in partnership with DDN and with sponsorship from the Gula Foundation, we have established the Women Cyber Governance Collaborative (WCGC) with the dual mission of equipping women board members with the capability to deal with cyberattacks and of increasing the number of cyber-savvy women in leadership roles.  Click here to learn more about these 100 leaders. 
In short, WBC is committed to ensuring diversity and inclusion are key strategies in solving cybersecurity's acute talent shortage!
Gwen K. Young
CEO
WBC
###