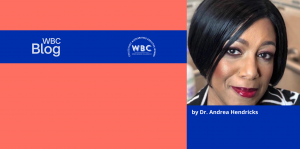 The topic of diversity, equity, and inclusion (DE&I) is complex, and it has many facets. It's important for organizations to leverage the multiple identities of employees who devote time and energy driving results within an organization. We know that diverse and inclusive organizations are high performing and more agile. In fact, the Women in the Workplace study by McKinsey finds that gender diverse companies are 15% more likely to outperform their respective national industry medians. This allows everyone to see new opportunities with diverse perspectives and bring new ideas to the table that help grow business that otherwise would not be present. Organizations like the Women Business Collaborative (WBC) are accelerating progress towards gender parity, with acute focus on women of color and DE&I goals and initiatives.
Without question, 2020 was a challenging year for everyone. The pandemic, along with social and civil unrest and targeted violence against the Asian American community has brought the dynamics of racial inequality to the forefront of our attention. These inequalities play out in both large and small ways in our daily lives, and they intersect at race, gender, sexual orientation, and many other factors.  Based on what is happening with DE&I in our country and communities – diversity engagement, satisfaction, and retention have been national concerns at all levels of organizations. We are living in different and difficult times.
During my formal college education, I studied human development, psychology, and counseling. One central focus of my studies was around human behavior. I researched how humans behave in certain situations in environments and the impact of those situations on outcomes. That extensive educational background set up my discovery around diversity over the past 20 years in corporate America. As a WBC Advisory Council Champion, I've been able to continue applying this interest and collaborating with others in the field, so we reach our shared goals.
DE&I can mean different things and must be treated differently when developing strategy in the workplace.  There is now a sense of urgency in many organizations to launch or fully capitalize on DE&I efforts to drive its value equation. Organizations want to ensure that their bottom-line results show and reflect the comprehensiveness and integration of diversity in their overall strategy. Sometimes this comprehensive effort poses challenges of how to get started or refreshed.
With our changing demographics, diverse employees come from a wide range of backgrounds and pursue a variety of career goals. What benefits a diverse employee from one background may not benefit an employee from another background. Organizations must be prepared to address these rapid changes in backgrounds and needs. Increasing our knowledge and understanding about the history of race and gender in the workplace can lead to greater awareness, appreciation, and, hopefully, enhanced behavior in action towards the importance of diversity, equity, and inclusion in organizations.
One area for leveraging best practices in the workplace is intersectionality. Most organizations have not leveraged intersectionality to bridge the gap with diverse employees, especially race and gender. Most programs continue to isolate employee's diversity dimensions rather than integrate them seamlessly into the organizational culture. We define intersectionality as the acknowledgment that our social identities overlap and intersect to form new, more specific identities. In addition, intersectionality is defined as the ability to engage and value the full range of diversity dimensions–primary dimensions and secondary dimensions for success.
I believe intersectionality is connected to "Mattering". How a person matters in the workplace is important. Mattering means that an individual contributes in a unique way, feels that they can make a difference, and is contributing to the greater good of the organization–I am seen, acknowledged for my talents, and appreciated. Multicultural talent and women at all levels want to matter. The statistics are staggering: women of color make up 18 percent of entry level jobs, 12 percentage points lower than white women; and for every 100 entry-level men who are promoted to manager, 68 Latinas and 58 Black women are promoted. We need to do better for all women and this starts with organizational change.
In 2020, Cerner launched eight Associate Business Resource Groups to ensure we bring central focus on intersectionality. Two signature groups to help us advance this work enterprise-wide are the Women in Action and MOSAIC African American groups.  These groups educate, inspire and empower through mentoring, networking and community engagement events and help attract and retain top minority and women talent. In 2020, we conducted an analysis to look at our progress on balancing workforce representation across the last three years and includes reviewing data leveraging the intersectionality lens of our associates.  We will continue to systematically review all talent processes across the talent lifecycle from recruitment to exit to detect and proactively address any structural inequality. By leveraging diversity in the workplace, more organizations are creating breakthrough innovative efforts that will last a lifetime.
I am so honored to be a part of the WBC movement because it enables us to leverage a national coalition of women leaders and allies to advance the important work of gender equity.  We (the collaborative) need to make this country a better place to live and work for women and minorities.  We have a greater responsibility to make a difference and WBC is poised and already making a major difference in so many ways.