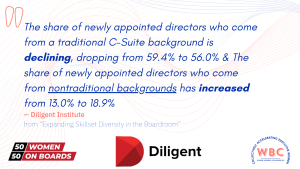 The following is an excerpt from the Women Leading Boards April 2022 Special Report – In Partnership With 50/50 Women On Boards™. Click here to view and download the full report.
In the wake of unprecedented changes to the way companies do business over the last few years, board composition has shifted as a result. As part of its interview-based Ask a Director series, Diligent Institute heard from directors that companies sought to bring fresh perspectives into the boardroom to make more efficient and agile decisions. More than a year after the COVID-19 pandemic began, Diligent's report, Beyond the C-Suite: Trends in Director Skill Sets, assesses how the desire to bring new perspectives into the boardroom impacted director appointments.
Of particular interest: Whether boards were appointing more directors from nontraditional skill set backgrounds, that is, those who have not held CEO, CFO or COO roles, but have backgrounds in technology, marketing, sales, legal, human resources (HR) or environmental, social or governance (ESG) Diligent looked at director appointments in three key regions: the United States, the United Kingdom, and Australia since the beginning of 2019
Our Analysis
Since the beginning of 2019, the share of newly appointed directors who come from a traditional CEO / CFO / COO background is declining, dropping from 59 4% to 56 0% Over the same time period and in the same regions, the share of newly appointed directors who come from nontraditional backgrounds has increased from 13.0% to 18.9%.
The results are even more interesting when analyzed by gender While newly appointed directors from CEO / CFO / COO backgrounds are twice as likely to be men, newly appointed directors with nontraditional backgrounds are at parity with their male counterparts Meanwhile, women represent the majority of new appointments in technology and marketing, and the vast majority of new appointments in HR and ESG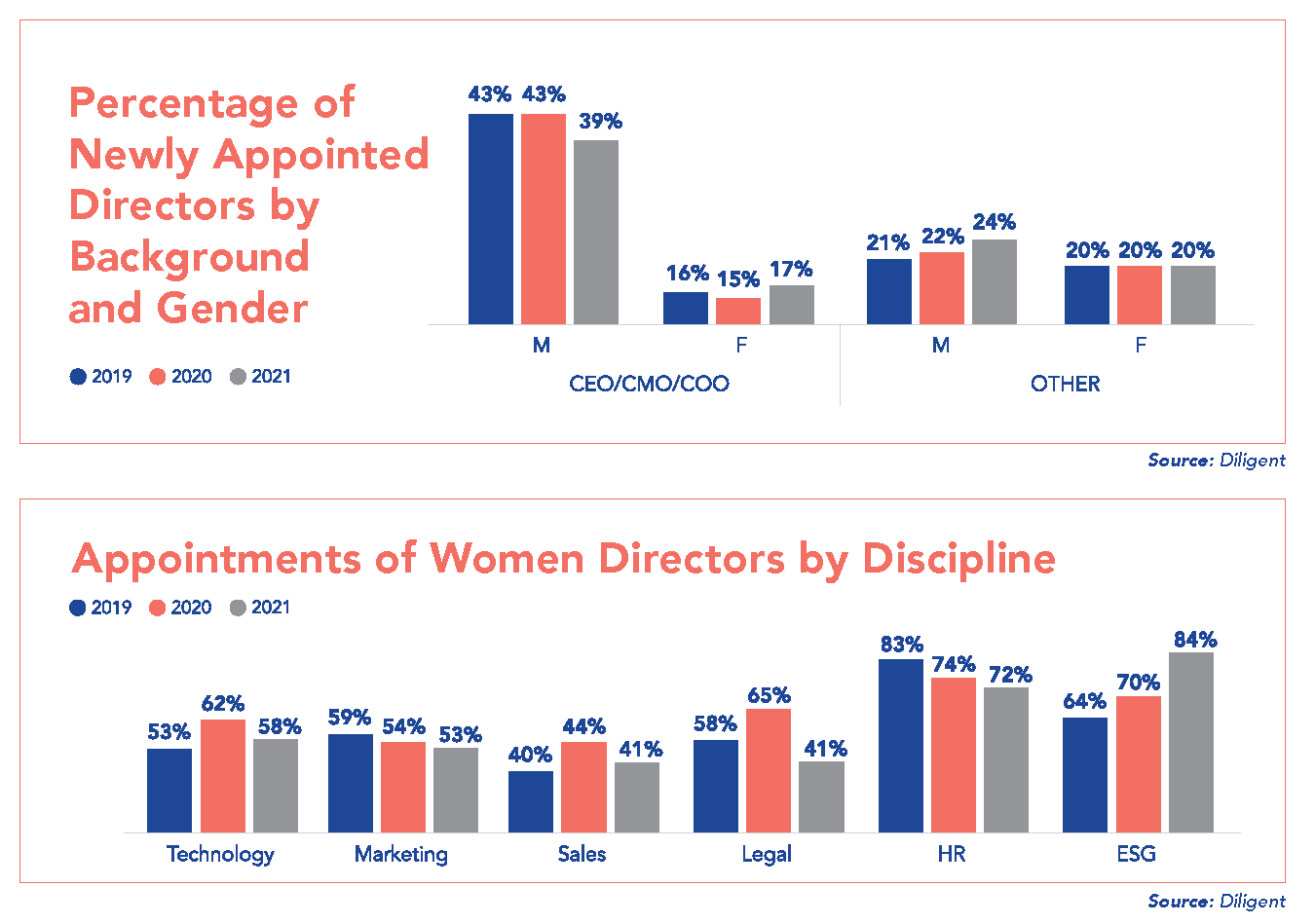 As shown above, for every nontraditional discipline aside from sales and legal in 2021, the majority of new nontraditional director appointments are women.
The percentage of new technology appointments who are women has moved from 53% in 2019 to 58% in 2021 The percentage of new appointments with marketing experience who are women has stayed above 50% since 2019.
Meanwhile, women represent the vast majority of new director appointments with HR and ESG backgrounds For new director appointments with HR backgrounds, women accounted for 83% in 2019 and 72% in 2021 The proportion of new appointments with ESG backgrounds who are women has been steadily rising over the last two and a half years, increasing from 64% in 2019 to 84% in 2021
In examining the data, we observed:
The global pressures on companies to increase the gender and ethnic diversity of their boards has, perhaps unintentionally, impacted director skill set diversity.
Since so few women and ethnic minorities have held roles as CEOs, CFOs, or COOs of major listed companies, as companies recruit and appoint women and ethnic minorities to their boards, they are also onboarding more directors from nontraditional professional backgrounds.
Further, there is a trend towards increasing diversity in the nontraditional backgrounds of woman directors, which may point to boards becoming more inclusive In the past, boards have responded to calls for increased gender diversity by looking to add directors with backgrounds where women have historically held leadership positions, such as HR and Marketing.
The trend towards a more diverse set of nontraditional backgrounds suggests that boards are widening the aperture of competencies that they look for in woman directors.
This, in turn, is an early indicator that boards are becoming more inclusive, acknowledging the value of diverse opinions, not just trying to meet diversity expectations.