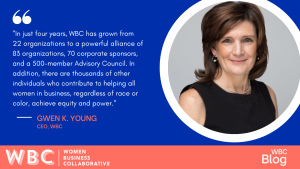 It seems fitting that I'm assuming the role of CEO of Women Business Collaborative (WBC) during Women's History Month. It's a reminder of all the talented, passionate women, both past and present, who have made my professional journey possible. 
High on my list of women to thank and to celebrate is Edie Fraser, the founder and founding CEO of WBC. It's been my pleasure and honor to work with Edie and WBC for over two years.  My move to WBC was intentional. With more than two decades of experience in driving change for global gender equity at leading organizations dedicated to public service, I saw WBC as my next logical step. Its collaborative model, based on change and movement in the marketplace, told me that WBC would be a major catalyst for advancing gender parity and power. And I was right.
WBC: A Four-Year Success Story
In just four years, WBC has grown from 22 organizations to a powerful alliance of 83 organizations, 70 corporate sponsors, and a 500-member Advisory Council. In addition, there are thousands of other individuals who contribute to helping all women in business, regardless of race or color, achieve equity and power.
WBC celebrates successes, highlights best practices, and addresses shortcomings through programs and summits and by publishing and disseminating a broad range of resources, including:
A full day of programming to advance gender parity, equity, and inclusion across the business landscape on March 8

th

, International Women's Day

The DEI Snapshot, a repository of DEI reporting, a data dashboard on published DEI statistics, and a listing of the most transparent companies.

Ground-breaking reports monitoring and championing the rise of women to the C-Suite and to Boards.

A White Paper, based on the experiences of 20 C-Suite women,  highlighting the variety of ways women can plot their own pathway to top management.
In short, we are striving to change the corporate landscape by being in the forefront of every major issue that impacts equity and parity for women in business. 
Looking ahead
In collaboration with our amazing alliance of companies and individuals, I will strive to build on WBC's successes to date and continue to ensure that all women in business, at all levels, in all industries achieve parity, equity, and power.  
Here's a snapshot of what's at the top of my agenda:
Showcase best practices in building corporate purpose,equity and inclusion across all businesses including the Fortune 500, smaller companies, not-for-profits, private equity and wealth management firms, law firms and colleges and universities.

Grow the number of individuals and corporations in our coalition who actively work for diversity, equity, and inclusion across the business landscape. 

Ensure we work to achieve the goals we've defined for our 9 Action Initiatives.

Continually monitor, with the help of our diverse alliance of individuals and organizations, the political, social, and economic issues relevant to our efforts.
WBC and I can't address this agenda alone. We will continue to rely on the partnership of like-minded individuals and organizations who are committed to making a difference for women in business.
Please take a look at our website and see how your talents and your passion can be put to work in advancing DEI. We have a long way to go, but your involvement can speed up our progress. It's why we say: #WBCfastertogether!
Gwen K. Young
CEO, Women Business Collaborative
P.S. One final note.  I am happy to report that Edie will continue her relentless efforts on behalf of equity, parity, and power for all women in business as Chair of our Board. It is one more step in her career-long commitment to driving DEI.