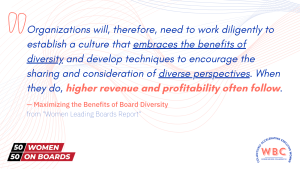 The following is an excerpt from the Women Leading Boards April 2022 Special Report – In Partnership With 50/50 Women On Boards™. Click here to view and download the full report.
Even though women currently drive a significant majority (85%) of all purchasing decisions and increasingly serve as subject matter experts for business-critical issues such as ESG and workforce engagement, the benefits of adding women to boards may be muted if all board members are not comfortable sharing their insights or if those insights are not incorporated into the decision-making process.
Organizations will, therefore, need to work diligently to establish a culture that embraces the benefits of diversity and develop techniques to encourage the sharing and consideration of diverse perspectives. When they do, higher revenue and profitability often follow. A recent report by BoardReady found that companies with more than 30% of board seats occupied by women delivered better year-over-year revenue in 11 of the top 15 S&P 500 sectors than their less-gender-diverse counterparts. Fifty-four percent of these gender-diverse companies delivered positive year-over-year revenue in 2020 compared to 45% of the companies with lower gender diversity. Similarly, a recent Credit Suisse report found that companies where women made up at least 15% of senior managers had more than 50% higher profitability than those where women's representation was less than 10%. This is precisely why companies such as Grant Thornton, AT Kearney and HP are creating their own programs to support women's service on boards. Too often, board diversity initiatives are side programs led by external stakeholders. To be effective, existing board members, together with the CEO of the company, must be intentional and actively engaged to bring more women to the table and foster their development as leaders. Accelerating board diversity requires bold action from a range of stakeholders. Below are pragmatic steps each group can take to help advance diversity:
What Corporations Can Do to Further Encourage Diversity:
Sponsor and advocate for rising woman leaders, including diverse women. One inroad to building a robust pipeline of future women leaders is to develop and mentor women and women of color earlier in their careers. At Upwork, for example, the company's BetterUp Leadership Program gives visibility on the areas in which leaders are thriving and those that present the biggest opportunities for growth. The program focuses on the whole person, supporting its leaders' personal and professional development. Leaders are matched with a specialized coach that helps them craft tailored goals and action plans.
Similarly, at Hewlett Packard Enterprise, CEO Antonio Neri has implemented a talent review program that evaluates and develops talent across the enterprise and provides rotation opportunities. This enterprise-wide mindset and process drives visibility for high-potential women leaders across HPE. The Ready Now program was spearheaded by the Board to prepare high-performing women who are senior level leaders—but not necessarily C-suite yet—to occupy Board seats. The program has been so successful that HPE's 2022 cohort is being expanded to go beyond women and include other diverse groups.
Make Board openings more transparent through promotion of the roles and enlist professional associations or affinity organizations for help to identify diverse board candidates.
Consistently measure results and report on the company's workforce and board diversity progress.
Recognize subconscious and unconscious bias, racism, or practices that discourage women of all races to advance in their careers and provide training.
Expand and/or create flexible work environments to retain women, including women of color.
What Women Can Do to Claim Their Seat at the Table:
Create shareholder and stakeholder value. That board seat on your local nonprofit may be an easy director appointment to come by, but does it best serve your long-term professional aspirations? Instead, challenge yourself with mission-critical and high-profile assignments throughout your career, particularly those with P&L responsibility, to demonstrate your readiness to lead.
As you consider new opportunities, perform diligence around whether your current our future employer supports senior women occupying board positions and/or has programs to develop their senior women and help them to get on boards. If not, be sure to invest in yourself, and add value to your company, by asking your employer to fund programs that advance your career.
Find a more senior champion (male or woman) who can help you advocate for yourself and expand your network with introductions.
Advocate for, and mentor, other women, including women of color.
Actively engage with organizations, such as those listed in the Resource Guide (beginning on page 41), whose educational programs and resources strategically accelerate women, including women of color, to leadership positions and boards.
Self-identify your race, ethnicity, gender to help push boards to disclose diversity reporting.
How Men Can Be Allies and Promote the Advancement of Women:
Embrace cognitive, skill set and demographic diversity.
Today, diversity can be a key competitive advantage, directly impacting a company's bottom line. Beyond demographic diversity, encourage the recruitment and advancement of candidates who add new professional backgrounds, skills, and experiences that help meet the company's strategic and operating needs; and introduce new views, perspectives, and approaches to problem solving.
Actively mentor, sponsor and promote women, including women of color, to leadership positions.
Recruit women, including women of color, to lead high-profile projects.
Identify unconscious or direct biases and address them.
Call upon women, including women of color, in open discussions to create an environment that encourages collaboration, and actively listen and implement their recommendations.