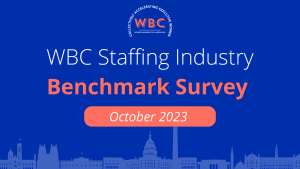 As part of our efforts to achieve gender diversity and equality across the staffing industry, we conducted a survey to canvas the current status of gender diversity across staffing companies. This included insight into diversity across the workforce, the executive ranks, and board of directors.
This dashboard provides an interactive tool to help analyze the results of our survey. In this dashboard, you will find both a macro perspective of gender diversity across all occupations on a national basis, as well as specific survey results from respondents in the staffing industry.
We believe the first step in achieving progress around diversity and equity within our industry is understanding where we are today. We hope this creates the dialog that will drive progress in the near future.