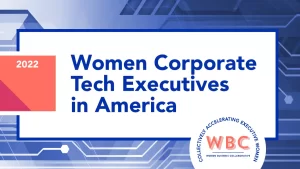 The following is one of several insights available in the newly released Women Corporate Tech Executives in America Report from the WBC
Technology is one of the defining strategic issues of our time. It influences every decision an organization makes. And yet, organizations still struggle to advance digital transformation as many leaders are tempted to chase "shiny objects" in the form of new technologies. It is imperative for organizations to resist such distractions and lead efforts with an integrated strategy rooted in business goals and enabled by technology capabilities.
Many C-Suite leaders still have a knowledge gap in understanding how and what technology can achieve. On the flip side, within the technology function, there are tech leaders with proven technical expertise, but little understanding of how technology creates business value. Therein lies both the mandate and the opportunity for organizations to increase the overall tech leadership and tech savviness of the C-Suite.
Parameters for Tech-Fluent Leadership in the C-Suite
Tech leadership in the C-Suite cultivates an environment where executives know how to advise their stakeholders, teams, and peers on the "so what?" and "now what?" of new technologies, regardless of where these executives sit within the organization. Tech-savvy leaders across an organization are better able to address critical questions such as "What is our business strategy and what technologies will support our business goals? Why should we invest? Are we ready? What would we have to do to get ready?"
A tech-fluent leader ultimately can converse strategically on the use and impact of key technologies to create better business outcomes and lead their teams to think along the same lines. The baseline goal of tech fluency and tech upskilling programs is to develop a depth of understanding of today and tomorrow's technologies and how they can be applied across the organization.
The Benefits of Having BOTH Tech-Savvy Boards and Tech-Savvy C-Suites
Early findings from Deloitte's 2023 Global Technology Leadership survey shows that roughly three-quarters of CxOs indicated their organization's board of directors encourages C-Suite leaders to aggressively pursue technology enabled opportunities for competitive advantage. Additionally, 64% indicated that technology is a key agenda item at most or all board meetings.
Having a tech-savvy board, in addition to a tech-savvy C-Suite, helps to facilitate a common language between the board and management, helping drive more productive engagement and improved company performance. Specifically, such companies experienced, on average, 5% greater revenue growth over a three-year period, and 8% better stock performance year over year, over three-, five-, and 10-year periods, than companies with non-tech-savvy boards.
Specific to C-Suite tech leadership, a recent CMO survey found that 62% of CMOs recognize that marketers could improve impact by effectively leveraging technology to pursue growth opportunities and using data insights across channels. CFOs also recognize that technology investments are critical. According to Deloitte's 2022 Q1 CFO Signals Report, 40% of CFOs indicated that the most important enterprise transformation their company was undertaking or planning to undertake was technology related or included IT systems upgrades. Many CFOs noted challenges related to legacy systems, a lack of business acumen among IT professionals, and a lack of tech savviness within the finance organization.
Resolving the Organization-Wide Tech Savvy Gap
Beyond the C-Suite, many organizations are looking to develop a workforce who can address business challenges and opportunities through tech solutions. However, most businesses are facing a highly competitive environment for tech talent as growing demand—particularly in AI and cybersecurity—increasingly outpaces the number of qualified candidates to fill such roles.
To address this challenge, tech fluency programs can help fill such critical high-demand tech and business roles. For example, Deloitte's Cloud Institute, reskills and upskills professionals from other functional areas and across varying levels to build a diverse pipeline of non-traditional IT candidates with in-house skills to fill tech roles. The Institute has created one of the most skilled cloud technology workforces in the professional services industry.
As the pace of technology innovation and the demand for technology services accelerate, organizations are trying to realize as much value as possible from their technology functions. C-Suite leaders have an important role in enabling such a future cultivating a tech fluent organization. The tech-savvy business can drive forward their stalled digital transformation efforts and achieve more successful outcomes through a unified technology strategy that aligns transformation needs and investments to business goals.