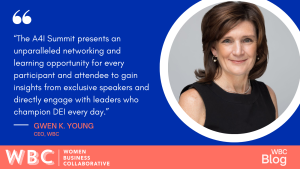 As we enter September, we are less than three weeks away from the 2023 WBC Action for Impact (A4I) Annual Summit. Our annual event, being held virtually this year on September 20-21, provides a unique forum to discuss innovations in driving gender equity and diversity across industries, with WBC partners, corporate sponsors, CEO and Trailblazer awardees,  advisors, board members, entrepreneurs, women leaders, and so many more.
The A4I Summit is about how we are driving impact. Together, we will spend two days exploring how companies are driving diversity, equity, and inclusion; the impact our efforts to promote more women into the C-Suite, as well as explore the latest innovations accelerating the business movement for equal position, pay and power for all women in business. 
Honoring Those Making a Difference in the Movement
Our annual event allows us as a community to celebrate those who have paved the way for change and driven impact. We will honor ten visionary CEOs who have taken bold steps to advance gender equity and diversity within their companies. We will also recognize six extraordinary trailblazers, including U.S. Secretary of the Treasury, Dr. Janet Yellen, who have shattered barriers and blazed new paths within their professions, their communities and beyond. 
Hear from over 80 Leading Voices in DEI and Corporate Purpose
The A4I Summit is set to feature an exceptional lineup of over 80 speakers who will participate in interactive panels, breakout sessions, brief Impact Talks, and unique interview formats. Program topics will range from women in cybersecurity to  growing diversity in the C-Suite to how women are leading efforts to turn the sports industry on its head.
Every Voice Counts, and that Includes Yours
The A4I Summit presents an unparalleled networking and learning opportunity for every participant and attendee to gain insights from exclusive speakers and directly engage with leaders who champion DEI every day. 
This summit will give each of you the tools you need to return to your workplace and take action to create change and drive impact. This is our opportunity to come together as a community, committing our time to innovating together on best practices, and equip organizations and companies with the tools required to push our mission forward. 
Since our founding, WBC has and continues to work tirelessly towards creating inclusive workplaces, establishing policies and systems where women can thrive and excel in the business world, and true to our mission, we will not rest until there is equal position, pay, and power for all women in business. 
Register to join with me on September 20-21, and together let's taken the action needed to achieve the impact we all deserve.