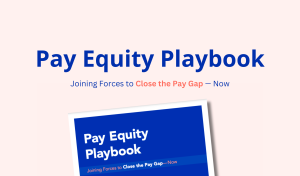 WASHINGTON, DC (October 24, 2023) – Women Business Collaborative has issued a groundbreaking guide that calls on all companies to work towards pay equity and includes real-time, tangible action that companies, organizations, and governments can take immediately to expedite narrowing the pay gap.
"Our Pay Equity Playbook demonstrates why the time for real change is now, along with concrete actions that companies, organizations, and governments can begin implementing today," said WBC CEO Gwen K. Young. "While there has been progress, the last 30 years have seen the amount American women earn for every dollar that a man earned go from $0.72 to $0.82. At this rate, women won't see pay parity until the year 2059, and if you're a woman of color, your grandchildren might see it by the time they retire in 2123."
The Pay Equity Playbook, a collaborative effort with our key partners, also issued the Pay Parity Proclamation, a call to action for all companies, organizations, and governments to take specific steps now including:
Internally publish all pay bands for all employee levels

Publish an analysis of both raw and adjusted pay gaps for women and underrepresented populations and annually report progress

Adapt existing policies and processes to prevent salary history inquiries

Post salary ranges for all jobs

Prevent salary negotiations for new hires without predetermined published pay bands

Allocate all necessary funding to equalize pay for all employees.
"The Pay Parity Playbook not only lays out a clear argument for course correction, but also gives organizations a comprehensive play by play approach to tackling these challenges," added Young. "By investing with intention and with an eye toward strategic collaboration, we can finally stop talking about the change still needed and actually achieve our shared goals."
For more information and to download a copy of the Pay Equity Playbook, please visit https://wbcollaborative.org/wbc-pay-equity-playbook/
# # #
About Women Business Collaborative (WBC)
Women Business Collaborative (WBC) is an unprecedented alliance of more than 80+ women's business organizations and hundreds of business leaders building a movement to achieve equal position, pay, and power for all women in business. Through collaboration, advocacy, action, and accountability, we mobilize thousands of diverse professional women and men, business organizations, public and private companies to accelerate change. For more information on the Women Business Collaborative visit wbcollaborative.org