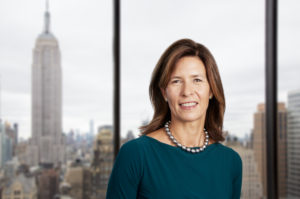 Alex Jung
Alexandra Jung is a global business leader and investor with over 25 years in the investment management and financial services sector, including executive leadership roles based in London and New York for Oak Hill Advisors, Goldman Sachs and Greywolf Capital. In addition to her deep global financial markets experience, she has extensive board experience with expertise in driving strategic change, business transformation, M&A, financing and restructuring across a diverse set of sectors internationally.
Most recently Alexandra was a Partner and Head of European Investments at Oak Hill Advisors, in addition to global portfolio management responsibilities, Alexandra led the build out of the European business, serving as Chairman of European Oak Hill boards and management committees as well as serving on the Global Investment Strategy Committee, various fund Investment Committees and the firm's Valuation Committee. Alexandra currently serves on the Board of NVR Inc. (NYSE:NVR) and serves on the Advisory Board of several private companies
Alexandra has been an avid supporter of women investors and business owners. She was recognized by 100 Women in Finance as the recipient of the European Leadership Award and as one of 50 Leading Women in Hedge Funds by The Hedge Fund Journal.  She serves as a Trustee of Bucknell University. She is frequently quoted in Bloomberg and other financial press in addition to being a frequent speaker at industry leading conferences.  She holds an MBA from Kellogg and a B.A., cum laude, from Bucknell University. As a lover of surfing, boating, diving and all things ocean, she is passionate about marine conservation globally.