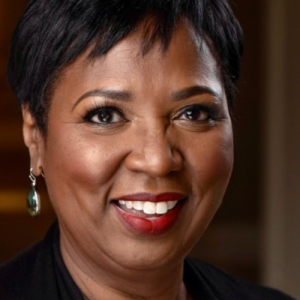 S. Kathryn Allen
S. Kathryn Allen is a banking and real estate attorney who has been involved in the real estate and financial services industries for the last thirty-five years.
She is Co-Founder and Co-President of The Answer Companies which include a real estate settlement and escrow company and a national abstracting company. With her business partner, Allen is responsible for the management and operations of all the Answer Companies, headquartered in the District of Columbia.
Allen also owned and operated Gladsyl Insurance, an Allstate insurance agency. She managed the daily operations of two offices located in the District of Columbia and Maryland. She was named to the Circle of Champions recognizing her achievement within the top 2% of all Allstate Agents countrywide in multiple years.
Allen received a mayoral appointment and served for four years as the first African American female Banking Commissioner in the country. As Commissioner, she was responsible for promoting the growth and stability ofthe District's financial institutions, licensing and regulating the banking and non-bank industry, enforcing non discrimination lending laws, and in concert with other government agencies ensuring the District's economic vitality.
Allen serves on several boards and advisory committees including Industrial Bank of Washington, International Women's Forum-DC-Treasurer, the BOW Collective-Treasurer, the Atlantic Beach, SC Planning Commission and Chairs the DMV Music Academy non-profit. She is also amember ofthe DCBlackChamber ofCommerce (DCBCC).
Allen received herundergraduatedegree fromSmithCollegewith adoublemajorinBiochemistry and AfricanAmerican Literature, went on to earn a Juris Doctor from Boston College Law School, and is a member of the Massachusetts and Washington, D.C. bars.
Married to Maurice Daniel, she is the mother of two sons, Nathan and Gladstone and a stepdaughter, Sinclair.