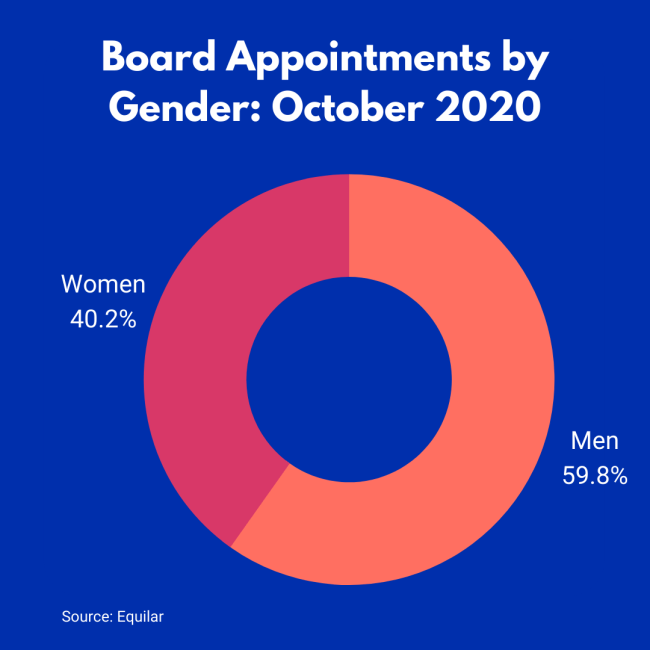 This Women Joining Public Boards report is the first time comprehensive data for women joining boards of public companies has been compiled and analyzed. This report lists and tracks women who have been named to the boards of public companies monthly. The Women Business Collaborative – an alliance of 43+ national professional organizations collaborating together to achieve equal position, pay and power for all business women – is collaborating with Equilar, the leader in corporate data, to produce this report. The WBC Women Joining Public Boards October Monthly Report, empowered by Equilar, shows a record number of women joining public boards. In October 2020, public companies appointed women to fill 125 seats, or 40.2% of seats filled—the largest number ever—including 44 women who identified as women of color. Healthcare and Tech companies led the way. In October 2020, public companies appointed women to fill 40.2% of board seats. 123 women were named to public boards last month, and two of those women joined the boards of more than one company. It is noteworthy that several high-profile women are included in the list. Among them, Valerie B. Jarrett, a former senior advisor to President Obama, was named to the Walgreens Boots Alliance Inc.; and Dr. Nancy Snyderman, a former journalist with ABC News, was named to the Lyra Therapeutics board. In October, 44 women identified as women of color with 34 identifying as African American. This is a critical measurement as diversity in business leadership is at the forefront of leadership practices in 2020. The large percentage of women of color appointed to public boards is accompanied by an increase in the number of women of color appointed to boards of companies in the Russell 3000 index. For comparison, in January 2020 no women appointed to boards of public companies in the Russell 3000 index identified as women of color while in October that number was 30.
Disclaimer
All Ethnicity data is collected through self reporting and thus percentages are calculated based on the number women who identified their race or ethnicity. In the case of October's report, 44 women self-reported their race or ethnicity.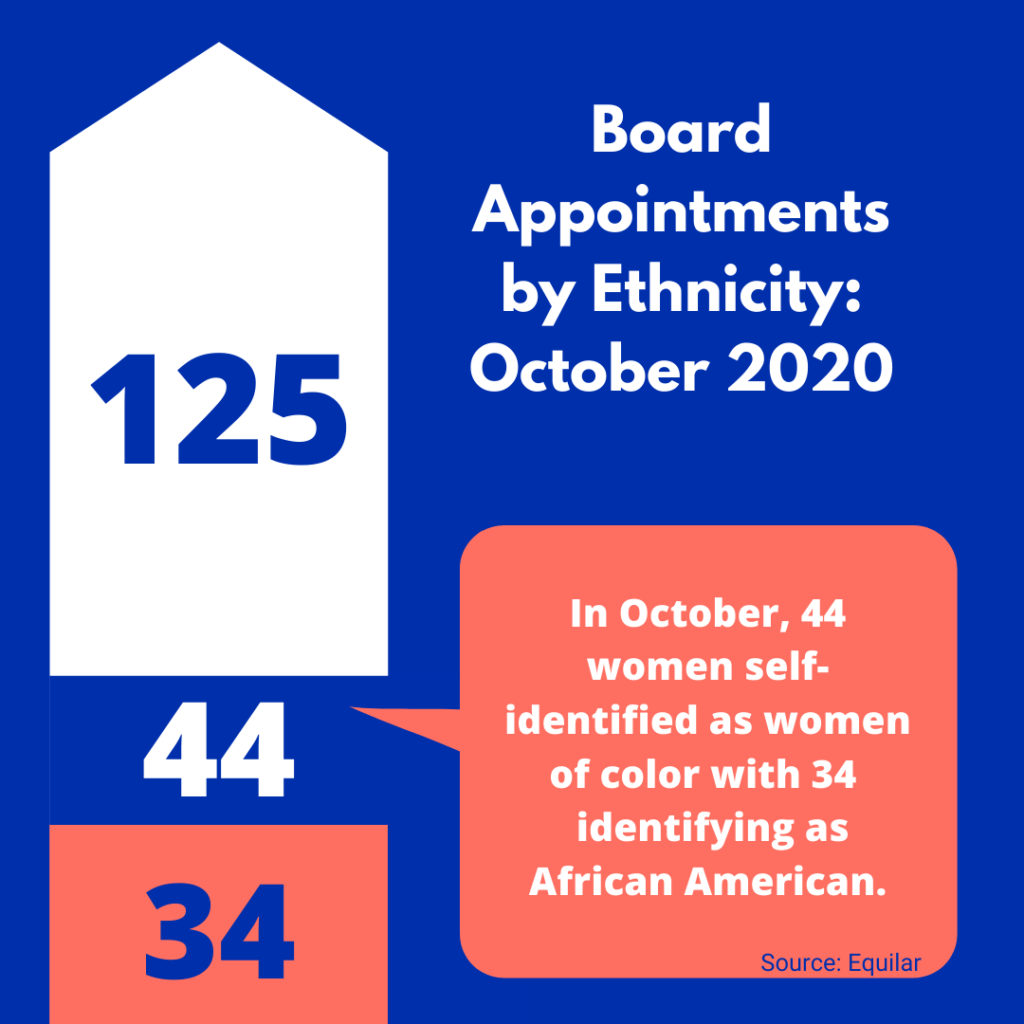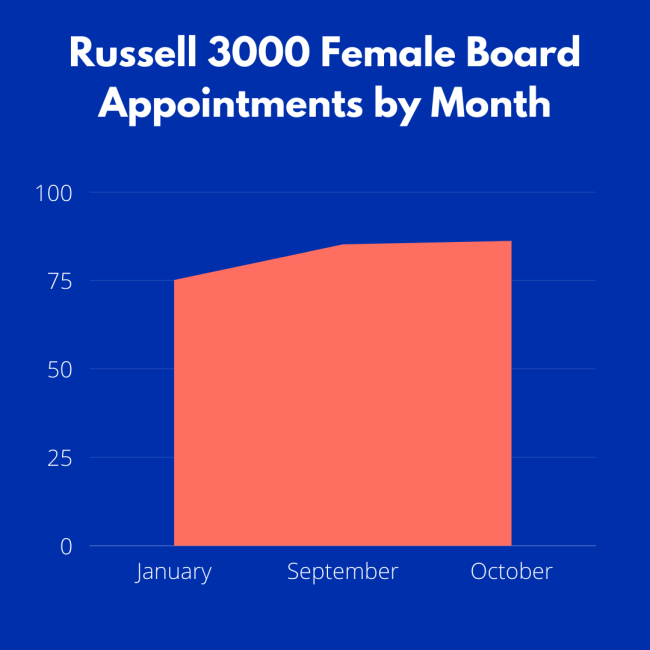 Companies named in the report represent various industries to include high-tech, biotechnology/pharmaceutical, energy and retail and more. 22% of women appointed were appointed to boards of public companies in the healthcare sector and 17.6% of women appointed were appointed to board of public companies in the technology sector. This is interesting as it includes companies like Adobe and Inuit and the trends for increasing numbers of women of color on boards continues.
The rise in the number of women appointed to boards of public companies also increases the number of seats women hold overall. According to the WOB 2020 Gender Equality index women hold 22.6% of board seats of the Russell 3000 companies prior to October. Women joined the board of 23 companies in the Russell 3000 index in October and we are working to track the share of seats women hold across not only companies in the Russell 3000 index but all public companies.
WBC will continue to track not only the women, in terms of numbers, diversity and profile; but the companies and in which industries are women board members and how many of the overall board seats are held by women. The time is now for women to sit across all companies, all boards and all sectors. Join us in tracking, analyzing, promoting and celebrating women on boards of public companies.
ABOUT WOMEN BUSINESS COLLABORATIVE
WBC is the fastest growing movement of women's business organizations, corporate partners and C-Suite leaders in the world. WBC hosts a variety of programmatic "conversations" that corporate and entrepreneurial thought leaders lead, such as the Executive Roundtable Series. WBC works to elevate female leaders into the C-Suite (especially with P&L responsibility), CEO roles, and onto boards and, in the case of female Entrepreneurs, their access to capital. Its mission: To accelerate the advancement of ALL women in business. Its vision, shared by its 43 Partner women business organizations and countless leaders, is to change the business landscape for the next generation having achieved equal pay and representation of women.
Equilar is the trusted leader for executive and board data. Its data-driven platforms, ExecAtlas, BoardEdge and Insight, provide tools for business development, board recruiting, executive compensation and shareholder engagement. Companies of all sizes, including 70% of the Fortune 500 and institutional investors representing over $20 trillion in assets, rely on Equilar for their most important C-suite and boardroom decisions. Equilar also hosts industry-leading education symposiums, conducts comprehensive custom research services and publishes award-winning thought leadership. Founded in 2000, Equilar is cited regularly by Associated Press, Bloomberg, CNBC, The New York Times, The Wall Street Journal and other leading media outlets.