December 2020 Report Summary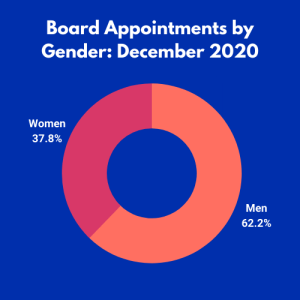 As we close out 2020 and reflect on the challenges we faced and opportunities 2021 brings, the Women Business Collaborative (WBC) celebrates good news from the private sector: the number of women and diverse women appointed to board of public companies continues to increase. This upward trend gives us hope, even at the end of a challenging year. The private sector is paying attention to the calls for diverse leadership for boards to look more like the composition of the population, communities, customers and partners.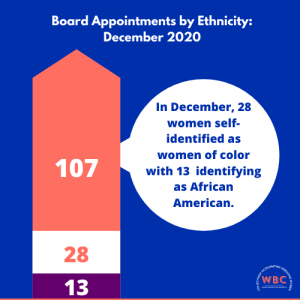 In December 2020, public companies appointed 107 women to Boards of public companies as compared to 175 men. Women comprised 37.8% of overall board appointments. This reflects an upward trend in the 4th quarter of 2020 with women comprising on average 41% of appointees.
In December, 28 women self-identified as women of color with 13 identifying as African American.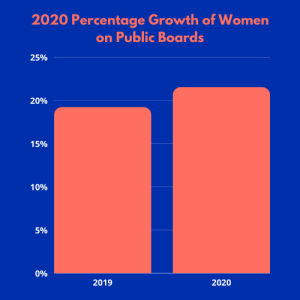 The trends appointments of diverse women continue to be positive. In December, 28 of the women appointed identified as women of color with women identifying as African American leading the way with 13 seats. Nine of these African American women are first time board members which means the pool of women holding board seats of public companies is growing. This is exactly what the WBC and its partners and champions are calling for – parity in leadership positions on boards.
During 2020 the trend toward parity was positive. Women gained a net of 1,055 seats on board of public companies and replaced 115 seats previously held by men. Overall, women gained 2.3% points of seats on boards of public companies as shown in this figure:
|   | Male | Female |
| --- | --- | --- |
| As of 12/31/19 | 80.8% | 19.2% |
| As of 12/31/20 | 78.5% | 21.5% |
12.5% of all 2020 newly appointed directors self-identified as people of color.
Directors identifying as people of color comprised 12.5% of all the appointments in 2020. As this information is self-reported, it is important to note that the percentage of people of color appointed to public boards could be higher.
|   | Asian / Pacific Islander | Black / African American | Hispanic / Latino | Middle Eastern / North African | Multi-racial |
| --- | --- | --- | --- | --- | --- |
| Male | 1.6% | 3.7% | 0.9% | 0.2% | 0.0% |
| Female | 1.7% | 3.4% | 0.6% | 0.1% | 0.1% |
| Total | 3.4% | 7.1% | 1.6% | 0.3% | 0.2% |
The overall trends across companies shows an increase in both the number of women and people of color appointed to boards of public companies. In December, healthcare companies led the way with the appointment of 34 women, closely followed by the financial services industry. This reflects the 4th quarter trend of the healthcare and technology sectors leading the way.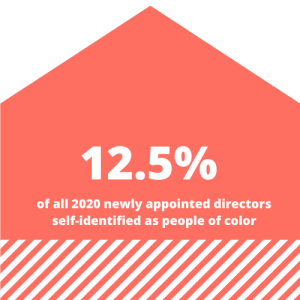 Equilar and WBC are tracking and analyzing the growth and rotation of board seats and also the growth of the candidate pool. We will continue to track not only the women in terms of numbers, diversity and profile; but the companies and industries in which female board members are present and how many of the overall board seats are held by women. The time is now for women to sit across all companies, boards, and sectors. Please, join us in celebrating, tracking, analyzing, and promoting women on boards of public companies.
| Company | Title | Industry | Ethnicity |
| --- | --- | --- | --- |
| Aeglea BioTherapeutics, Inc. | Alison Frances Lawton | Healthcare | |
| Royal Caribbean Group | Amy C. McPherson | Consumer Cyclical | |
| Fluidigm Corporation | Ana K. Stankovic | Healthcare | |
| Rockwell Medical, Inc. | Andrea Heslin Smiley | Healthcare | |
| Central Valley Community Bancorp | Andriana Majarian | Financial Services | |
| Equity Residential | Angela M. Aman | Real Estate | |
| Communications Systems, Inc. | Anita Kumar | Technology | Asian / Pacific Islander |
| Sabra Health Care REIT, Inc. | Ann Kono | Real Estate | |
| Coty Inc. | Anna Adeola Makanju | Consumer Defensive | Multi-racial |
| Zoetis Inc. | Antoinette Renee Leatherberry | Healthcare | Black / African American |
| Trane Technologies plc | April Miller Boise | Industrials | Black / African American |
| Parsons Corporation | Carey A. Smith | Industrials | |
| ESSA Bancorp, Inc. | Carolyn Stennett | Financial Services | Black / African American |
| Hanesbrands Inc. | Cheryl K. Beebe | Consumer Cyclical | |
| LogicBio Therapeutics, Inc. | Daphne Karydas | Healthcare | |
| Adverum Biotechnologies, Inc. | Dawn Svoronos | Healthcare | |
| America First Multifamily Investors, L.P. | Deborah A. Wilson | Financial Services | |
| Rexford Industrial Realty, Inc. | Debra L. Morris | Real Estate | |
| BankFinancial Corporation | Debra Zukonik | Financial Services | |
| Karuna Therapeutics, Inc. | Denice Torres | Healthcare | Hispanic / Latino |
| AG Mortgage Investment Trust, Inc. | Dianne Hurley | Real Estate | |
| Rhythm Pharmaceuticals, Inc. | Dr. Camille L. Bedrosian M.D. | Healthcare | |
| CytomX Therapeutics, Inc. | Dr. Mani Mohindru Ph.D. | Healthcare | Asian / Pacific Islander |
| Hexcel Corporation | Dr. Marilyn L. Minus | Industrials | |
| BioAtla, Inc. and Keros Therapeutics, Inc. | Dr. Mary Ann Gray Ph.D. | Healthcare | |
| Editas Medicine, Inc. | Dr. Meeta Chatterjee Ph.D. | Healthcare | Asian / Pacific Islander |
| Johnson & Johnson | Dr. Nadja Y. West M.D. | Healthcare | Black / African American |
| Clever Leaves Holdings Inc. | Elisabeth H. DeMarse | Healthcare | |
| DHI Group, Inc. | Elizabeth B. Salomon | Industrials | |
| Snap Inc. | Elizabeth Jenkins | Communication Services | |
| Cornerstone OnDemand, Inc. | Felicia Alvaro | Technology | |
| Roku, Inc. | Gina A. Luna | Communication Services | |
| Amedisys, Inc. | Ivanetta Davis Samuels | Healthcare | |
| ContextLogic Inc. | Jacqueline D. Reses | Consumer Cyclical | |
| Motorcar Parts of America, Inc. | Jamy P. Rankin | Consumer Cyclical | Black / African American |
| Navistar International Corporation | Janet T. Yeung | Industrials | |
| Avid Bioservices, Inc. | Jeanne Thoma | Healthcare | |
| Jazz Pharmaceuticals plc | Jennifer E. Cook | Healthcare | |
| Mayville Engineering Company, Inc. | Jennifer J. Kent | Industrials | |
| Wireless Telecom Group, Inc. | Jennifer M. Fritzsche | Technology | |
| AMMO, Inc. | Jessica M. Lockett | Industrials | White / Caucasian |
| QTS Realty Trust, Inc. | Joan Avalyn Dempsey | Real Estate | |
| Chase Corporation | Joan Wallace-Benjamin | Basic Materials | Black / African American |
| Rush Street Interactive, Inc. | Judith Gold | Consumer Defensive | |
| Sierra Bancorp | Julie G. Castle | Financial Services | |
| Keurig Dr Pepper Inc. | Justine Tan | Consumer Defensive | |
| Genworth Financial, Inc. | Karen E. Dyson | Financial Services | |
| Agree Realty Corporation | Karen J. Dearing | Real Estate | |
| TESSCO Technologies Incorporated | Kathleen McLean | Technology | |
| Pandion Therapeutics, Inc. | Katina Dorton | Healthcare | |
| Athira Pharma, Inc. | Kelly A. Romano | Healthcare | |
| ANGI Homeservices Inc. | Kendall Handler | Communication Services | |
| SeaWorld Entertainment, Inc. | Kimberly K. Schaefer | Consumer Cyclical | |
| WD-40 Company | Lara L. Lee | Basic Materials | White / Caucasian |
| Columbia Banking System, Inc. | Laura Alvarez Schrag | Financial Services | Hispanic / Latino |
| Roku, Inc. | Laurie Hodrick | Communication Services | |
| Rush Street Interactive, Inc. | Leslie Bluhm | Consumer Defensive | |
| IDT Corporation | Liora Stein | Communication Services | |
| Flagstar Bancorp, Inc. | Lori Jordan | Financial Services | |
| AECOM | Lydia H. Kennard | Industrials | Black / African American |
| Rhythm Pharmaceuticals, Inc. | Lynn A. Tetrault | Healthcare | |
| Yumanity Therapeutics, Inc. | Lynne Zydowsky Ph.D. | Healthcare | |
| Model N, Inc. | Manisha Shetty Gulati | Technology | Asian / Pacific Islander |
| Geospace Technologies Corporation | Margaret Ashworth | Energy | |
| Novavax, Inc. | Margaret G. McGlynn | Healthcare | |
| Coty Inc. | Maria Asuncion Aramburuzabala | Consumer Defensive | Hispanic / Latino |
| LiveXLive Media, Inc. | Maria Garrido | Communication Services | |
| Raymond James Financial, Inc. | Marlene Debel | Financial Services | |
| Ekso Bionics Holdings, Inc. | Mary Ann Cloyd | Healthcare | |
| A10 Networks, Inc. | Mary L. Dotz | Technology | |
| Nikola Corporation | Mary L. Petrovich | Consumer Cyclical | |
| Rogers Corporation | Megan Faust | Technology | |
| Cornerstone OnDemand, Inc. | Nancy A. Altobello | Technology | |
| Allakos Inc. | Natalie C. Holles | Healthcare | |
| Alpine Immune Sciences, Inc. | Natasha A. Hernday | Healthcare | |
| Western Midstream Partners, LP | Nicole E. Clark | Energy | |
| Spectrum Pharmaceuticals, Inc. | Nora Brennan | Healthcare | |
| Tapestry, Inc. | Pamela Lifford | Consumer Cyclical | Black / African American |
| Yumanity Therapeutics, Inc. | Patricia L. Allen | Healthcare | |
| Apartment Investment and Management Company | Patricia L. Gibson | Real Estate | |
| JPMorgan Chase & Co. | Phebe N. Novakovic | Financial Services | |
| Sprout Social, Inc. | Raina Moskowitz | Technology | |
| Applied Materials, Inc. | Rani Borkar | Technology | Asian / Pacific Islander |
| Luther Burbank Corporation | Renu Agrawal | Financial Services | Asian / Pacific Islander |
| Ekso Bionics Holdings, Inc. | Rhonda A. Wallen | Healthcare | Black / African American |
| vTv Therapeutics Inc. | Robin Elizabeth Abrams | Healthcare | |
| The Williams Companies, Inc. | Rose M. Robeson | Energy | |
| MannKind Corporation | Sabrina Kay | Healthcare | Asian / Pacific Islander |
| Sanara MedTech Inc. | Sara N Ortwein | Healthcare | |
| Chegg, Inc. | Sarah Bond | Consumer Defensive | Black / African American |
| Intercontinental Exchange, Inc. | Shantella Carr Cooper | Financial Services | Black / African American |
| Herc Holdings Inc. | Shari L. Burgess | Industrials | |
| Rush Street Interactive, Inc. | Sheli Z. Rosenberg | Consumer Defensive | |
| 1-800-FLOWERS.COM, Inc. | Stephanie Redish Hofmann | Consumer Cyclical | |
| Liberty Broadband Corporation | Sue Ann R. Hamilton | Communication Services | |
| Nevro Corp. | Susan E. Siegel | Healthcare | Multi-Racial |
| Sierra Bancorp | Susan M Abundis | Financial Services | Hispanic / Latino |
| BioAtla, Inc. | Susan Moran | Healthcare | |
| The Cooper Companies, Inc. | Teresa Smith Madden | Healthcare | |
| ESSA Bancorp, Inc. | Tina Q Richardson | Financial Services | Black / African American |
| Flagstar Bancorp, Inc. | Toan Huynh | Financial Services | Asian / Pacific Islander |
| Sterling Bancorp, Inc. (Southfield, MI) | Tracey A. Dedrick | Financial Services | |
| Sumo Logic, Inc. | Tracey E. Newell | Technology | |
| Columbia Banking System, Inc. | Tracy Mack-Askew | Financial Services | Black / African American |
| Academy Sports and Outdoors, Inc. | Wendy A. Beck | Consumer Cyclical | |
| Dollar Tree, Inc. | Winifred Park | Consumer Defensive | Asian / Pacific Islander |