February 2021 Report Summary
The 40% Trend Continues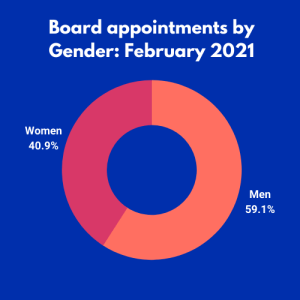 In February, women comprised 40.89% of all public board appointments. US public companies appointed 137 women to boards and 198 men to their boards.
Women appointed to fill board seats continue to self-identify as diverse with 27 women in February. Of those women, 51% or 14, identified as African American, closely followed by 11 Asian/Pacific Islanders and only two women identifying as Hispanic. This trend towards including diverse voices in leadership is one that continues and is mirrored by a statement of the Business Roundtable March 8 announcing it is joining with the WBC and its partners to reaffirm its commitment to gender and diversity across businesses.
Of the 137 women appointed the boards of public companies, 67 were first time board appointments. Kohls Corp, Equifax and Tyson Foods Inc appointed women to their boards. We will continue to watch and monitor this trend to ensure that the number of women occupying board seats across all industries continues to grow and the pipeline remains/stays/is strong.
In February, healthcare companies led the way in the appointment of women followed by the technology sector and the financial services industry. United Airlines Inc, AMETEK Inc, and American Airlines are some companies that had women appointed to their boards. In the technology sector we see strides being made by women at companies like Accenture PLC, Qualtrics International, and Luminar Technologies.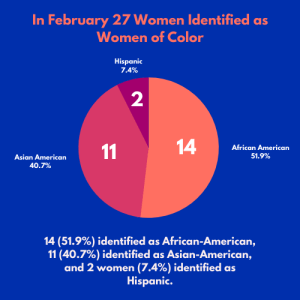 The overall trend across companies continues to hold steady near 40% and approximately 20% of the women identifying as diverse. Equilar and WBC are tracking and analyzing the growth and rotation of board seats and the expanding candidate pool. We will continue to track not only the women in terms of numbers, diversity and profile; but the companies and industries in which female board members are present and how many of the overall board seats are held by women. The time is now for women to show their impact in all corporations, boards, and industry sectors. Please, join us in celebrating, tracking, analyzing, and promoting women on boards of public companies.
| Company | Title | Industry | Ethnicity |
| --- | --- | --- | --- |
| American Airlines Group Inc. | Adriane M. Brown | Industrials | Black / African American |
| Mercer International Inc. | Alice Laberge | Basic Materials | |
| Hecla Mining Company | Alice Wong | Basic Materials | |
| Janus Henderson Group plc | Alison Davis | Financial Services | |
| MoneyGram International, Inc. | Alka Gupta | Financial Services | |
| Lennar Corporation | Amy Banse | Consumer Cyclical | |
| Red River Bancshares, Inc. | Anna Brasher Moreau | Financial Services | |
| Equifax Inc. | Audrey Boone Tillman | Industrials | Black / African American |
| TFS Financial Corporation | Barbara J. Anderson | Financial Services | |
| Accenture plc | Beth E. Mooney | Technology | |
| Invesco Mortgage Capital Inc. | Beth Zayicek | Real Estate | |
| Lawson Products, Inc. | Bianca Martinez Rhodes | Industrials | |
| Aramark | Bridgette P. Heller | Consumer Cyclical | Black / African American |
| BlueLinx Holdings Inc. | Carol B. Yancey | Industrials | |
| AZZ Inc. | Carol R. Jackson | Industrials | |
| NetApp, Inc. | Carrie Palin | Technology | |
| Longeveron Inc. | Cathy Ross | Healthcare | |
| Integer Holdings Corporation | Cheryl C. Capps | Healthcare | |
| iSun, Inc. | Claudia M. Meer | Technology | |
| Central Garden & Pet Company | Courtnee A. Chun | Consumer Defensive | |
| Acutus Medical, Inc. | Daniella Cramp | Healthcare | |
| Arcadia Biosciences, Inc. | Deborah D. Carosella | Basic Materials | |
| Dover Corporation | Deborah L. DeHaas | Industrials | |
| Henry Schein, Inc. | Deborah M. Derby | Healthcare | |
| CSI Compressco LP | Denise G. Essenberg | Energy | |
| PDC Energy, Inc. | Diana L. Sands | Energy | Asian / Pacific Islander |
| AECOM | Diane C. Creel | Industrials | |
| The Hartford Financial Services Group, Inc. | Donna James | Financial Services | Black / African American |
| CTS Corporation | Donna M. Costello | Technology | |
| Codexis, Inc. | Dr Esther Martinborough Ph.D. | Healthcare | Black / African American |
| Fusion Pharmaceuticals Inc. | Dr Philina Lee Ph.D. | Healthcare | |
| Lumos Pharma, Inc. | Dr. An van Es Johansson M.D. | Healthcare | |
| Prestige Consumer Healthcare Inc. | Dr. Celeste A. Clark Ph.D. | Healthcare | Black / African American |
| ContraFect Corporation | Dr. Jane F. Barlow MD, MPH, MBA | Healthcare | |
| Aquestive Therapeutics, Inc. | Dr. Julie Krop M.D. | Healthcare | |
| Tenax Therapeutics, Inc. | Dr. June Sherie Almenoff M.D., Ph.D. | Healthcare | |
| International Flavors & Fragrances Inc. | Dr. Kathryn Jean Boor Ph.D. | Basic Materials | |
| Jounce Therapeutics, Inc. | Dr. Luisa Salter-Cid Ph.D. | Healthcare | |
| Luminar Technologies, Inc. | Dr. Mary Lou Jepsen | Technology | |
| Passage Bio, Inc. | Dr. Maxine Gowen Ph.D. | Healthcare | |
| BioMarin Pharmaceutical Inc. | Dr. Maykin Ho Ph.D. | Healthcare | Asian / Pacific Islander |
| Surgery Partners, Inc. | Dr. Patricia Anne Maryland | Healthcare | Black / African American |
| IDEAYA Biosciences, Inc. | Dr. Susan L. Kelley M.D. | Healthcare | |
| Equillium, Inc. | Dr. Yu Katherine Xu Ph.D. | Healthcare | Asian / Pacific Islander |
| Gaucho Group Holdings, Inc. | Edie Rodriguez | Real Estate | |
| Alpha Metallurgical Resources, Inc. | Elizabeth Anne Fessenden | Energy | |
| Viant Technology Inc. | Elizabeth Goodwin | Technology | |
| Proofpoint, Inc. | Elizabeth Rafael | Technology | |
| Banner Corporation | Ellen R.M. Boyer | Financial Services | |
| Dolby Laboratories, Inc. | Emily Rollins | Communication Services | Asian / Pacific Islander |
| American Woodmark Corporation | Emily Videtto | Consumer Cyclical | |
| Ortho Clinical Diagnostics Holdings plc | Evelyn Dilsaver | Healthcare | Asian / Pacific Islander |
| MacroGenics, Inc. | Federica F. O'Brien | Healthcare | |
| Crestwood Equity Partners LP | Frances M. Vallejo | Energy | Hispanic / Latino |
| GreenBox POS | Genevieve Baer | Technology | |
| Caledonia Mining Corporation Plc | Geralda Wildschutt | Basic Materials | |
| Gibraltar Industries, Inc. | Gwen G. Mizell | Industrials | |
| Riot Blockchain, Inc. | Hannah Cho | Technology | |
| International Flavors & Fragrances Inc. | Ilene Gordon | Basic Materials | |
| CEVA, Inc. | Jackie Liu | Technology | Asian / Pacific Islander |
| Affirm Holdings, Inc. | Jacqueline D. Reses | Technology | |
| CVB Financial Corp. | Jane Olvera | Financial Services | |
| Stanley Black & Decker, Inc. | Jane Palmieri | Industrials | |
| Mercer International Inc. | Janine North | Basic Materials | |
| Gemini Therapeutics, Inc. | Jean M. George | Healthcare | |
| Huntsman Corporation | Jeanne McGovern | Basic Materials | |
| Calumet Specialty Products Partners, L.P. | Jennifer G. Straumins | Energy | |
| Endo International plc | Jennifer M. Chao | Healthcare | |
| Ramaco Resources, Inc. | Jennifer Marie Gray | Basic Materials | |
| Affirm Holdings, Inc. | Jenny J. Ming | Technology | Asian / Pacific Islander |
| First Interstate BancSystem, Inc. | Joyce Ann Phillips | Financial Services | |
| MoneyGram International, Inc. | Julie E. Silcock | Financial Services | |
| California BanCorp | Julie J. Levenson | Financial Services | |
| Genuine Parts Company | Juliette Williams Pryor | Consumer Cyclical | Black / African American |
| CVS Health Corporation | Karen S. Lynch | Healthcare | |
| The RealReal, Inc. | Karen W. Katz | Consumer Cyclical | |
| HCI Group, Inc. | Karin Sue Coleman | Financial Services | |
| AMETEK, Inc. | Karleen Marie Oberton | Industrials | |
| Luminar Technologies, Inc. | Katharine A. Martin | Technology | |
| Inspired Entertainment, Inc. | Katja Tautscher | Communication Services | |
| Intrusion Inc. | Katrinka McCallum | Technology | |
| Qualtrics International Inc. | Kelly Steckelberg | Technology | |
| Plug Power Inc. | Kimberly A. Harriman | Industrials | |
| Eli Lilly and Company | Kimberly H. Johnson | Healthcare | Black / African American |
| United Airlines Holdings, Inc. | Laysha Ward | Industrials | Black / African American |
| Akebia Therapeutics, Inc. | LeAnne M. Zumwalt | Healthcare | |
| Windtree Therapeutics, Inc. | Leslie J. Williams | Healthcare | |
| Seneca Foods Corporation | Linda K. Nelson | Consumer Defensive | |
| Micron Technology, Inc. | Linnie M. Haynesworth | Technology | Black / African American |
| Synlogic, Inc. | Lisa Kelly-Croswell | Healthcare | |
| Resources Connection, Inc. | Lisa M. Pierozzi | Industrials | |
| Meta Financial Group, Inc. | Lizabeth H. Zlatkus | Financial Services | |
| Siyata Mobile Inc. | Luisa Ingargiola | Technology | |
| NextEra Energy, Inc. | Lynn M. Utter | Utilities | |
| Workday, Inc. | Lynne M. Doughtie | Technology | |
| Deckers Outdoor Corporation | Maha Ibrahim | Consumer Cyclical | |
| Anterix Inc. | Mahvash Yazdi | Communication Services | |
| CIM Commercial Trust Corporation | Marcie L. Edwards | Real Estate | |
| Humana Inc. | Marcy S. Klevorn | Healthcare | |
| Vallon Pharmaceuticals, Inc. | Marella Thorell | Healthcare | |
| The Hackett Group, Inc. | Maria A. Bofill | Technology | |
| Tyson Foods, Inc. | Maria Claudia Borras | Consumer Defensive | |
| Principal Financial Group, Inc. | Mary Elizabeth Beams | Financial Services | |
| Graphic Packaging Holding Company | Mary K. Rhinehart | Consumer Cyclical | |
| MPLX LP | Maryann T. Mannen | Energy | |
| Stanley Black & Decker, Inc. | Mojdeh Poul | Industrials | |
| Entercom Communications Corp. | Monique Nelson | Communication Services | Black / African American |
| Novanta Inc. | Ms. Katherine Ann Owen | Technology | |
| Cytokinetics, Incorporated | Muna Bhanji | Healthcare | |
| Kindred Biosciences, Inc. | Nanxi Liu | Healthcare | Asian / Pacific Islander |
| Arena Pharmaceuticals, Inc. | Nawal Ouzren | Healthcare | |
| Lakeland Industries, Inc. | Nikki Hamblin | Consumer Cyclical | |
| PriceSmart, Inc. | Patricia Marquez | Consumer Defensive | |
| VEREIT, Inc. | Priscilla Almodovar | Real Estate | |
| NMI Holdings, Inc. | Priya Huskins | Financial Services | Asian / Pacific Islander |
| Alpine Income Property Trust, Inc. | Rachel Elias Wein | Real Estate | |
| SiriusPoint Ltd. | Rachelle C. Keller | Financial Services | |
| Kohl's Corporation | Robbin Mitchell | Consumer Cyclical | |
| Dime Community Bancshares, Inc. | Rosemarie Chen | Financial Services | |
| Aeglea BioTherapeutics, Inc. | Sara Brownstein | Healthcare | |
| SiriusPoint Ltd. | Sharon M. Ludlow | Financial Services | |
| TCR2 Therapeutics Inc. | Shawn Cline Tomasello | Healthcare | |
| Digimarc Corporation | Sheela Zemlin | Technology | Asian / Pacific Islander |
| Integer Holdings Corporation | Sheila Antrum | Healthcare | Black / African American |
| Herbalife Nutrition Ltd. | Sophie L'Helias | Consumer Defensive | |
| Zimmer Biomet Holdings, Inc. | Sreelakshmi Kolli | Healthcare | Asian / Pacific Islander |
| VEREIT, Inc. | Susan E. Skerritt | Real Estate | |
| Life Storage, Inc. | Susan Harnett | Real Estate | |
| First Merchants Corporation | Susan W. Brooks | Financial Services | |
| Blucora, Inc. | Tina Perry | Financial Services | Black / African American |
| Farmland Partners Inc. | Toby O'Rourke | Real Estate | |
| Sun Communities, Inc. | Tonya Allen | Real Estate | |
| CSG Systems International, Inc. | Tseli Lily Yang | Technology | |
| Tootsie Roll Industries, Inc. | Virginia L. Gordon | Consumer Defensive | |
| CenterPoint Energy, Inc. | Wendy Montoya Cloonan | Utilities | Hispanic / Latino |
| Myers Industries, Inc. | Yvette D. Bright | Consumer Cyclical | |
| Entegris, Inc. | Yvette Marie Kanouff | Technology | |