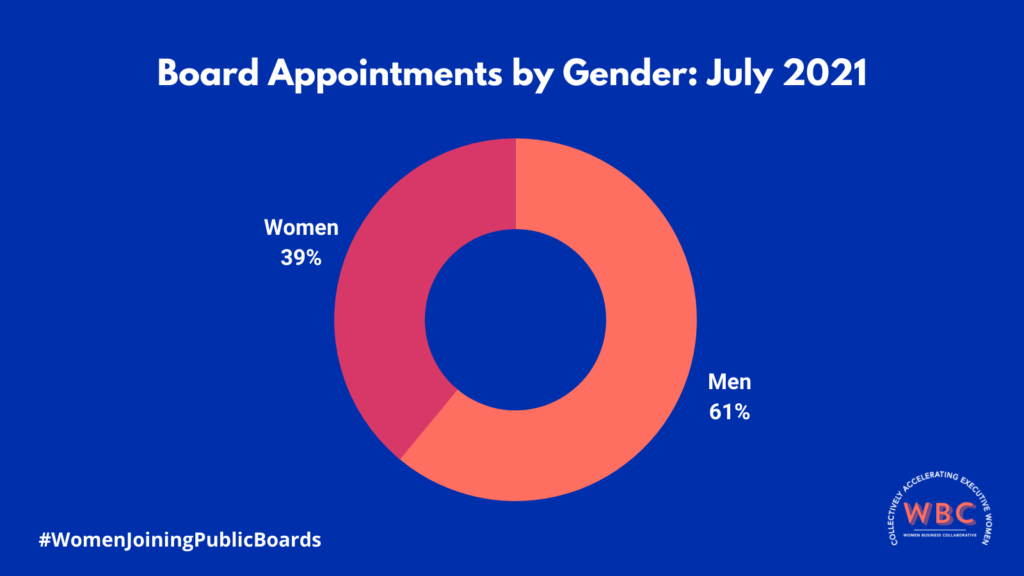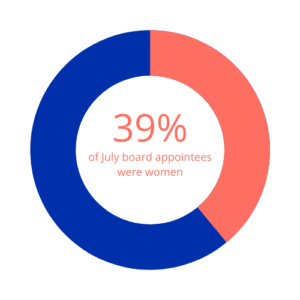 In July public companies appointed 140 women to board and 219 men to their boards. This means women comprised 39% of all public board appointments.
The women appointed to fill board seats continue to diversify, with 32 women self-disclosing their race. In June, 46.8% of those women, 15, identified as Black / African American, closely followed by 13 Asian/Pacific Islanders, 3 women identifying as Hispanic and 1 woman identifying as Middle Eastern / North African. Columbia Financial, Inc., Choice Hotels International, Inc., and PowerSchool Holdings, Inc. are some of the companies that appointed this phenomenal group of diverse women to their board. This trend towards including diverse voices in leadership is one that continues and is accompanied by the SEC approval of NASDAQ's proposed rule about diversity disclosure requiring disclosure of board diversity and offering recruitment help.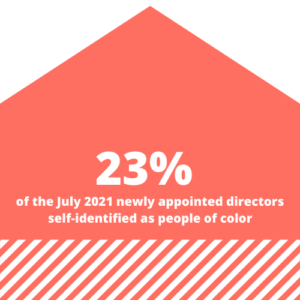 Of the 140 women appointed the boards of public companies, 92 were first time board appointments. This is important as we continue to build out the cadre of women to sit at table of companies across sectors.
In June, Healthcare companies lead the way in the appointment of women followed by Financial Services and Technology with women appointed filling 34.2% of board seats at healthcare companies. In the technology sector we see strides being made by women at companies like Airgain, Inc. and First Solar, Inc.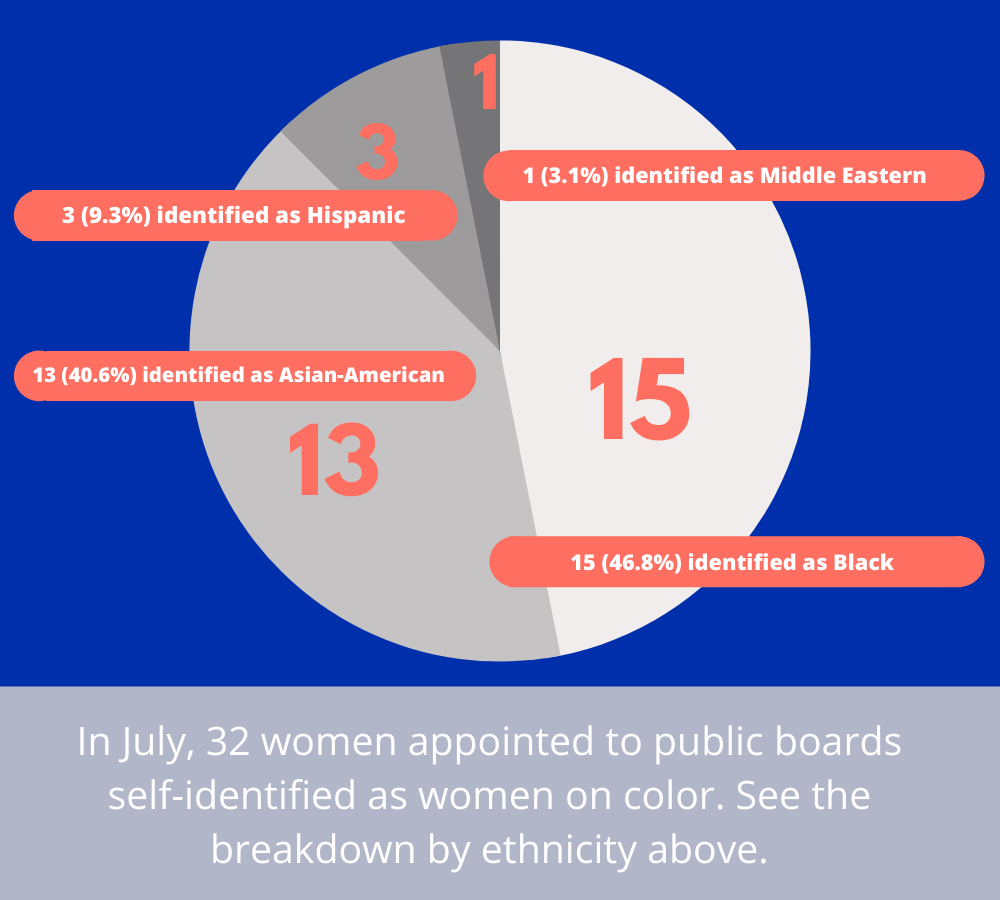 The overall trend across companies continues to hold steady at around 40%. Having said that, there is still a lot of progress to be made among the women of color and LGBTQ sub-segments. Equilar and WBC are tracking and analyzing the growth and rotation of board seats and the expanding candidate pool.
We will continue to track not only the women in terms of numbers, diversity and profile; but the companies and industries in which female board members are present and how many of the overall board seats are held by women. The time is now for women to sit across all companies, boards, and sectors. Please, join us in celebrating, tracking, analyzing, and promoting women on boards of public companies.
Company
Title
Industry
Ethnicity
Aerovate Therapeutics, Inc., Puma Biotechnology, Inc.
Allison Dorval
Healthcare
agilon health, inc.
Karen A. McLoughlin
Healthcare
AgriFORCE Growing Systems, Ltd.
Amy Griffith
Consumer Defensive
Airgain, Inc.
Kiva A. Allgood
Technology
Akero Therapeutics, Inc.
Dr. Judy Chou Ph.D.
Healthcare
Asian / Pacific Islander
Allegion plc
Lauren B. Peters
Industrials
Alliant Energy Corporation
Joy Falotico
Utilities
Allogene Therapeutics, Inc.
Dr. Vicki L. Sato Ph.D.
Healthcare
Asian / Pacific Islander
Allogene Therapeutics, Inc.
Elizabeth A. Barrett
Healthcare
Ameresco, Inc.
Claire D'Oyly-Hughes Johnson
Industrials
Amphenol Corporation
Nancy A. Altobello
Technology
Apollo Commercial Real Estate Finance, Inc.
Pamela G. Carlton
Real Estate
Black / African American
Arthur J. Gallagher & Co.
Teresa Hillary Clarke
Financial Services
Black / African American
Asensus Surgical, Inc.
Dr. Elizabeth Kwo M.D.
Healthcare
Asian / Pacific Islander
Atreca, Inc.
Stacey Ma
Healthcare
AVITA Medical, Inc.
Jan Stern Reed
Healthcare
BancFirst Corporation
Mautra Staley Jones
Financial Services
Black / African American
Barnes Group Inc.
Jakki L. Haussler
Industrials
Black / African American
Biocept, Inc.
Linda Rubinstein
Healthcare
Bioventus Inc.
Mary Kay Ladone
Healthcare
Blackstone Mortgage Trust, Inc.
Nnenna Lynch
Real Estate
Blink Charging Co.
Carmen M. Perez-Carlton
Consumer Cyclical
BurgerFi International, Inc.
Vivian Lopez-Blanco
Consumer Cyclical
California BanCorp
Millicent C. Tracey
Financial Services
Asian / Pacific Islander
Candel Therapeutics, Inc.
Dr. Diem Nguyen Ph.D.
#N/A
Capricor Therapeutics, Inc.
Karimah Es Sabar
Healthcare
CareDx, Inc
Hannah Valantine
Healthcare
Castle Biosciences, Inc.
Ellen Goldberg
Healthcare
Castle Biosciences, Inc.
Kim Caple
Healthcare
Celularity Inc.
Dr. Robin L. Smith M.D.
Healthcare
Centennial Resource Development, Inc.
Vidisha Prasad
Energy
Cheniere Energy, Inc.
Lorraine Mitchelmore
Energy
Cheniere Energy, Inc.
Patricia K. Collawn