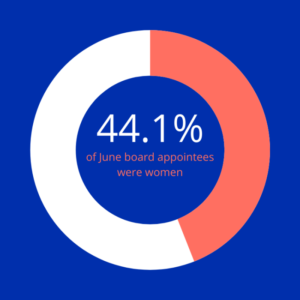 June 2021 Women Joining Public Boards Report – Women Are 44% of Public Company Board Appointments
In June, women comprised 44% of all public board appointments. Public companies appointed 171 women to board and 217 men to their boards — keeping in line with the past 8-month trend.
The women appointed to fill board seats continue to diversify, with 53 women self-disclosing their race. In June, 45.2% of those women, 24, identified as Black / African American, closely followed by 20 Asian/Pacific Islanders, 8 women identifying as Hispanic and 1 woman identifying as Indigenous. iHeart Media Inc., Twitter Inc., and IRIDEX Corporation are some of the companies that appointed this phenomenal group of diverse women to their board. This trend towards including diverse voices in leadership is one that is mirrored when looking at women in the C-Suite and rising into CEO positions.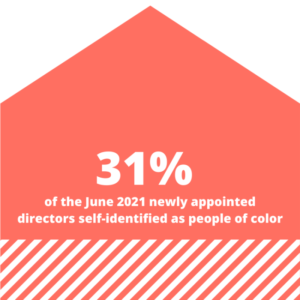 Of the 171 women appointed the boards of public companies, 87 were first time board appointments. First time board appointments included at companies like Vera Bradley, Inc. and Kirkland's Inc. We will continue to watch and monitor this trend to ensure that the number of women occupying board seats across all industries continue to grow and the pipeline strong.
In June, Healthcare companies lead the way in the appointment of women followed by technology and consumer cyclical with women appointed filling 37.4% of board seats at healthcare companies. In the technology sector we see strides being made by women at companies like urban-gro, Inc. and monday.com Ltd.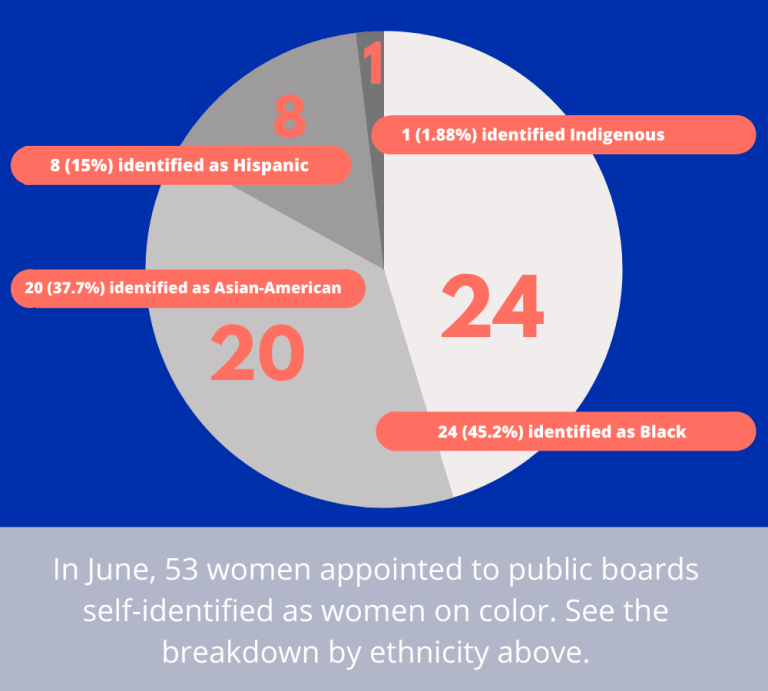 In 2021, women have comprised 41.5% of board appointments with 54.8% of those being first time board appointments and 26% identifying as diverse. The goal is to ensure women comprise 50% of board appointments but also that the percentage identifying as diverse rises -and rises across all ethnic groups. The overall trend across companies is holding steady at over 40% which is progress since last fall.
Having said that, there is still a lot of progress to be made among the women of color and LGBTQ sub-segments. Equilar and WBC are tracking and analyzing the growth and rotation of board seats and the expanding candidate pool. We will continue to track not only the women in terms of numbers, diversity and profile; but the companies and industries in which female board members are present and how many of the overall board seats are held by women. The time is now for women to sit across all companies, boards, and sectors. Please, join us in celebrating, tracking, analyzing, and promoting women on boards of public companies.
| Company | Title | Industry | Ethnicity |
| --- | --- | --- | --- |
| Silvergate Capital Corporation | Aanchal Gupta | Financial Services | Asian / Pacific Islander |
| KKR & Co. Inc. | Adriane M. Brown | Financial Services | Black / African American |
| G1 Therapeutics, Inc. | Alicia Secor | Healthcare | |
| Ionis Pharmaceuticals, Inc. | Allene M. Diaz | Healthcare | Hispanic / Latino |
| Torchlight Energy Resources, Inc. | Allison Christilaw | Energy | |
| Oil-Dri Corporation of America | Amy L. Ryan | Basic Materials | |
| Five9, Inc. | Ana G. Pinczuk | Technology | Hispanic / Latino |
| urban-gro, Inc. | Anita D. Britt | Industrials | |
| Kirkland's, Inc. | Ann E. Joyce | Consumer Cyclical | |
| Open Text Corporation | Ann M. Powell | Technology | |
| CMC Materials, Inc. | Anne K. Roby | Technology | |
| Liberty Oilfield Services Inc. | Audrey Robertson | Energy | |
| Huntington Bancshares Incorporated | Barbara L. McQuade | Financial Services | |
| Carrier Global Corporation | Beth A. Wozniak | Industrials | |
| SolarEdge Technologies, Inc. | Betsy S. Atkins | Technology | |
| Popular, Inc. | Betty K. DeVita | Financial Services | |
| Alpha Teknova, Inc. | Brett M. Robertson | Healthcare | |
| Sigilon Therapeutics, Inc. | Brooke Story | Healthcare | Black / African American |
| Apollo Commercial Real Estate Finance, Inc. | Carmencita N.M. Whonder | Real Estate | Black / African American |
| Kura Oncology, Inc. | Carol A. Schafer | Healthcare | |
| Certara, Inc. | Carol Gallagher | Healthcare | |
| Orthofix Medical Inc. | Catherine M. Burzik | Healthcare | |
| Nxt-ID, Inc. | Chia-Lin Simmons | Industrials | |
| RadNet, Inc. | Christine N. Gordon | Healthcare | |
| KVH Industries, Inc. | Cielo Hernandez | Technology | Hispanic / Latino |
| Applied Optoelectronics, Inc. | Cynthia DeLaney | Technology | |
| Silvercrest Asset Management Group Inc. | Darla M. Romfo | Financial Services | |
| ShotSpotter, Inc. | Deborah A. Elam | Technology | Black / African American |
| Horizon Global Corporation | Donna M. Costello | Consumer Cyclical | |
| Mirum Pharmaceuticals, Inc. | Dr. Carol L. Brosgart M.D. | Healthcare | |
| Ultragenyx Pharmaceutical Inc. | Dr. Corazon D. Sanders Ph.D. | Healthcare | |
| Genius Brands International, Inc. | Dr. Cynthia Turner-Graham MD | Communication Services | Black / African American |
| Amicus Therapeutics, Inc. | Dr. Eiry W. Roberts M.D. | Healthcare | |
| Accolade, Inc. | Dr. Elizabeth G. Nabel M.D. | Healthcare | |
| Revolution Medicines, Inc. | Dr. Flavia Borellini Ph.D. | Healthcare | |
| Design Therapeutics, Inc. | Dr. Heather Behanna Ph.D. | Healthcare | |
| SIGA Technologies, Inc. | Dr. Holly L. Phillips | Healthcare | |
| Protara Therapeutics, Inc. | Dr. Jane Huang M.D. | Healthcare | |
| IMARA Inc. | Dr. Laura Williams M.D. | Healthcare | |
| ADiTx Therapeutics, Inc. | Dr. Lauren Chung | Healthcare | |
| Alzamend Neuro, Inc. | Dr. Lynne Fahey McGrath Ph.D. | Healthcare | |
| Cardiff Oncology, Inc. | Dr. Mani Mohindru Ph.D. | Healthcare | Asian / Pacific Islander |
| Biogen Inc. | Dr. Maria C. Freire Ph.D. | Healthcare | Hispanic / Latino |
| Millendo Therapeutics, Inc. | Dr. Stella Xu Ph.D. | Healthcare | Asian / Pacific Islander |
| Meritor, Inc. | Elizabeth Anne Fessenden | Consumer Cyclical | |
| Crescent Capital BDC, Inc. | Elizabeth E. Ko | Financial Services | Asian / Pacific Islander |
| World Acceptance Corporation | Elizabeth R. Neuhoff | Financial Services | |
| Element Solutions Inc. | Elyse Napoli Filon | Energy | |
| Vuzix Corporation | Emily Nagle Green | Technology | |
| Nu Skin Enterprises, Inc. | Emma S. Battle | Consumer Defensive | Black / African American |
| Williams-Sonoma, Inc. | Esi Eggleston Bracey | Consumer Cyclical | Black / African American |
| Avid Bioservices, Inc. | Esther M. Alegria | Healthcare | |
| Select Energy Services, Inc. | Gayle Burleson | Energy | |
| Amphastar Pharmaceuticals, Inc. | Gayle Deflin | Healthcare | |
| Sierra Oncology, Inc. | Georgia Erbez | Healthcare | |
| monday.com Ltd. | Gili Iohan | Technology | |
| iHeartMedia, Inc. | Graciela I. Monteagudo | Communication Services | Hispanic / Latino |
| Pacific Biosciences of California, Inc. | Hannah A. Valantine M.D | Healthcare | Black / African American |
| Skillsoft Corp. | Helena B. Foulkes | Consumer Defensive | |
| Hillenbrand, Inc. | Inderpreet Sawhney | Industrials | Asian / Pacific Islander |
| Codex DNA, Inc. | Jami Dover Nachtsheim | Healthcare | |
| TransDigm Group Incorporated | Jane M. Cronin | Industrials | |
| Office Properties Income Trust | Jennifer B. Clark | Real Estate | |
| Diversified Healthcare Trust | Jennifer F. Francis | Real Estate | |
| View, Inc. | Julie Larson-Green | Industrials | |
| Harbor Custom Development, Inc. | Karen Bryant | Real Estate | |
| ViewRay, Inc. | Karen N. Prange | Healthcare | |
| Citizens & Northern Corporation | Kate Shattuck | Financial Services | |
| Blackstone Mortgage Trust, Inc. | Katharine A. Keenan | Real Estate | |
| Velocity Financial, Inc. | Katherine Verner | Financial Services | |
| Balchem Corporation | Kathleen B. Fish | Basic Materials | |
| Flexsteel Industries, Inc. | Kathryn P. Dickson | Consumer Cyclical | |
| Eargo, Inc. | Katie J. Bayne | Healthcare | |
| Radiant Logistics, Inc. | Kristin Elisabeth Toth Smith | Industrials | |
| Recro Pharma, Inc. | Laura L. Parks Ph.D | Healthcare | |
| Granite Construction Incorporated | Laura M. Mullen | Industrials | |
| HCI Group, Inc. | Lauren L. Valiente | Financial Services | |
| Verastem, Inc. | Lesley Solomon | Healthcare | |
| T-Mobile US, Inc. | Letitia A. Long | Communication Services | |
| Verint Systems Inc. | Linda M. Crawford | Technology | |
| Nabriva Therapeutics plc | Lisa Dalton | Healthcare | |
| Flotek Industries, Inc. | Lisa Mayr | Energy | |
| Vericel Corporation | Lisa Wright | Healthcare | |
| ReShape Lifesciences Inc. | Lori C. McDougal | Healthcare | |
| Pioneer Natural Resources Company | Lori George Billingsley | Energy | Black / African American |
| Krispy Kreme, Inc. | Lubomira Rochet | Consumer Defensive | |
| Benchmark Electronics, Inc. | Lynn A. Wentworth | Technology | |
| AtriCure, Inc. | Maggie Yuen | Healthcare | |
| 908 Devices Inc. | Marcia Eisenberg | Healthcare | |
| iSpecimen Inc. | Margaret H. Lawrence | Healthcare | |
| Frontier Communications Parent, Inc. | Margaret Mary Smyth | Communication Services | |
| ASGN Incorporated | Maria R. Hawthorne | Industrials | Hispanic / Latino |
| Alphatec Holdings, Inc. | Marie Meynadier | Healthcare | |
| Capri Holdings Limited | Marilyn C. Crouther | Consumer Cyclical | Black / African American |
| UpHealth, Inc. | Mariya Pylypiv | Healthcare | |
| Vapotherm, Inc. | Mary Beth Moynihan | Healthcare | |
| PTC Therapeutics, Inc. | Mary Smith | Healthcare | Indigenous People |
| Brunswick Corporation | MaryAnn Wright | Consumer Cyclical | |
| Sculptor Capital Management, Inc. | Meghna R. Desai | Financial Services | |
| Murphy Oil Corporation | Michelle A. Earley | Energy | Black / African American |
| Kezar Life Sciences, Inc. | Micki Klearman | Healthcare | |
| Twitter, Inc. | Mimi Alemayehou | Communication Services | Black / African American |
| Paratek Pharmaceuticals, Inc. | Minnie Baylor-Henry | Healthcare | Black / African American |
| Catalyst Pharmaceuticals, Inc. | Molly Harper | Healthcare | |
| Provident Financial Services, Inc. | Nadine Leslie | Financial Services | |
| WEX Inc. | Nancy A. Altobello | Technology | |
| Angel Oak Mortgage, Inc. | Nancy R. Davis | Real Estate | |
| Vera Bradley, Inc. | Nancy R. Twine | Consumer Cyclical | Black / African American |
| IRIDEX Corporation | Nandini Devi | Healthcare | Asian / Pacific Islander |
| MGP Ingredients, Inc. | Neha J. Clark | Consumer Defensive | Asian / Pacific Islander |
| American Assets Trust, Inc. | Nina A. Tran | Real Estate | Asian / Pacific Islander |
| TTM Technologies, Inc. | Pamela B. Jackson | Technology | Black / African American |
| Corning Incorporated | Pamela Craig | Technology | |
| Lockheed Martin Corporation | Patricia E. Yarrington | Industrials | |
| 1stdibs.Com, Inc. | Paula J. Volent | Consumer Cyclical | |
| PRA Group, Inc. | Peggy Turner | Financial Services | Hispanic / Latino |
| OneMain Holdings, Inc. | Phyllis R. Caldwell | Financial Services | Black / African American |
| Guidewire Software, Inc. | Rajani Ramanathan | Technology | Asian / Pacific Islander |
| Inari Medical, Inc. | Rebecca Chambers | Healthcare | |
| Atai Life Sciences N.V. | Sabrina Martucci Johnson | Healthcare | |
| Gossamer Bio, Inc. | Sandra Milligan | Healthcare | |
| Cornerstone OnDemand, Inc. | Sara Martinez Tucker | Technology | Hispanic / Latino |
| OneSpan Inc. | Sarika Garg | Technology | Asian / Pacific Islander |
| Rafael Holdings, Inc. | Shannon Thyme Klinger | Healthcare | |
| The Lovesac Company | Sharon M. Leite | Consumer Cyclical | |
| Gritstone bio, Inc. | Shefali Agarwal M.D. | Healthcare | Asian / Pacific Islander |
| Ducommun Incorporated | Sheila G. Kramer | Industrials | |
| Security National Financial Corporation | Shital A. Mehta | Financial Services | Asian / Pacific Islander |
| Sunrun Inc. | Sonita Lontoh | Technology | Asian / Pacific Islander |
| Motus GI Holdings, Inc. | Sonja Nelson | Healthcare | |
| Celsion Corporation | Stacy Lindborg | Healthcare | |
| KULR Technology Group, Inc., The Boeing Company | Stayce D. Harris | Technology | Black / African American |
| Inseego Corp. | Stephanie Bowers | Technology | |
| Arcutis Biotherapeutics, Inc. | Sue-Jean Lin | Healthcare | Asian / Pacific Islander |
| Biomea Fusion, Inc. | Sumita Ray | Healthcare | |
| GAN Limited | Susan Bracey | Consumer Cyclical | |
| Altice USA, Inc. | Susan C. Schnabel | Communication Services | |
| Mister Car Wash, Inc. | Susan E. Docherty | Consumer Cyclical | |
| Clarus Corporation | Susan Ottmann | Consumer Cyclical | |
| First Advantage Corporation | Susan R. Bell | Industrials | |
| Mitek Systems, Inc. | Susan Repo | Technology | Asian / Pacific Islander |
| Terminix Global Holdings, Inc. | Teresa M. Sebastian | Consumer Cyclical | Black / African American |
| Southern First Bancshares, Inc. | Terry Grayson-Caprio | Financial Services | |
| Virgin Galactic Holdings, Inc. | Tina W. Jonas | Industrials | |
| J2 Global, Inc. | Trace Harris | Technology | |
| Crocs, Inc. | Tracy Gardner | Consumer Cyclical | |
| Longeveron Inc. | Ursula Ungaro | Healthcare | |
| Trinseo S.A. | Victoria Brifo | Basic Materials | Black / African American |
| Penn National Gaming, Inc. | Vimla Black-Gupta | Consumer Cyclical | Black / African American |
| Scientific Games Corporation | Virginia E. Shanks | Consumer Cyclical | |
| Fiserv, Inc. | Wafaa Mamilli | Technology | |
| Future FinTech Group Inc. | Ying Li | Technology | Asian / Pacific Islander |
| CarGurus, Inc. | Yvonne Hao | Communication Services | |