March 2021 Report Summary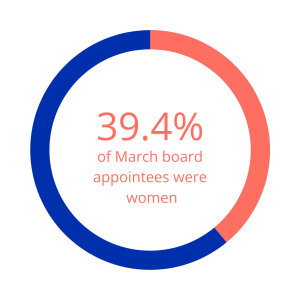 In March, Women's History Month, women comprised 39.4% of all public board appointments.
Public companies appointed 148 women to boards and 228 men to their boards.
The women appointed to fill board seats continue to diversify. With 37 women self-identifying as women of color, the percentage of women of color was 25%. Out of the 37 women who self-identified as Women of Color, 20 of those women (54%) self-identified as African American, closely followed by 12 Asian/Pacific Islanders, 3 Hispanic, 1 multiracial and 1 Indigenous.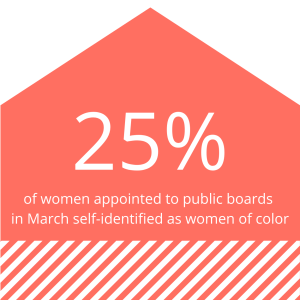 This trend is critical to ensuring the WBC reaches its 2025 target of women of color comprising 10% of board seats on public companies. The GAP Inc, Walgreens Boots Alliance, and American Express Inc, are some of the companies that appointed diverse women to their boards.
Of the 148 women appointed the boards of public companies, 72 were first time board appointments. Some of these first-time board appointments have been at CISCO systems, Joann Inc, and Microvision Inc. We will continue to watch and monitor this trend to ensure that the number of women occupying board seats across all industries continues to grow and the pipeline strong.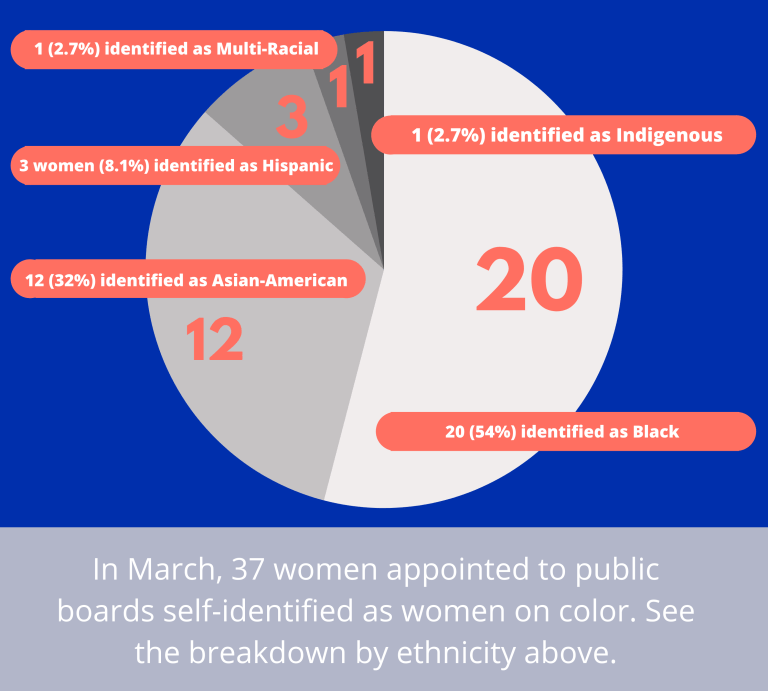 In March, healthcare companies led the way in the appointment of women followed by technology and financial services with 14.2% of women appointed filling board seats at tech companies. In the financial services sector, we see strides being made by women at companies like Apollo Global Management, Inc. and Simmons First National Corp.
The overall trend continues to hold steady near 40% and with about 25% of the women identifying as women of color. Equilar and WBC are tracking and analyzing the growth and rotation of board seats and the expanding candidate pool. We will continue to track not only the women in terms of numbers, diversity and profile; but the companies and industries in which female board members are present and how many of the overall board seats are held by women.
The time is now for women to add value and presence across all companies, boards, and sectors. Please, join us in celebrating, tracking, analyzing, and promoting women on boards of public companies.
| Company | Title | Industry | Ethnicity |
| --- | --- | --- | --- |
| Global Blood Therapeutics, Inc. | Alexis A. Thompson | Consumer Cyclical | |
| Mersana Therapeutics, Inc. | Allene M. Diaz | Healthcare | |
| Red Robin Gourmet Burgers, Inc. | Anddria Clack-Rogers Varnado | Consumer Cyclical | Black / African American |
| Outset Medical, Inc. | Andrea Lynn Saia | Healthcare | |
| Retail Opportunity Investments Corp. | Angela K. Ho | Real Estate | Asian / Pacific Islander |
| Alteryx, Inc. | Anjali Joshi | Technology | Asian / Pacific Islander |
| JOANN Inc. | Anne Mehlman | Consumer Cyclical | |
| Turning Point Brands, Inc. | Assia Grazioli-Venier | Consumer Defensive | |
| Owens & Minor, Inc. | Aster Angagaw | Healthcare | Black / African American |
| Athira Pharma, Inc. | Barbara A. Kosacz | Healthcare | |
| Turning Point Therapeutics, Inc. | Barbara W. Bodem | Healthcare | |
| Aytu Biopharma, Inc., Iterum Therapeutics plc | Beth Hecht | Healthcare | |
| Cricut, Inc. | Billie Williamson | Technology | |
| Cal-Maine Foods, Inc. | Camille S. Young | Consumer Defensive | |
| Revance Therapeutics, Inc. | Carey O'Connor Kolaja | Healthcare | |
| ASGN Incorporated | Carol Lindstrom | Industrials | |
| American Virtual Cloud Technologies, Inc. | Carolyn Byrd | Technology | Black / African American |
| Forward Air Corporation | Chitra Nayak | Industrials | Asian / Pacific Islander |
| ImmunityBio, Inc. | Christobel Selecky | Healthcare | |
| Denbury Inc. | Cindy A. Yeilding | Energy | |
| Achieve Life Sciences, Inc. | Cindy Jacobs, PhD, MD | Healthcare | |
| Benefitfocus, Inc. | Coretha M. Rushing | Technology | Black / African American |
| Longboard Pharmaceuticals, Inc. | Corinne M. Le Goff | Healthcare | |
| Shell Midstream Partners, L.P. | Cynthia V. Hablinski | Energy | |
| L Brands, Inc. | Danielle M. Lee | Consumer Cyclical | Black / African American |
| DXC Technology Company | Dawn Rogers | Technology | |
| Velodyne Lidar, Inc. | Deborah A. P. Hersman | Technology | |
| Tupperware Brands Corporation | Deborah E. Ellinger | Consumer Cyclical | |
| Innoviva, Inc. | Deborah L. Birx | Healthcare | |
| Keurig Dr Pepper Inc. | Debra A. Sandler | Consumer Defensive | Multi-racial |
| Duckhorn Portfolio, Inc. | Deirdre Mahlan | Consumer Defensive | |
| Glaukos Corporation | Denice Torres | Healthcare | Hispanic / Latino |
| Bank of Commerce Holdings | Diane D. Miller | Financial Services | |
| Hayward Holdings, Inc. | Diane Dayhoff | Industrials | |
| Ping Identity Holding Corp. | Diane J. Gherson | Technology | |
| Ready Capital Corporation | Dominique Mielle | Real Estate | |
| Walker & Dunlop, Inc. | Donna Wells | Financial Services | |
| Smartsheet Inc. | Dr. Alissa Abdullah | Technology | Black / African American |
| Achieve Life Sciences, Inc. | Dr. Bridget A. Martell | Healthcare | |
| Solid Biosciences Inc. | Dr. Clare Kahn | Healthcare | |
| NanoString Technologies, Inc. | Dr. Dana Rollison Ph.D. | Healthcare | |
| Solid Biosciences Inc. | Dr. Georgia Keresty | Healthcare | |
| Eyenovia, Inc. | Dr. Julia A. Haller M.D | Healthcare | |
| Apollo Global Management, Inc. | Dr. Kerry Murphey Healey | Financial Services | |
| Glaukos Corporation | Dr. Leana S. Wen | Healthcare | Asian / Pacific Islander |
| ImmunityBio, Inc. | Dr. Linda Maxwell | Healthcare | Black / African American |
| TRACON Pharmaceuticals, Inc. | Dr. Lisa Johnson-Pratt M.D. | Healthcare | |
| Opiant Pharmaceuticals, Inc. | Dr. Lorianne K. Masuoka M.D. | Healthcare | Asian / Pacific Islander |
| Rezolute, Inc. | Dr. Nerissa Kreher M.D. | Healthcare | |
| ALX Oncology Holdings Inc. | Dr. Sophia Randolph M.D., Ph.D. | Healthcare | |
| Histogen Inc. | Dr. Susan Richards Windham-Bannister Ph.D. | Healthcare | Black / African American |
| Kronos Bio, Inc. | Dr. Taiyin Yang Ph.D. | Healthcare | Asian / Pacific Islander |
| MaxLinear, Inc. | Dr. Tsu-Jae King Liu Ph.D. | Technology | Asian / Pacific Islander |
| Kymera Therapeutics, Inc. | Elena H. Ridloff | Healthcare | |
| Exicure, Inc. | Elizabeth A. Garofalo | Healthcare | |
| Eastside Distilling, Inc. | Elizabeth Levy-Navarro | Consumer Defensive | Hispanic / Latino |
| Old Point Financial Corporation | Elizabeth S. Wash | Financial Services | |
| Redwood Trust, Inc. | Faith A. Schwartz | Real Estate | |
| Abeona Therapeutics Inc. | Faith L. Charles | Healthcare | |
| Realogy Holdings Corp. | Felicia Williams | Real Estate | |
| Trex Company, Inc. | Gena C. Lovett | Industrials | Black / African American |
| Marathon Oil Corporation | Holli C. Ladhani | Energy | |
| Zhihu Inc. | Hope Ni | Communication Services | |
| Winnebago Industries, Inc. | Jacqueline D. Woods | Consumer Cyclical | Black / African American |
| NanoString Technologies, Inc. | Janet George | Healthcare | |
| Corteva, Inc. | Janet Plaut Giesselman | Basic Materials | |
| Methode Electronics, Inc. | Janie Goddard | Technology | |
| Eton Pharmaceuticals, Inc. | Jennifer McKie Adams | Healthcare | |
| Talis Biomedical Corporation | Jeryl L. Hilleman | Healthcare | |
| Hywin Holdings Ltd. | Jie Chen | Financial Services | Asian / Pacific Islander |
| Genworth Financial, Inc. | Jill R. Goodman | Financial Services | |
| ClearSign Technologies Corporation | Judith Schrecker | Industrials | |
| Simmons First National Corporation | Julie Stackhouse | Financial Services | |
| BioXcel Therapeutics, Inc. | June Bray | Healthcare | |
| Corteva, Inc. | Karen H. Grimes | Basic Materials | |
| Aspen Technology, Inc. | Karen M. Golz | Technology | |
| Genco Shipping & Trading Limited | Karin Y. Orsel | Industrials | |
| Adaptive Biotechnologies Corporation | Katey Einterz Owen | Healthcare | |
| IntriCon Corporation | Kathleen P. Pepski | Healthcare | |
| Laboratory Corporation of America Holdings | Kathryn E. Wengel | Healthcare | |
| First Solar, Inc. | Katy Hollister, J.D., C.P.A. | Technology | |
| Upstart Holdings, Inc. | Kerry Whorton Cooper | Financial Services | |
| VolitionRx Limited | Kim Nguyen | Healthcare | |
| Colgate-Palmolive Company | Kimberly A. Nelson | Consumer Defensive | Black / African American |
| NeoPhotonics Corporation | Kimberly Chainey | Technology | Black / African American |
| PetIQ, Inc. | Kimberly Lefko | Healthcare | |
| Dynatrace, Inc. | Kirsten O. Wolberg | Technology | |
| Inogen, Inc. | Kristen Miranda | Healthcare | |
| Agnico Eagle Mines Limited | Leona Aglukkaq | Basic Materials | Indigenous People |
| Adaptive Biotechnologies Corporation | Leslie L. Trigg | Healthcare | |
| Playa Hotels & Resorts N.V. | Leticia Navarro | Consumer Cyclical | Hispanic / Latino |
| Cryoport, Inc. | Linda Baddour | Industrials | |
| Verona Pharma plc | Lisa Deschamps | Healthcare | |
| American Express Company | Lisa Wardell | Financial Services | Black / African American |
| Hayward Holdings, Inc. | Lori A. Walker | Industrials | |
| Shoals Technologies Group, Inc. | Lori S. Sundberg | Technology | |
| Brooklyn ImmunoTherapeutics, Inc. | Luba Greenwood | Healthcare | |
| General Motors Company | Margaret C. Whitman | Consumer Cyclical | |
| Hooker Furniture Corporation | Maria Cecilia Duey | Consumer Cyclical | |
| Silverback Therapeutics, Inc. | Maria Koehler M.D., Ph.D. | Healthcare | |
| Playa Hotels & Resorts N.V. | Maria M. Miller | Consumer Cyclical | |
| Cisco Systems, Inc. | Marianna Tessel | Technology | |
| AcelRx Pharmaceuticals, Inc. | Marina Bozilenko | Healthcare | |
| Evolution Petroleum Corporation | Marjorie Anne Hargrave | Energy | |
| Ellington Residential Mortgage REIT | Mary E. McBride | Real Estate | |
| ACI Worldwide, Inc. | Mary Harman | Technology | |
| Evergy, Inc. | Mary L. Landrieu | Utilities | |
| JOANN Inc. | Marybeth Hays | Consumer Cyclical | |
| Vontier Corporation, Waste Management, Inc. | Maryrose T. Sylvester | Technology | |
| Duckhorn Portfolio, Inc. | Melanie Bordeaux Cox | Consumer Defensive | |
| Cricut, Inc. | Melissa Reiff | Technology | |
| SI-BONE, Inc. | Mika Nishimura | Healthcare | Asian / Pacific Islander |
| Aqua Metals, Inc. | Molly Zhang | Industrials | Asian / Pacific Islander |
| A-Mark Precious Metals, Inc. | Monique Sanchez | Financial Services | |
| VINE ENERGY INC. | Ms. Paulett Eberhart | Energy | |
| Ardelyx, Inc., Veracyte, Inc. | Muna Bhanji | Healthcare | |
| Hannon Armstrong Sustainable Infrastructure Capital, Inc. | Nancy C. Floyd | Real Estate | |
| KalVista Pharmaceuticals, Inc. | Nancy Stuart | Healthcare | |
| AssetMark Financial Holdings, Inc. | Natalie Grace Wolfsen | Financial Services | |
| Revance Therapeutics, Inc. | Olivia C. Ware | Healthcare | Black / African American |
| Apollo Global Management, Inc. | Pamela J. Joyner | Financial Services | Black / African American |
| CVR Partners, LP | Patricia A. Agnello | Basic Materials | |
| First BanCorp. | Patricia Eaves | Financial Services | |
| JBG SMITH Properties | Phyllis R. Caldwell | Real Estate | |
| Capital Southwest Corporation | Ramona Lynn Rogers-Windsor | Financial Services | Black / African American |
| Fathom Holdings Inc. | Ravila Gupta | Real Estate | |
| Psychemedics Corporation | Robyn C. Davis | Healthcare | |
| Histogen Inc. | Rochelle Fuhrmann | Healthcare | |
| Walgreens Boots Alliance, Inc. | Rosalind G. Brewer | Healthcare | Black / African American |
| The Gap, Inc. | Salaam Coleman Smith | Consumer Cyclical | Black / African American |
| Marinus Pharmaceuticals, Inc. | Sara Nochur | Healthcare | Asian / Pacific Islander |
| Shockwave Medical, Inc. | Sara Toyloy | Healthcare | |
| MicroVision, Inc. | Seval Oz | Technology | |
| Mirati Therapeutics, Inc. | Shalini Sharp | Healthcare | Asian / Pacific Islander |
| Helius Medical Technologies, Inc. | Sherrie L. Perkins | Healthcare | |
| PetIQ, Inc. | Sheryl Oloughlin | Healthcare | |
| LCI Industries | Stephanie K. Mains | Consumer Cyclical | |
| Invacare Corporation | Stephanie L. Fehr | Healthcare | |
| TransMedics Group, Inc. | Stephanie Lovell | Healthcare | Black / African American |
| ChemoCentryx, Inc. | Susan Kanaya | Healthcare | |
| Cadiz Inc. | Susan P. Kennedy | Utilities | |
| Artelo Biosciences, Inc. | Tamara A. Seymour | Healthcare | |
| Genpact Limited | Tamara Simpkins Franklin | Technology | Black / African American |
| Bank7 Corp. | Teresa L. Dick | Financial Services | |
| Richardson Electronics, Ltd. | Wendy S. Diddell | Technology | |