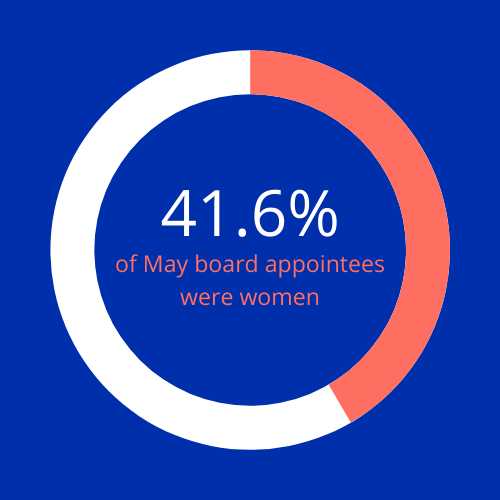 May 2021 Women Joining Public Boards Report -Women Are At a Historic High of 41.6% of Public Company Board Appointments
In May public companies appointed 149 women and 209 men to their boards. Women thus comprised 41.6% of all public board appointments – keeping in line with the past 7-month trend.
The women appointed to fill board seats continue to diversify, with self-reporting going up by 65% from last month, bringing women of color to 34% of female public board appointees. 51 women disclosed their ethnicities with 32 (or 62.7%) identifying as Black / African American, closely followed by 10 Asian/Pacific Islanders, 8 women identifying as Hispanic and 1 woman identifying as Middle Eastern/North African. FIGS Inc, The Walt Disney Company, and Goldman Sachs Co. are some of the companies that appointed this phenomenal group of diverse women to their boards. This trend towards including diverse voices in leadership is one that continues from the Board to the C-Suite and across discussions of building finance and opportunity for women across all industries.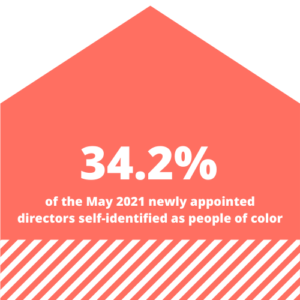 Of the 149 women appointed to the boards of public companies, 87 were first time board appointments. Companies such as Ford Motor Company and Kraft Heinz appointed these first time female directors. We will continue to track and ensure women occupy board seats across all industries and that the pipeline is strong.
In May, technology companies lead the way in the appointment of women with women comprising 16.8% of new appointments to board seats, followed by healthcare (16.1%) and financial services (14.8%). In the financial services sector, we see strides being made by women at companies like Heartland Financial USA, Inc. and Wintrust Financial Corporation.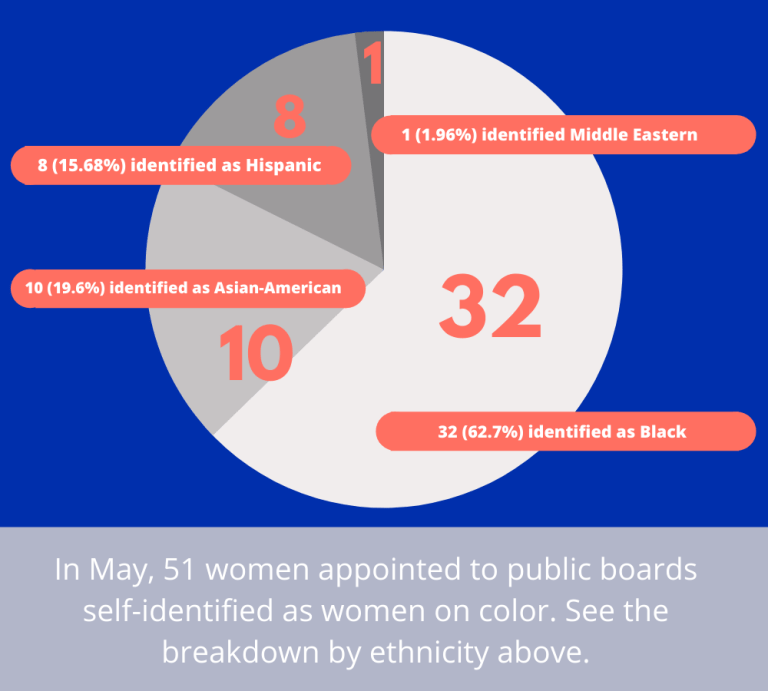 The overall trend across companies continues to hold steady at over 40%. Having said that, there is still a lot of progress to be made among the women of color and LGBTQ sub-segments. Equilar and WBC are tracking and analyzing the growth and rotation of board seats and the expanding candidate pool. We will continue to track not only the women in terms of numbers, diversity and profile; but the companies and industries in which female board members are present and how many of the overall board seats are held by women. The time is now for women to sit across all companies, boards, and sectors. Please, join us in celebrating, tracking, analyzing, and promoting women on boards of public companies.
Company
Title
Industry
Ethnicity
Ford Motor Company
Alexandra Ford English
Consumer Cyclical
Werner Enterprises, Inc.
Alexi A. WellmanIndustrials
Summit Hotel Properties, Inc.
Amina BelouizdadReal Estate
The Walt Disney Company
Amy ChangCommunication Services
Asian / Pacific Islander
SPX Corporation
Angel Shelton WillisIndustrials
Black / African American
Nicolet Bankshares, Inc.
Ann Kuchera Lawson
Financial Services
Codiak BioSciences, Inc.
Anne-Virginie Eggimann
Healthcare
NXP Semiconductors N.V.
Annette K. Clayton
Technology
Palo Alto Networks, Inc.
Aparna Bawa
Technology
Academy Sports and Outdoors, Inc.
Beryl B. Raff
Consumer Cyclical
Atlas Air Worldwide Holdings, Inc.
Beverly Goulet
Industrials
Natural Health Trends Corp.
Brunde E. Broady
Consumer Cyclical
AptarGroup, Inc.
Candace S. Matthews
Consumer Cyclical
Black / African American
Monolithic Power Systems, Inc.
Carintia Martinez
Technology
Cummins Inc.
Carla A. Harris
Industrials
Black / African American
Atlas Air Worldwide Holdings, Inc.
Carol J. Zierhoffer
Industrials
Duke Energy Corporation
Caroline D. Dorsa
Utilities
InfuSystem Holdings Inc.
Carrie A. Lachance
Healthcare
Outset Medical, Inc.
Catherine M. Szyman
Healthcare
Copart, Inc.
Cherylyn Harley LeBon
Industrials
Black / African American
BellRing Brands, Inc.
Chonda J. Nwamu
Consumer Defensive
Black / African American
Retail Value Inc.
Christa A. Vesy
Real Estate
Clearwater Paper Corporation
Christine M. Vickers Tucker
Basic Materials
Kohl's Corporation
Christine McCormick Day
Consumer Cyclical
Liberty TripAdvisor Holdings, Inc.
Christy Haubegger
Communication Services
Hispanic / Latino
Comfort Systems USA, Inc.
Cindy L. Wallis-Lage
Industrials
Assured Guaranty Ltd.
Courtney C. Shea
Financial Services
FuelCell Energy, Inc.
Cynthia Hansen
Industrials
Franchise Group, Inc.
Cynthia S. Dubin
Consumer Cyclical
MDU Resources Group, Inc.
Dale S. Rosenthal
Basic Materials
Kratos Defense & Security Solutions, Inc.
Deanna Hom Lund
Industrials
CF Industries Holdings, Inc.
Deborah L. DeHaas
Basic Materials
Berkshire Hills Bancorp, Inc.
Deborah P. Bailey
Financial Services
Black / African American
United States Cellular Corporation
Deirdre C. Drake
Communication Services
Black / African American
CyrusOne Inc.
Denise A. Olsen
Real Estate
Oil States International, Inc.
Denise Castillo-Rhodes
Energy
Six Flags Entertainment Corporation
Denise M. Clark
Consumer Cyclical
Dillard's, Inc.
Denise Mahaffy
Consumer Cyclical
GigCapital3, Inc.
Diana Dawn Tremblay
Financial Services
SP Plus Corporation
Diana L. Sands
Industrials
Cousins Properties Incorporated
Dionne Nelson
Real Estate
Morningstar, Inc.
Doniel N. Sutton
Financial Services
Black / African American
Rigel Pharmaceuticals, Inc.
Dr. Alison L. Hannah M.D.
Healthcare
Lineage Cell Therapeutics, Inc.
Dr. Anula Jayasuriya M.D., Ph.D.
Healthcare
Asian / Pacific Islander
Repro Med Systems, Inc.
Dr. Donna French Ph.D.
Healthcare
Kopin Corporation
Dr. Jill Avery
Technology
Anavex Life Sciences Corp.
Dr. Jiong Ma Ph.D.
Healthcare
Asian / Pacific Islander
Assembly Biosciences, Inc.
Dr. Lisa R. Johnson-Pratt M.D.
Healthcare
Black / African American
National Research Corporation
Dr. Penny Wheeler M.D.
Healthcare
Wintrust Financial Corporation
Dr. Suzet M. McKinney
Financial Services
Black / African American
Essential Utilities, Inc.
Edwina Kelly
Utilities
Horace Mann Educators Corporation
Elaine A. Sarsynski
Financial Services
Inogen, Inc.
Elizabeth A. Mora
Healthcare
Alkermes plc
Emily Peterson Alva
Healthcare
Jamf Holding Corp.
Etalvina M. Leite
Technology
Black / African American
ProAssurance Corporation
Fabiola Cobarrubias
Financial Services
Hispanic / Latino
Aehr Test Systems
Fariba Danesh
Technology
Oatly Group AB
Frances G. Rathke
Consumer Defensive
TTEC Holdings, Inc.
Gina L. Loften
Technology
Black / African American
Markel Corporation
Greta J. Harris
Financial Services
Black / African American
Palo Alto Networks, Inc.
Helene Gayle
Technology
Black / African American
Digital Turbine, Inc.
Holyce Hess Groos
Technology
Universal Technical Institute, Inc.
Hon. Loretta L. Sanchez
Consumer Defensive
Hispanic / Latino
Realty Income Corporation
Jacqueline Valerie Brady
Real Estate
First Community Corporation
Jan H. Hollar
Financial Services
Mondelez International, Inc.
Jane Hamilton Nielsen
Consumer Defensive
Array Technologies, Inc.
Jayanthi Iyengar
Technology
Asian / Pacific Islander
Enochian Biosciences, Inc.
Jayne McNicol
Healthcare
First American Financial Corporation
Jean C. LaTorre
Healthcare
Sykes Enterprises, Incorporated
Jeanne M. Beliveau-Dunn
Technology
Post Holdings, Inc.
Jennifer Kuperman Johnson
Consumer Defensive
Aptinyx Inc.
Joan W. Miller
Healthcare
PetMed Express, Inc.
Jodi Watson
Healthcare
Genie Energy Ltd.
Joyce J. Mason
Utilities
Qorvo, Inc.
Judy Bruner
Technology
Molson Coors Beverage Company
Julia M. Brown
Consumer Defensive
Black / African American
Alliance Data Systems Corporation
Karin J. Kimbrough
Financial Services
Black / African American
Eastman Kodak Company
Kathleen B. Lynch
Industrials
Wolverine World Wide, Inc.
Kathleen Wilson-Thompson
Consumer Cyclical
Black / African American
InspireMD, Inc.
Kathryn Arnold
Healthcare
Heartland Financial USA, Inc.
Kathryn Graves Unger
Financial Services
Black / African American
Zosano Pharma Corporation
Kathy M. McGee
Healthcare
EVERTEC, Inc.
Kelly H. Barrett
Technology
Perma-Fix Environmental Services, Inc.
Kerry Duggan
Industrials
The Goldman Sachs Group, Inc.
Kimberley D. Harris
Financial Services
Black / African American
Big Lots, Inc.
Kimberly A. Newton
Consumer Defensive
Black / African American
The First Bancorp, Inc.
Kimberly Swan
Financial Services
Spirit Realty Capital, Inc.
Kristian M. Gathright
Real Estate
Fresh Del Monte Produce Inc.
Kristin L. Colber-Baker
Consumer Defensive
Allied Esports Entertainment Inc.
Libing Wu
Communication Services
Asian / Pacific Islander
Johnson Outdoors Inc.
Liliann Annie Zipfel
Consumer Cyclical
Hibbett Sports, Inc.
Linda Hubbard
Consumer Cyclical
Franchise Group, Inc.
Lisa M. Fairfax
Consumer Cyclical
Black / African American
The Kraft Heinz Company
Lori Dickerson Fouche
Consumer Defensive
Fresh Del Monte Produce Inc.
Lori Tauber Marcus
Consumer Defensive
White Mountains Insurance Group, Ltd.
Margaret Dillon
Financial Services
Kohl's Corporation
Margaret L. Jenkins
Consumer Cyclical
Transocean Ltd.
Margareth Øvrum
Energy
Xerox Holdings Corporation
Margarita Palau-Hernandez
Technology
Hispanic / Latino
Pool Corporation
Marty Gervasi
Consumer Cyclical
Lowe's Companies, Inc.
Mary Beth E. West
Consumer Cyclical
Black / African American
Genesco Inc.
Mary E. Meixelsperger
Consumer Cyclical
Immersion Corporation
Mary L. Dotz
Technology
Bristow Group Inc.
Maryanne Miller
Energy
GigCapital3, Inc.
Meghan Sharp
Financial Services
Aviat Networks, Inc.
Michele F. Klein
Technology
Spirit Realty Capital, Inc.
Michelle Frymire
Real Estate
Keysight Technologies, Inc.
Michelle Johnston Holthaus
Technology
Assured Guaranty Ltd.
Michelle McCloskey
Financial Services
Yum China Holdings, Inc.
Min Zhang
Consumer Cyclical
Asian / Pacific Islander
Shineco, Inc.
Minye Wang
Healthcare
TriNet Group, Inc.
Myrna M. Soto
Industrials
Hispanic / Latino
Lexington Realty Trust
Nancy Elizabeth Noe
Real Estate
Xerox Holdings Corporation
Nichelle Maynard-Elliott
Technology
Black / African American
Allied Motion Technologies Inc.
Nicole R. Tzetzo
Technology
Tenable Holdings, Inc.
Niloofar Razi Howe
Technology
Middle Eastern / North African
AvalonBay Communities, Inc.
Nnenna Lynch
Real Estate
Black / African American
Denny's Corporation
Olufunlayo Olurinde Fajemirokun-Beck
Consumer Cyclical
Luna Innovations Incorporated
Pamela L. Coe
Technology
Black / African American
Coastal Financial Corporation
Pamela Unger
Financial Services
Invesco Ltd.
Paula C. Tolliver
Financial Services
Talos Energy Inc.
Paula R. Glover
Energy
Black / African American
Varonis Systems, Inc.
Rachel Prishkolnik
Technology
Lixte Biotechnology Holdings, Inc.
Regina Brown
Healthcare
PennyMac Mortgage Investment Trust
Renee R. Schultz
Real Estate
Core-Mark Holding Company, Inc.
Rosemary L. Turner
Consumer Defensive
Black / African American
Beyond Meat, Inc.
Sally Grimes
Consumer Defensive
Asian / Pacific Islander
Big Lots, Inc.
Sandra Campos
Consumer Defensive
Hispanic / Latino
aTyr Pharma, Inc.
Sara Zaknoen M.D.
Healthcare
Coastal Financial Corporation
Sarah Elliott
Financial Services
Cathay General Bancorp
Shally Wang
Financial Services
Asian / Pacific Islander
Cutera, Inc.
Sheila A. Hopkins
Healthcare
FIGS, Inc.
Sheila Antrum
Consumer Cyclical
Black / African American
Surgalign Holdings, Inc.
Sheryl L. Conley
Healthcare
ChargePoint Holdings, Inc.
Susan Heystee
Consumer Cyclical
Apria, Inc.
Susannah Gray
Healthcare
Community West Bancshares
Suzanne Marie Chadwick
Financial Services
DiamondRock Hospitality Company
Tabassum Zalotrawala
Real Estate
Summit Materials, Inc.
Tamla Oates-Forney
Basic Materials
Black / African American
Deluxe Corporation
Telisa L. Yancy
Communication Services
Black / African American
Jones Lang LaSalle Incorporated
Tina Ju
Real Estate
Asian / Pacific Islander
Del Taco Restaurants, Inc.
Valerie L. Insignares
Consumer Cyclical
Hispanic / Latino
Evoke Pharma, Inc.
Vickie S. Reed
Healthcare
Jamf Holding Corp.
Virginia Gambale
Technology
Summit Wireless Technologies, Inc.
Wendy Wilson
Technology
Cohu, Inc.
Yon Yoon Jorden
Technology
Asian / Pacific Islander
Air Lease Corporation
Yvette Hollingsworth Clark
Industrials
Black / African American
California Water Service Group
Yvonne A. Maldonado M.D.
Utilities
Hispanic / Latino
Park Aerospace Corp.
Yvonne Julian
Industrials
Black / African American