November 2020 Report Summary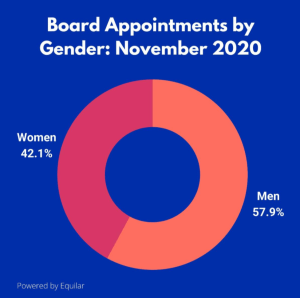 As the year closes and the holidays begin, the calls for diversity and leadership resonate across all sectors. This call for diversity is reflected in the continued trend in board appointment to public boards. In terms of appointment to public boards, the rise in the appointments of women and women of color continues. As a case in point, Starbucks just announced that Mellody Hobson – a woman of color – will be the chairwoman of its board.
In November 2020, public companies appointed women to fill 112 board seats. Women comprised 42% of the 266 appointments for public companies and this is up from 40.2% in October. The rate at which women are appointed to public boards continues to rise.
This trend is matched by an increase in the number of women of color who are appointed to boards of public companies. In November 33 of the women appointed to the boards of public companies identified as women of color. Black women comprised 72.7% of those women. The rise in appointments is accompanied by calls from groups such as NASDAQ who want to require the more than 3,000 companies listed on its stock exchange to improve boardroom diversity by appointing at least one woman and at least one minority or LGBTQ+ person to their boards.

NASDAQ said it based its decision on the significant link found between diverse boards and better corporate governance and financial performance. The Latino Corporate Directors Association, a member of the WBC Women on Boards Initiative, calls for many more latinos on boards.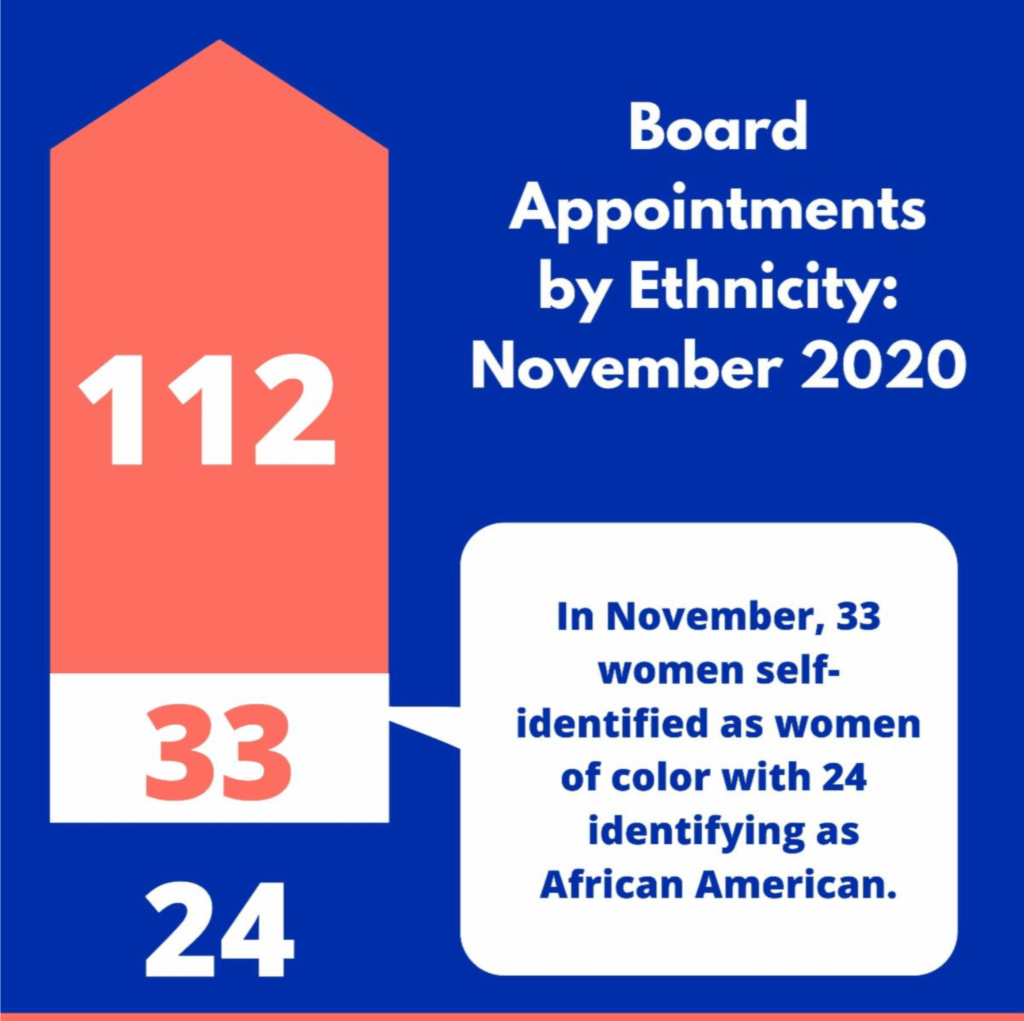 Healthcare companies continue to lead the way in appointing women closely followed by the companies in the technology and industrials sectors. The financial services industry is seeing an uptick in board appointments who are women.
The November data also shows that of the 112 women appointed, 56 or half of those were first time appointments. This is good news as it means more women are being appointed to the highest levels of public companies but also that there are more women in the overall pipeline.
As we close out 2020, we are analyzing the overall trends across companies and look forward to watching where women rise on boards and across sectors. Our tracking is analyzing the growth and rotation of board seats and also growth of the candidate pool. We will continue to track not only the women, in terms of numbers, diversity and profile; but the companies and in which industries are women board members and how many of the overall board seats are held by women. The time is now for women to sit across all companies, all boards and all sectors.
Join us in tracking, analyzing, promoting and celebrating women on boards of public companies.
| Company | Title | Industry | Ethnicity |
| --- | --- | --- | --- |
| NVIDIA Corporation | Aarti S. Shah | Technology | Asian / Pacific Islander |
| AppFolio, Inc. | Agnes Bundy Scanlan | Technology | Black / African American |
| Kaman Corporation | Aisha Barry | Industrials | |
| Freedom Holding Corp. | Amber Williams | Financial Services | |
| Maravai LifeSciences Holdings, Inc. | Anat Ashkenazi | Healthcare | Asian / Pacific Islander |
| Electromed, Inc. | Andrea M. Walsh | Healthcare | |
| Switch, Inc. | Angela N. Archon | Technology | Black / African American |
| Upwork Inc. | Anilu Vazquez-Ubarri | Industrials | Hispanic / Latino |
| Caladrius Biosciences, Inc. | Anne C. Whitaker | Healthcare | |
| SPS Commerce, Inc. | Anne Sempowski Ward | Technology | Black / African American |
| BJ's Restaurants, Inc. | Bina Chaurasia | Consumer Cyclical | Asian / Pacific Islander |
| Anaplan, Inc. | Brooke E. Major-Reid | Technology | Black / African American |
| nLIGHT, Inc. | Camille Nichols | Technology | |
| Werner Enterprises, Inc. | Carmen A. Tapio | Industrials | Black / African American |
| Kforce Inc. | Catherine H. Cloudman | Industrials | |
| TESSCO Technologies Incorporated | Cathy-Ann Martine-Dolecki | Technology | |
| Jamf Holding Corp. | Christina Silvia Lema | N/A | |
| Oasis Petroleum Inc. | Cynthia Lynn Walker | Energy | |
| Purple Innovation, Inc. | Dawn M. Zier | Consumer Cyclical | |
| Weyerhaeuser Company | Deidra C. Merriwether | Real Estate | Black / African American |
| KeyCorp | Devina A. Rankin | Financial Services | |
| T-Mobile US, Inc. | Dominique Leroy | Communication Services | |
| IDEXX Laboratories, Inc. | Dr. Asha S. Collins, Ph.D | Healthcare | Black / African American |
| Altria Group, Inc. | Dr. Ellen R. Strahlman M.D. | Consumer Defensive | |
| American Resources Corporation | Dr. Gerardine Botte Ph.D. | Energy | |
| Maravai LifeSciences Holdings, Inc. | Dr. Jessica Hopfield Ph.D. | Healthcare | |
| LiveRamp Holdings, Inc. | Dr. Kamakshi Sivaramakrishnan Ph.D. | Technology | Asian / Pacific Islander |
| Taysha Gene Therapies, Inc. | Dr. Laura Sepp-Lorenzino Ph.D. | Healthcare | |
| CarParts.com, Inc. | Dr. Lisa Costa | Consumer Cyclical | |
| Summit Therapeutics Inc. | Dr. Mahkam Zanganeh | Healthcare | |
| Enzo Biochem, Inc. | Dr. Mary Tagliaferri M.D. | Healthcare | |
| Natera, Inc. | Dr. Monica Bertagnolli M.D. | Healthcare | |
| Aspira Women's Health Inc. | Dr. Sandra E. Brooks M.D. | Healthcare | Black / African American |
| Olema Pharmaceuticals, Inc. | Dr. Sandra J. Horning M.D. | Healthcare | |
| Houlihan Lokey, Inc. | Ekpedeme M. Bassey | Financial Services | Black / African American |
| Talend S.A. | Elissa Fink | Technology | |
| Innospec Inc. | Elizabeth K. Arnold | Basic Materials | |
| Four Corners Property Trust, Inc. | Elizabeth Tennican | Real Estate | |
| Royal Gold, Inc. | Fabiana E. Chubbs | Basic Materials | |
| The AZEK Company Inc. | Fumbi F. Chima | Industrials | Black / African American |
| Corcept Therapeutics Incorporated | Gillian M. Cannon PhD | Healthcare | |
| Schnitzer Steel Industries, Inc. | Glenda J. Minor | Basic Materials | Black / African American |
| TC PipeLines, LP | Gloria L. Hartl | Energy | |
| Athersys, Inc. | Jane Wasman | Healthcare | |
| Zoom Video Communications, Inc. | Janet Napolitano | Communication Services | |
| Nordson Corporation | Jennifer A. Parmentier | Industrials | |
| TreeHouse Foods, Inc. | Jill A. Rahman | Consumer Defensive | Black / African American |
| Tapestry, Inc. | Joanne C. Crevoiserat | Consumer Cyclical | |
| Unico American Corporation | Joycelin M. Ray | Financial Services | |
| MicroVision, Inc. | Judith Mecham Curran | Technology | |
| Extra Space Storage Inc. | Julia Vander Ploeg | Real Estate | |
| MultiPlan Corporation | Julie D. Klapstein | Healthcare | |
| Teladoc Health, Inc. | Karen L. Daniel | Healthcare | Black / African American |
| Cyclacel Pharmaceuticals, Inc. | Karin L. Walker | Healthcare | |
| Hess Corporation | Karyn Ovelmen | Energy | |
| Athersys, Inc. | Katherine Bach Kalin | Healthcare | |
| SenesTech, Inc. | Kathleen Claire Kavanagh | Basic Materials | |
| United Parcel Service, Inc. | Kathleen E. Johnson | Industrials | |
| Taysha Gene Therapies, Inc. | Kathleen Reape | Healthcare | |
| Heritage Global Inc. | Kelly Sharpe | Financial Services | |
| Timberland Bancorp, Inc. | Kelly Suter | Financial Services | |
| Mitek Systems, Inc. | Kimberly S. Stevenson | Technology | |
| Lululemon Athletica Inc. | Kourtney Gibson | Consumer Cyclical | Black / African American |
| Marrone Bio Innovations, Inc. | Lara L. Lee | Basic Materials | |
| CrowdStrike Holdings, Inc. | Laura J. Schumacher | Technology | |
| Hasbro, Inc. | Laurel J. Richie | Consumer Cyclical | Black / African American |
| Yum! Brands, Inc. | Lauren R. Hobart | Consumer Cyclical | |
| Infrastructure and Energy Alternatives, Inc. | Laurene B. Mahon | Industrials | |
| M&T Bank Corporation | Leslie V. Godridge | Financial Services | |
| Switch, Inc. | Liane Pelletier | Technology | |
| Visa Inc. | Linda J. Rendle | Financial Services | |
| Howard Bancorp, Inc. | Linda L. Singh | Financial Services | Black / African American |
| Automatic Data Processing, Inc. | Linnie M. Haynesworth | Industrials | Black / African American |
| Hall of Fame Resort & Entertainment Company | Lisa Roy | Communication Services | |
| Laredo Petroleum, Inc. | Lori A. Lancaster | Energy | |
| Farmers & Merchants Bancorp, Inc. | Lori Ann Johnston | Financial Services | |
| Progyny, Inc. | Malissia R. Clinton | Healthcare | Black / African American |
| TriNet Group, Inc. | Maria Contreras-Sweet | Industrials | Hispanic / Latino |
| Penn National Gaming, Inc. | Marla Kaplowitz | Consumer Cyclical | |
| ZIOPHARM Oncology, Inc. | Mary T. Thistle | Healthcare | |
| Equifax Inc. | Melissa D. Smith | Energy | |
| Kaman Corporation | Michelle J. Lohmeier | Industrials | |
| RingCentral, Inc. | Mignon L. Clyburn | Technology | Black / African American |
| Rexahn Pharmaceuticals, Inc. | Mina Sooch | Healthcare | Asian / Pacific Islander |
| WSFS Financial Corporation | Nancy J. Foster | Financial Services | |
| Cytokinetics, Incorporated | Nancy J. Wysenski | Healthcare | |
| Macatawa Bank Corporation | Nicole S. Dandridge | Financial Services | |
| Ranpak Holdings Corp. | Pamela K. El | Consumer Cyclical | Black / African American |
| Lear Corporation | Patricia L. Lewis | Consumer Cyclical | Black / African American |
| Thermo Fisher Scientific Inc. | R. Alexandra Keith | Healthcare | |
| ReWalk Robotics Ltd. | Randel E. Richner | Healthcare | |
| Atlas Technical Consultants, Inc. | Raquel G. Richmond | Industrials | |
| Coastal Financial Corporation | Rilla S. Delorier | Financial Services | |
| M&T Bank Corporation | Rudina Seseri | Financial Services | |
| Oasis Petroleum Inc. | Samantha Holroyd | Energy | |
| Fidelity National Financial, Inc. | Sandra Douglass Morgan | Financial Services | Black / African American |
| Teladoc Health, Inc. | Sandra L. Fenwick | Healthcare | |
| Riverview Bancorp, Inc. | Stacey Graham | Financial Services | |
| JMP Group LLC | Staci Slaughter | Financial Services | |
| Community Bank System, Inc. | Susan E. Skerritt | Financial Services | |
| Rexahn Pharmaceuticals, Inc. | Susan K. Benton | Healthcare | |
| Maravai LifeSciences Holdings, Inc. | Susannah Gray | Healthcare | |
| Leaf Group Ltd. | Suzanne M. Hopgood | Communication Services | |
| QUALCOMM Incorporated | Sylvia Acevedo | Technology | Hispanic / Latino |
| Crown Castle International Corp. (REIT) | Tammy K. Jones | Real Estate | Black / African American |
| Replimune Group, Inc. | Tanya Lewis | Healthcare | Black / African American |
| Arcutis Biotherapeutics, Inc. | Terrie J. Curran | Healthcare | |
| Four Corners Property Trust, Inc. | Toni S. Steele | Real Estate | |
| CoreLogic, Inc. | Wendy E. Lane | Technology | |
| Tarsus Pharmaceuticals, Inc. | Wendy L. Yarno | Healthcare | |
| Plantronics, Inc. | Yael Zheng | Technology | |
| Code Chain New Continent Limited | Yajing Li | Industrials | Asian / Pacific Islander |