October 2023 Report Summary
Companies continue to diversify board composition by appointing women to the board of public companies.
In October, women comprised 33.1% of new appointments to the boards of public companies. Public companies appointed 101 women to boards and 204 men to their boards. The pressure to increase diversity at the board level remains critical to ensuring the advancement of women moving into board positions. 
While only 27 of the newly appointed women board members (26.7% of new women appointments) chose to self-disclose their race, boards must continue to diversify and the data continues to highlight the value of disclosure.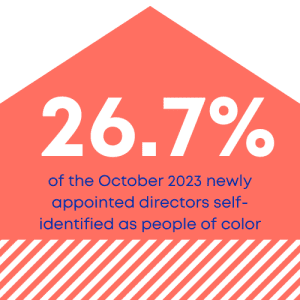 In October, Asian/Pacific Islander women took the lead in board appointments with 13 women each being appointed to public boards, making up 48.1% of all appointments. They are closely followed by 10 Black / African American women (37.0%).
Companies such as  Birkenstock Holding plc, Green Dot Corporation, and Starbucks Corporation are leading the way as part of a phenomenal group that have appointed diverse women to their boards. 
Of the 101 women appointed to the boards of public companies, 57, or 56.4%, were first-time board appointments. In October, Financial Services companies led the way in the appointment of women followed by  Healthcare companies, with appointed women filling 18.8% of board seats at Financial Services companies and 16.8% at Healthcare companies. In the Financial Services industry, we see strides being made by women at companies like Green Dot Corporation.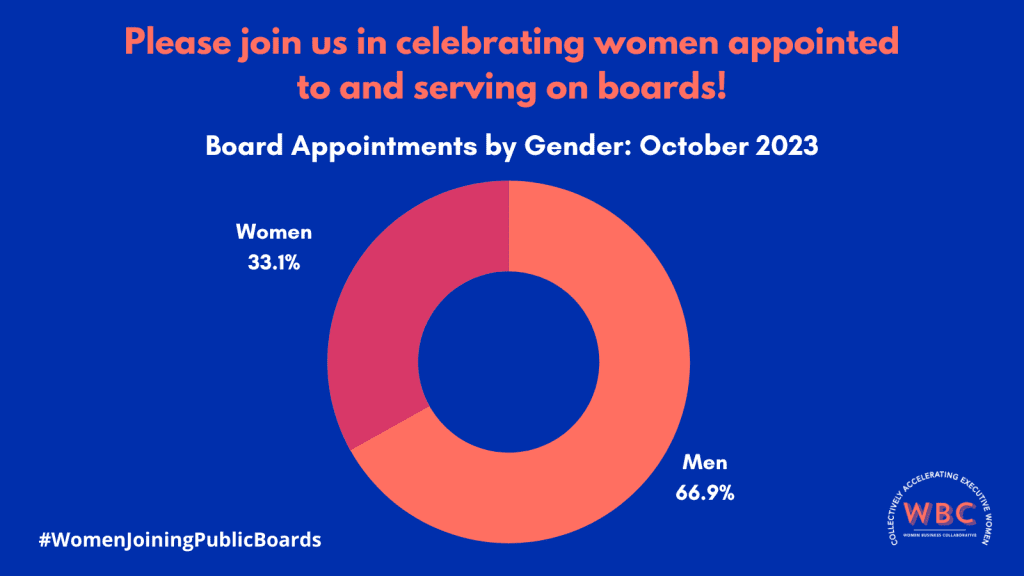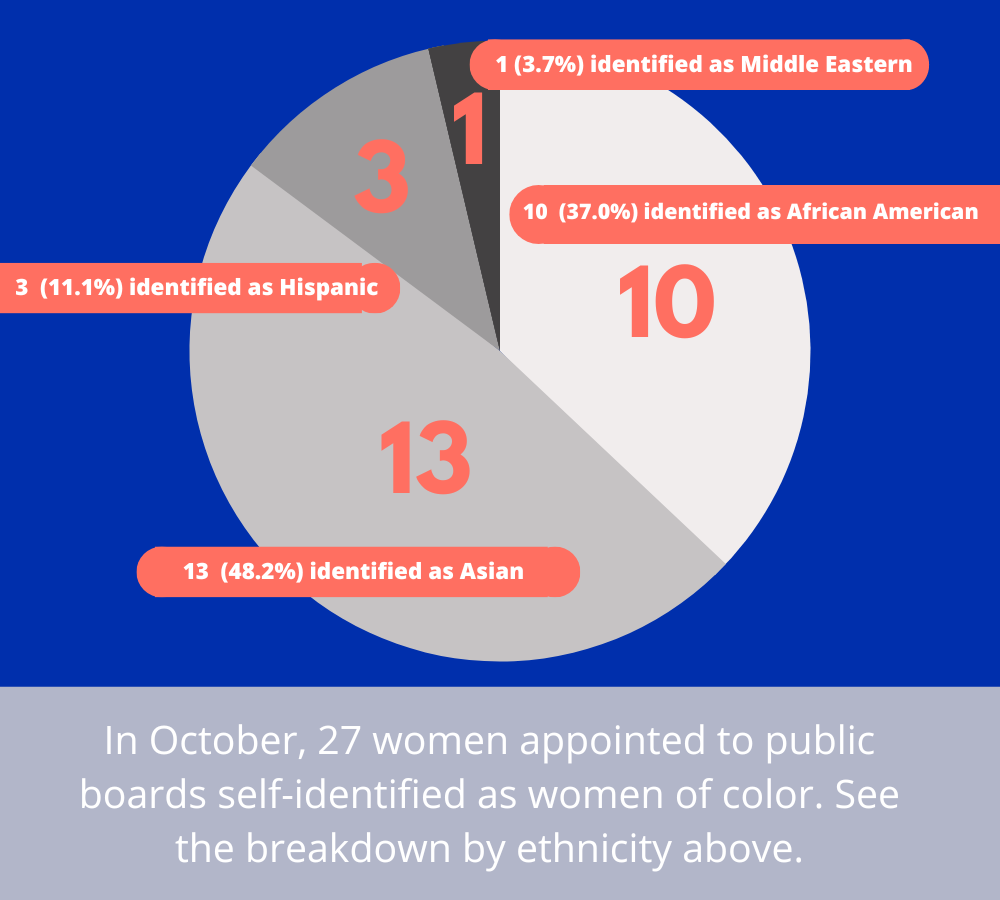 Equilar and WBC are tracking and analyzing the growth and rotation of board seats on public companies and the expanding candidate pool. We will continue to track and analyze not only the numbers, diversity and profile of the women being appointed to boards; but the companies and industries in which female board members are present and how many of the overall board seats are held by women.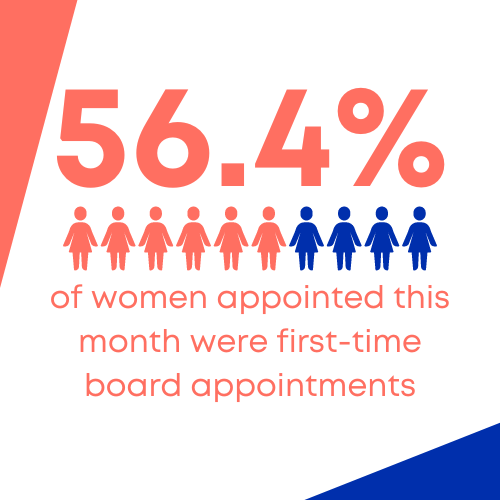 Company
Title
Industry
Ethnicity
Pacira BioSciences, Inc.
Alethia Young
Healthcare
Black / African American
Westamerica Bancorporation
Alisa Belew
Financial Services
Regions Financial Corporation
Alison S. Rand
Financial Services
Rush Enterprises, Inc.
Amy Boerger
Consumer Cyclical
Nortech Systems Incorporated
Amy Fredregill
Technology
Mercantile Bank Corporation
Amy L. Sparks
Financial Services
Trane Technologies plc
Ana Paula de Jesus Assis
Industrials
Birkenstock Holding plc
Anne Pitcher
Consumer Cyclical
Lake Shore Bancorp, Inc.
Ann Segarra
Financial Services
Moatable, Inc.
Rebecca Polak
Technology
Heartland Express, Inc.
Brenda M. Lantz
Industrials
Flowers Foods, Inc.
Brigitte H. King
Consumer Defensive
LogicMark, Inc.
Carine Schneider
Industrials
Bank of Marin Bancorp
Cigdem Gencer
Financial Services
Middle Eastern / North African
OceanFirst Financial Corp.
Dalila Wilson-Scott
Financial Services
Black / African American
Transcat, Inc.
Dawn DePerrior
Industrials
Root, Inc.
Donna Dorsey
Financial Services
Black / African American
STRATA Skin Sciences, Inc.
Dr. Irit Yaniv M.D., MBA
Healthcare
IGM Biosciences, Inc.
Dr. Elizabeth H.Z. Thompson Ph.D,
Healthcare
Natural Gas Services Group, Inc.
Georganne Hodges
Energy
EVe Mobility Acquisition Corp
Regina Shekerdemian
Financial Services
Next.e.GO N.V.
Isabelle D. Freidheim
Consumer Cyclical
NCR Voyix Corporation
Janet Brutschea Haugen
Technology
AbbVie Inc.
Jennifer L. Davis
Healthcare
Otis Worldwide Corporation
Jill Brannon
Industrials
Ingersoll Rand Inc.
JoAnna L. Sohovich
Industrials
Hispanic / Latino
Flowers Foods, Inc.
Joanne D Smith
Consumer Defensive
Ingersoll Rand Inc.
Julie A. Schertell
Industrials
Blue Bird Corporation
Julie A. Fream
Consumer Cyclical
American Acquisition Opportunity Inc.
Julie Griffith
Financial Services
Hudson Technologies, Inc.
Kathleen L. Houghton
Basic Materials
Global Payments Inc.
Kirsten Marie Kliphouse
Industrials
The Aaron's Company, Inc.
Kristine Kay Malkoski
Consumer Cyclical
Frontdoor, Inc.
Lara Balazs