September 2023 Report Summary
As we begin Q4, companies continue to diversify board composition by appointing women to the board of public companies.
Companies continue to diversify board composition by appointing women to the board of public companies.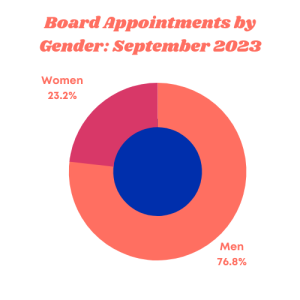 In September, women comprised 23.2% of new appointments to the boards of public companies. Public companies appointed 78 women to boards and 258 men to their boards. The pressure to increase diversity at the board level remains critical to ensuring the advancement of women moving into board positions. 
While only 17 of the newly appointed women board members (21.79% of new women appointments) chose to self-disclose their race, boards must continue to diversify and the data continues to highlight the value of disclosure. In September, Asian/Pacific Islander and Black/African American women took the lead in board appointments with 9 women each being appointed to public boards, making up 52.94% of all appointments. They are closely followed by 5 Black / African American women (29.41%). Companies such as Chipotle Mexican Grill, Inc., Kimberly-Clark Corporation, and Parker-Hannifin Corporation are leading the way as part of a phenomenal group that have appointed diverse women to their boards.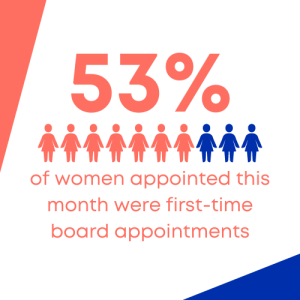 Of the 71 women appointed to the boards of public companies, 41, or 52.56%, were first-time board appointments. In September, Healthcare companies led the way in the appointment of women followed by  Financial Services companies, with appointed women filling 24.36% of board seats at Healthcare companies and 14.10% at Financial Services companies. In the Healthcare industry, we see strides being made by women at companies like Regeneron Pharmaceuticals, Inc.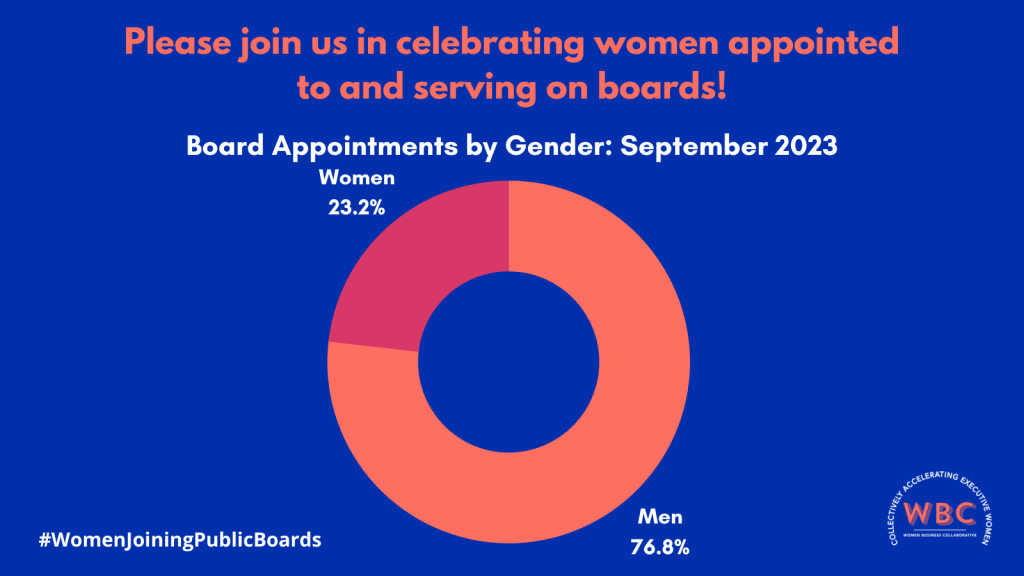 Equilar and WBC are tracking and analyzing the growth and rotation of board seats on public companies and the expanding candidate pool. We will continue to track and analyze not only the numbers, diversity and profile of the women being appointed to boards; but the companies and industries in which female board members are present and how many of the overall board seats are held by women.
Company
Title
Industry
Ethnicity
AdTheorent Holding Company, Inc.
Shuangxiu Yu
Communication Services
Asian / Pacific Islander
Advanced Emissions Solutions, Inc.
Laurie Bergman
Industrials
Advantage Solutions Inc.
Jody L. Macedonio
Communication Services
AERWINS Technologies Inc.
Katie Field
Technology
Aflac Incorporated
Miwako Hosoda
Financial Services
Asian / Pacific Islander
Aprea Therapeutics, Inc.
Gabriela Gruia
Healthcare
Archer-Daniels-Midland Company
Dr. Ellen de Brabander Ph.D.
Consumer Defensive
Arrow Electronics, Inc.
Mary McDowell
Technology
Aspira Women's Health Inc.
Jannie Prestridge Herchuk
Healthcare
Aspira Women's Health Inc.
Stefanie L. Cavanaugh
Healthcare
Aspira Women's Health Inc.
Ellen O'Connor Vos
Healthcare
Bank OZK
Elizabeth Musico
Financial Services
Hispanic / Latino
BankUnited, Inc.
Germaine Smith-Baugh
Financial Services
Black / African American
Bankwell Financial Group, Inc.
Anahaita N. Kotval
Financial Services
Middle Eastern / North African
Blink Charging Co.
Kristina Ann Peterson
Consumer Cyclical
Bunge Limited
Monica Houle McGurk
Consumer Defensive
Catalyst Pharmaceuticals, Inc.
Tamar Thompson
Healthcare
Black / African American
Cedar Fair, L.P.
Nina Barton
Consumer Cyclical
Black / African American
Chemed Corporation
Eileen P. McCarthy
Healthcare
Cheniere Energy, Inc.
Denise Gray
Energy
Black / African American
Chubb Limited
Nancy K. Buese
Financial Services
CISO Global Inc.
Debra L. Smith
Technology
CME Group Inc.
Kathryn Benesh
Financial Services
CNO Financial Group, Inc.
Adrianne B. Lee
Financial Services
CNS Pharmaceuticals, Inc.
Bettina Cockroft
Healthcare
Coca-Cola Consolidated, Inc.
Elaine Bowers Coventry
Consumer Defensive
Coeur Mining, Inc.
Paramita Das
Basic Materials
Asian / Pacific Islander
Compass Diversified
Nancy B. Mahon
Industrials
Compass Minerals International, Inc.
Jill Veronica Gardiner
Basic Materials
ConnectOne Bancorp, Inc.
Elizabeth Magennis
Financial Services
Diamond Offshore Drilling, Inc.
Patrice D. Douglas
Energy
Black / African American
Diodes Incorporated
Elizabeth Bull
Technology
Discover Financial Services
Beverley A. Sibblies
Financial Services
Black / African American
Emerson Electric Co.
Leticia Goncalves
Industrials
Enerpac Tool Group Corp.
Colleen Healy
Industrials
Everest Consolidator Acquisition Corp
Rebecca Macieira-Kaufmann
Financial Services
Expro Group Holdings N.V.
Frances M. Vallejo
Energy
Hispanic / Latino
Extra Space Storage Inc.
Jennifer Blouin
Real Estate
Hispanic / Latino
First Financial Bancorp
Dawn C. Morris
Financial Services
Floor & Decor Holdings, Inc.
Melissa D. Kersey
Consumer Cyclical
General Electric Company
Jessica R. Uhl
Industrials
Graco Inc.
Heather L. Anfang
Industrials
Gulfport Energy Corporation
Mary L. Shafer-Malicki
Energy
Hillman Solutions Corp.
Diane Honda
Industrials
Hillstream BioPharma, Inc.
Kelly J. Anderson
Healthcare
Horace Mann Educators Corporation
Aaliyah A. Samuel
Financial Services
Multi Racial
Hyster-Yale Materials Handling, Inc.
Colleen R. Batcheler
Industrials
IDACORP, Inc.
Susan D. Morris
Utilities
Independent Bank Group, Inc.
Janet P. Froetscher
Financial Services
Ingredion Incorporated
Dr. Patricia D. Verduin Ph.D.
Consumer Defensive
Installed Building Products, Inc.
Marchelle E. Moore
Industrials
Black / African American
Invitation Homes Inc.
Frances Aldrich Sevilla-Sacasa
Real Estate
Hispanic / Latino
Iridium Communications Inc.
Jacqueline E. Yeaney
Communication Services
Kenvue Inc.
Betsy D. Holden
Consumer Defensive
Kenvue Inc.
Melanie Healey
Consumer Defensive
Hispanic / Latino
Kenvue Inc.
Seemantini Godbole
Consumer Defensive
Asian / Pacific Islander
Kenvue Inc.
Tamara Simpkins Franklin
Consumer Defensive
Black / African American
Keros Therapeutics, Inc.
Dr. Alpna H. Seth Ph.D.
Healthcare
Asian / Pacific Islander
Knowles Corporation
Erania Brackett
Technology
Black / African American
Lakeland Financial Corporation
Kristin L. Pruitt
Financial Services
Lancaster Colony Corporation
Zena Srivatsa Arnold
Consumer Defensive
Landos Biopharma, Inc.
Alka Batycky
Healthcare
Local Bounti Corporation
Jennifer Carr Smith
Consumer Defensive
LyondellBasell Industries N.V.
Rita Griffin
Basic Materials
Marinus Pharmaceuticals, Inc.
Dr. Sarah B. Noonberg M.D., Ph.D.
Healthcare
Mid-America Apartment Communities, Inc.
Tamara D. Fischer
Real Estate
NACCO Industries, Inc.
Valerie Gentile Sachs