Executive Summary and Forward
It is with great pleasure, Women Business Collaborative (WBC), with Ascend, C200 and Catalyst, release the fourth annual summary highlighting Women CEOs in America. This year there are several reasons for celebration that go beyond the raw number—women CEOs are rising and also more women are leading traditionally male dominated industries. For the first time, women lead over 10% of Fortune 500 companies. 
During the period of May 2022 to June 2023, several women have been named to CEO roles in both major Fortune 500 and S&P 500 companies across indices and industries, including Maria Black (Automatic Data Processing), Gina Boswell (Bath and Body Works), Stephanie L. Ferris (Fidelity National Information Services), Kate Johnson (Lumen Technologies), Jennifer A. Parmentier (Parker-Hannifin), Jennifer Rumsey (Cummins), and Julie A. Sloat (American Electric Power). These appointments are a breakthrough in largely male-dominated industries and perhaps a signal for the future.
While progress continues, the overall low number of women in CEO positions highlights critical gaps in leadership progression to CEO roles for women, particularly for women of color. Women Business Collaborative and our partners are committed to not just reporting, but also galvanizing, energizing and motivating organizations to usher in more women to the C-Suite and then to CEO roles. There is reason for optimism as we see an increasing commitment to populate the C-Suite and the Board with more women – and it is happening. So, we celebrate the women heading up these major corporations and the boards leading the way in the advancement of women to the highest corporate levels.
This summary provides a comprehensive breakdown of women running Fortune 500, Russell 3000, S&P 500, and Private Companies over $1 billion.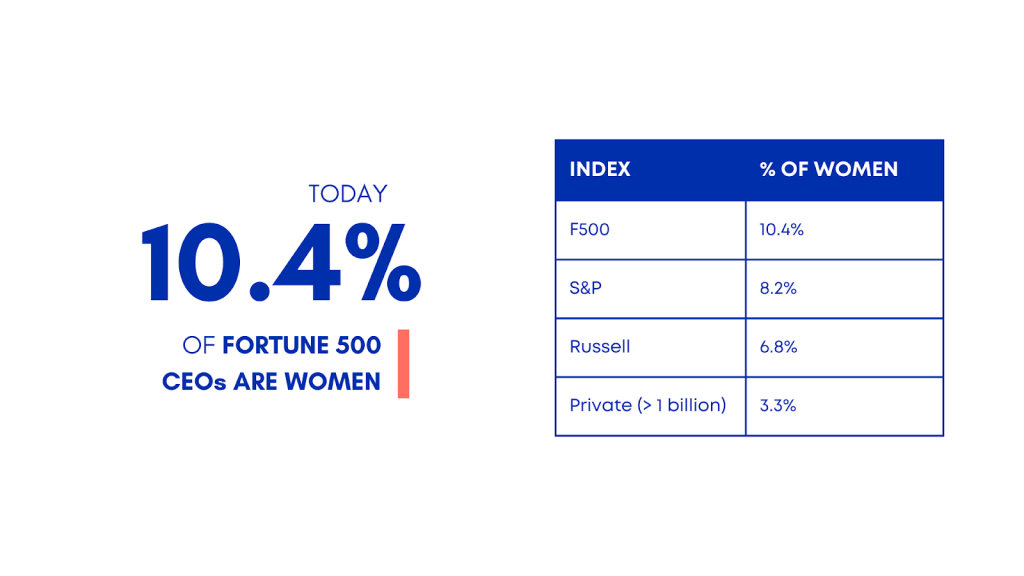 Since July of 2022, eight more women took on the roles of CEO in the Fortune 500 bringing the number up from 44 to 52, an all-time high. The S&P 500 went from 32 women last year to 41 in 2023, an increase of 30%. The Russell 3000 showed an especially encouraging increase in women CEOs, going from 186 in 2022 to 204 in the first half of 2023, an increase of 18 or 9.68%. For private companies with revenues over $1 billion dollars, there are 79 women CEOs.
The Power of Collaboration
Based on the impact of previous reports and their impact, WBC has partnered with three organizations leading the charge in advancing women to c-suite and CEO roles: Ascend, C200 and Catalyst. Our partners play a critical role in advancing position, pay and power for all women in business and together, we are committed to increasing the number of women and women of color in the C-suite, especially among the ranks of CEO.
More Than Just the Numbers
As in past years, this Women CEOs in America report offers much more than just the data related to women leading the country's major corporations. The data continues to highlight the following areas of focus:
Today's Challenges in Building a Diverse Pipeline
Obstacles Faced by Minority Women
The Promise and the Challenges That Current and Future Women Entrepreneurs Face
The Potential and Promise of B Corporations
Empathy as a Key Skill for All CEOs
These insights add depth and breadth to the data and help position the numbers in the context of not just corporate America but our society as a whole.
We have included brief biographical profiles of all the women CEOs in the Fortune 500, the S&P 500, the Russell 3000, in private companies with revenues over $1 billion .
These profiles underscore the diverse paths these women took to the C-Suite, the skills and competencies they bring to their roles, and the passion for their companies, their customers and their shareholders that continually motivates them to practice at the top of their games.
Change IS afoot

. While the numbers show slow progress at the highest levels of the country's leading corporations, there should be some optimism that gender equity is moving in a positive direction. There are more boards recognizing the number of talented women CEO ready forC-Suite leadership. There are more women board directors advocating for the advancement of talented women to CEO posts. While the current state of equity is being challenged across business, political and socio-economic landscapes, many companies still recognize that diversity, equity and inclusion is as much about good business as it is about good citizenship, and leaders at all levels need to be held accountable for supporting and promoting women on their teams.

Impact of a multi-generational workforce.

As new generations enter the workforce, they bring with them a deep expectation of tolerance and inclusion previously unseen in the business community. This diverse talent pool will not only help increase the actual number of women in higher corporate levels but will hold their companies accountable for acting as good global citizens.

Change must start at the top

. CEOs and boards must make it clear that diversity and inclusion are a necessity. They must do it with both their words and their actions, and most importantly recognize that gender diversity is a critical component of succession planning, hiring and promoting. Additionally, they should look to engage search firms that include talented and diverse candidates for C-Suite positions. 

Mentors and sponsors matter.

Women remain at a distinct disadvantage when it comes to mentors, networks, and sponsors. The lack of mentorship and sponsorship for women must be addressed both through individual career plans and intentional company behaviors. . Organizations must provide both formal and informal avenues for women to create mentor, networking, and sponsor relationships. Corporate leaders, both male and female, must step up and serve as mentors and sponsors to women in early and mid-career positions..
Diverse leadership is linked to performance. Women CEOs in the public and private sectors, and women leaders in government cast a positive light on the talents, skills and contributions that women bring to their companies and their communities. Additionally, numerous studies have pointed to the improved performance of organizations with diverse leadership. It is important for our society and its organizations to fully embrace the power and the benefits of gender diversity at the top. A goal which all four of our organizations actively promote.
By 2025
Women constitute 15% of Fortune 500 and S&P 500 CEO
10% of women CEOs are women of color
Women constitute 20% of those being considered for CEO role
20% of women executive candidates assessed for CEO roles
25% of candidates assessed for C-suite roles are women
8% of women occupying the C-Suite have substantial P&L responsibility
20% increase in women entrepreneurs running companies with revenue of $5 million or more
By 2030
Women constitute 20% of Fortune 500 and S&P 500 CEO
30% of candidates assessed for C-Suite roles are women and of these 25% are women of color
10% of all women in the C-Suite are women of color by 2030
17% of women occupying the C-Suite have substantial P&L responsibility
To move this work forward, WBC commits to:
Highlighting women CEOs and the businesses they lead through annual reports such as this, as well as other publications throughout the year.

In partnership with Ascend, C200, and Catalyst, continuing to track, profile, and publicly celebrate the appointment of new women CEOs.

Celebrating the strong leaders advancing women in the executive suite and toward the CEO position.

Actively supporting efforts to build pathways for women of color to be advanced to executive leadership, board directorships, and executive committees.

Designing a communications campaign to build awareness and amplify voices of support.

Sharing this report with CEOs through many sources, including the CEO Forum reaching 10,000 CEOs, with the Business Roundtable and other business trade associations.

Calling on current CEOs and Boards to be intentional in building a diverse pipeline for talented women as CEOs.
Join us to change the leadership landscape for all women in business.