Executive Summary and Forward
Women Business Collaborative (WBC) with Ascend, C200 and Catalyst, is proud to release the second annual report highlighting Women CEOs in America: Changing the Face of Business Leadership. The 2020 report was the first of its kind to provide a comprehensive breakdown of the women running Fortune 500, 1000, Russell 300, S&P, and Private Companies over $1 billion and entrepreneurs over $500 million across the U.S., and we are proud to release this updated list.  We salute the women on this list and the boards leading the way in their advancement. It is especially fitting that women are now leading both NASDAQ and the NYSE (Adena Friedman and Stacy Cunningham, respectively) and just mere weeks before this report was released, Mary Barra, CEO of General Motors, was named first woman chair of the Business Roundtable. 
While the numbers for women in leadership are moving in the right direction, 8.2% in the Fortune 500 1 up from 6.6% in 2019, progress is still too slow and not reflective of the nation.  The CEOs and executive leaders of corporate America wield immense and growing power and it's critical that more women's voices be in that mix.  Female consumers make up the lion's share of many purchasing decisions and a majority of Americans say they would like to see more women in corporate leadership, yet the Fortune 1000 shows that women hold only 7.3% of CEO positions.2 Women of color hold just one percent overall of these positions. While the numbers are better in the Russell 3000 Index, according to Equilar and the Wall Street Journal, 26% of the 307 companies named women as CEOs – there is still much work to be done.3
In this Women CEOs in America Report, we share the facts and tell the stories. The data here tells a story of positive change and yet also highlights the imperative that more women of color join the ranks.  
As an alliance, WBC is focused on working collaboratively with key stakeholders and like-minded partners to accelerate gender equity in corporate leadership.  In keeping with our core philosophy of "faster together" the report is a collaborative effort created in partnership with three non-profits, all partners in the WBC, that champion greater diversity in business: 
Ascend is the largest Pan-Asian business professional membership organization in North America dedicated to driving workplace and societal impact by developing and elevating all Asian and Pacific Islander (API) business leaders and empowering them to become catalysts for change.
C200's mission is to educate, support, and advance women in business. Its community includes the most successful women entrepreneurs and corporate business leaders who have joined together to change the face of business leadership.
Catalyst is a thought leadership hub that works with multinational corporations to accelerate women's leadership in corporate America.
Our organizations are focused on increasing the number of women and women of color in the C-Suite, especially in the top job. This report is designed both to celebrate and benchmark that progress and at the same time, highlight the work to be done, including how to remove remaining barriers to women's advancement in corporate America. 
Drawing on data from Fortune 500 and 1000, S&P, Russell 3000, and private companies, the report is a comprehensive look at women in corporate leadership including those running public and private companies, as well as women-led start-ups and female entrepreneurs with more than $500 million in revenue. The report also includes spotlights on the status of diverse women CEOs and an assessment of the women in the executive suite pipeline, a critical piece of the puzzle for elevating more women to the CEO role.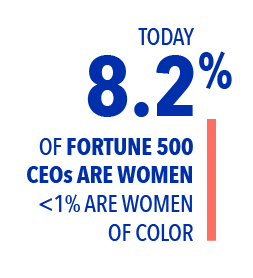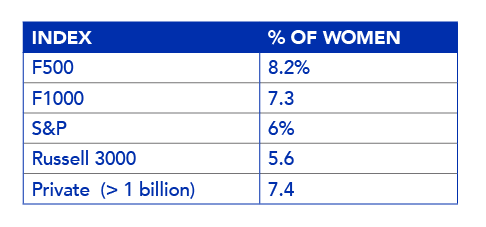 In 2021, the number of women running businesses on the Fortune 500 hit an all-time record of 41. Six more women joined the ranks of Fortune 500 CEOs: Karen Lynch of CVS Health, Jane Fraser of Citigroup, Patricia Poppe of PG&E, Lauren Hobard of Dicks Sporting Goods, Rosalind (Roz) Brewer of Walgreens Boots Alliance, and Thasunda Brown Duckett of TIAA. Even more exciting is that for the first time, two Black women are running Fortune 500 businesses (Roz Brewer of No. 16 Walgreens Boots Alliance and Thasunda Brown Duckett of No. 79 TIAA). And another executive is making history at the helm of the highest-ranking business ever run by a female CEO – Karen Lynch of No. 4 CVS Health.
We celebrate this progress while still noting that the overall percent of women of color in CEO jobs is still just 1% — a critical part of the work to be done. The number of women CEOs in the Russell 3000 also fell slightly from 2020 from 167 down to 162.  Again, a place to redouble and focus our collective efforts for advocacy and advancement. We will continue to track, monitor and announce CEO appointments throughout the rest of 2021 and into 2022.
What is the Status of Women CEOs in America?
WBC members share two abiding principles: a belief in the transformative power of business to effect change, and the imperative to create more diverse leadership teams who can meet the moment of a rapidly evolving world. We also believe firmly that representation matters, and what happens in the private sector can drive positive trends throughout institutions in every corner of the globe. Our businesses and our planet face unprecedented challenges. Now more than ever, corporations have a duty to model what's possible when we think beyond outdated notions of how business gets done.
Women have earned more educational and advanced degrees than men for nearly four decades, but we are just now starting to see that shift show up in the labor force. Women, ages 25 and older account for more than half of the college-educated workforce, an 11% increase since 2000.5
And yet, women continue to lag when it comes to corporate leadership. The business case for more diversity in leadership is clear, the COVID-19 pandemic reinforced the benefits of having more women in positions of influence and power including CEOs. We must focus on identifying and removing the barriers that impede that progress.
Building a Strong Pipeline of Diverse Executive Talent is Key
The good news is that we see an increased awareness among corporate leaders of the need to identify, nurture and promote women in leadership roles.  This has translated into a strong and growing percentage of women in mid-level management.  The key is building a strong and resilient pipeline that helps those leaders move from mid-level into opportunities to serve as CFO or COO, or in other roles with significant P&L responsibility.  If our companies are going to be reach their full potential, they need to enable the full spectrum of talent in their organizations. This means ensuring women in senior leadership have opportunities to move up, not out. When women lack a path to the executive suite, they are more likely to step out of the line of succession, diminishing succession weakening the pipeline of women to the CEO role. 
Advocates and Sponsors are Committing to Change
Foundational to a truly robust and resilient pipeline are C-Suite leaders and boards of directors who prioritize diversity in succession planning, hiring and promotion practices, and a cohort of search firms that are not afraid to advocate for gender diversity at the top. We have seen powerful examples of male leaders endorsing women and sponsoring them as CEOs, and forward-thinking search firms that increasingly present CEO slates that include strong, diverse women candidates.
When women are positioned at the top of an organization, they help themselves and each other. Many women CEOs reach back to support others in rising through the ranks – from middle management all the way up to the executive team. Credit Suisse found that female CEOs are 50 percent more likely than male CEOs to have a female CFO, and 55 percent more likely to have women running business units. Executive teams with more than 30% women are more likely to outperform those with fewer or no women.
Former PepsiCo CEO Indra Nooyi shares, "Don't just stand for the success of other women – insist on it."
As more women take on the top leadership role in their company – whether public, private, family-owned or as entrepreneurs – it shifts our collective mental model of what strong leadership looks like, in turn increasing opportunities for women at every level of business.
There is a paradigm shift brewing. Millennials and Generation Z, the most diverse generations in American history, are forming a new cohort of workers and consumers who prioritize purpose and expect the same of the places they work and do business with. Technology is fundamentally changing everything from how we work, live, play and do business. Our companies must embrace this shift and be positive forces for innovation and change, supporting a new generation of leaders who are fit for purpose and ready to tackle a host of business challenges – from climate change and globalization to digital transformation and business model disruption.
As businesses across sectors look ahead to 2025, we must redouble our efforts to grow inclusive C-Suite representation, and to insist that gender and racial equality be a priority for boards as they oversee succession planning.
At the same time that we continue to demand more gender parity in the executive suite, this report provides shining examples of what women can accomplish when given the chance to helm the ship. Through the leaders profiled in these pages, we offer a collective celebration of the changemakers who are already leading, listening, thinking, innovating, and caring for the advancement of their companies and the world.
Our Women CEOs in America Report is only the beginning of our commitment to supporting women in CEO leadership positions. We ask corporate America to work with us to collectively accelerate the following goals set by Ascend, C200 and Catalyst in collaboration with WBC.
Women constitute 15% of Fortune 500 and S&P 500 CEO roles
30% of women executive candidates assessed for CEO roles and of these
25% are women of color
25% of candidates assessed for C-Suite roles are women
10% of female CEOs are women of color
8% of women occupying the C-Suite have substantial P&L responsibility
30% of candidates assessed for C-Suite roles are women
25% of all women in the C-Suite are women of color by 2030
17% of women occupying the C-Suite have substantial P&L responsibility
20% increase in women entrepreneurs running companies with revenue of 5 million or more
We put out a call for companies of all types to join our movement to help strengthen the pipeline of women leaders and make diversity a priority in succession planning. For its part, WBC is committed to the following action items, grounded in the belief that accountability is critical to this work:
Highlighting women CEOs and the businesses they lead through annual reports such as this, as well as other publications throughout the year.
In partnership with Ascend, C200 and Catalyst continuing to track, profile, and publicly celebrate the appointment of new women CEOs.
Celebrating the strong leaders advancing women in the executive suite and toward the CEO position.
Actively supporting efforts to build pathways for women of color to be advanced to executive leadership, board directorships, and executive committees.
Designing a communications campaign to build awareness and amplify voices of support.
Sharing this report with CEOs through many sources, including the CEO Forum reaching 10,000 CEOs, with the Business Roundtable and other business trade associations.
Calling on current CEOs and Boards to be intentional in building a diverse pipeline and for the talented women as CEOs.
Applauding every woman and women of color appointment and together we will salute them as announced.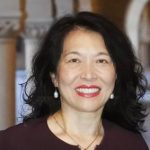 Anna Mok
President & Chair,
Ascend & Ascend Foundation
"The economic, workplace and societal contributions of women have gone unnoticed and under-rewarded for far too long. The research and data show that when women lead, they not only uplift themselves but their communities. It is not about a lack of qualifications and aspirations but about access and opportunity. It's now time to act on what we know, and for companies to hold themselves accountable for elevating women into leadership positions. In this process, companies must make sure to take note of the women of color who have had to overcome double-glass ceiling barriers to lead."
"As women business leaders, it is our responsibility to ensure the next generation has equal access to opportunities for advancement. Our report shows we are not there yet. Together, we'll continue to push for more diversity, inclusion, and belonging in C-Suites and boardrooms across all public and privately held companies."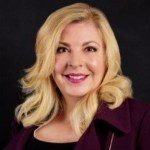 Kimber Maderazzo
Chairman of the Board
C200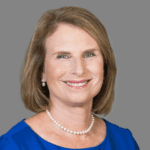 Lorraine Hariton
President & CEO
Catalyst
"While we've made steady progress in advancing women in the workplace, it's still lonely at the top. The 41 women CEOs and 5 women of color in the Fortune 500 was a record for 2021, but only 8.2% and 1%, respectively. We know the talent is there and our goal of achieving 15% women CEOs in the Fortune 500 by 2025 is achievable, equitable and good for business."
"The time is now for Gender CEO Leadership; this annual report is significant. WBC thanks Ascend, C200 and Catalyst and major resources such as Equilar for the data, stories and partnership.  More women are being appointed CEO and transitioning to the top job, but we envision more appointments and a call for action on more women and women of color CEOs ahead. We are optimistic that the tide is turning for women CEOs as has been the sea change in women and women of color joining public boards. Together we will witness and report on the appointments as women in the pipeline progress from Executive Suite to CEO. "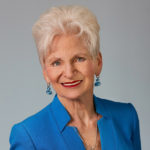 Edie Fraser
CEO, Women Business
Collaborative
Credit Where Credit Is Due
This report was created thanks to the hard work and talents of our organizations and many individual contributors. We thank WBC CEO Edie Fraser, Anna Mok, Ascend, C200 Chair Kimber Maderazzo, Catalyst CEO Lorraine Hariton, and Subha Barry of Seramount, along with dozens of employees of these three organizations for sponsoring and developing the Report. We thank the teams for gathering the data and research necessary to present an accurate picture of the state of women CEOs in America, specifically Erin Essenmacher for her writing support and insight, and Olivia Bankole, Erin Cieraszynski, Nich Vunn and McKenzie Dunleavy for their tireless work. We thank Chad Capellman and designer Mazana Bruggeman for delivering the Report to its final state. And we thank you, the reader, for your engagement and your commitment. We pledge to continue our work as we build upon this progress and look to the future.

WBC thanks Catalyst, C200, and Ascend and major resources such as Equilar for the data, stories, and partnership. We are optimistic that the tide is turning for women CEOs as has been the sea change in women and women of color joining public boards.