Closeup: Lakshmi Eleswarpu, Global Chief Information Officer, Sanofi
"Cutting-edge science and manufacturing, fueled by data and digital technologies, have the potential to turn the impossible into possible for millions of people around the world."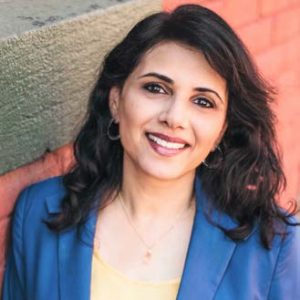 As Global Chief Information Officer for Sanofi, a $50 billion global healthcare leader, Lakshmi leads global digital operations, infrastructure, architecture, cybersecurity, and corporate applications. She drives results and business transformation by partnering with diverse business units, manufacturing plants, supply chain, finance, and corporate functions.
She brings to her position a passion for science and technology that stems from childhood and has been fueled by a diversity of positions across a variety of industries. "I am very fortunate to have been given so many various opportunities. I led digital transformation, technology innovation, and business continuity on a global scale at Fortune 50 companies."
Technology and Health Sciences: A Game Changer
Lakshmi sees the intersection of technology and health sciences as vital to positive social and economic change worldwide. "From virtual reality in manufacturing to big data analysis for drug discovery, technology enables unprecedented levels of innovation for our patients and for improving peoples' lives."
Additionally, Lakshmi points out that science, technology and medicine are critical for improving lives in rural areas, inner cities and remote places around the world, especially for women and children. "I sincerely believe that cutting-edge science and manufacturing, fueled by data and digital technologies, have the potential to transform the practice of medicine, turning the impossible into possible for millions of people around the world."
The Unique Responsibilities of Tech Leadership in the Health Industry
Lakshmi is critically aware that her position requires both a corporate and public responsibility perspective. Her commitment comes from her upbringing, where her parents taught her about integrity and that kindness should be "inherent in everything I do," and from Sanofi's corporate mission to making a difference across all populations including the world's most under-served.
"One of my top priorities is partnering with the business to ensure that medicines are manufactured with quality and reach our health care providers and patients. This includes preserving the safety and security of our people, patients, information and medicines."
4 Critical Leadership Qualities
Lakshmi sees leadership at all levels including these qualities
1. Be authentic: Lakshmi learned from experience that trying to emulate the style of someone else gets in the way of getting ahead and enjoying your work.
2. Be as much a student as a teacher: There is much to be learned from others. Good leaders are good learners and good listeners
3. Encourage talent in others: Lakshmi points out that her career was helped by managers seeing her potential sooner than she did
4. Be caring and compassionate: "Touch others in ways that help them grow and evolve as they achieve their dreams and change."
Helping to Make a Better Future for Women in Tech
Lakshmi emphasizes the importance of both individuals and organizations in helping pave the way for more women to rise to high-level tech positions. "Women are essential to driving innovation for outstanding business results and excellent value to our customers. Companies need to reflect in their workforce and leadership their own consumers and customers"
She is also a strong advocate for the power of mentorship, with its benefits to both mentors and mentees. "I truly believe we all rise together by lifting others." For mentees, the knowledge and advice of mentors helps them pinpoint opportunities, overcome challenges and "head down paths that may be less traveled."
Her advice to women starting out, as well as to seasoned executives: "Never stop being inspired and never stop inspiring others. Always have kindness in your heart, a smile for others, and love for people and the world."
Lakshmi's career spans 25 years in various operational and leadership roles at the most iconic companies in the world including Procter & Gamble, HP, Coca-Cola, Boeing and Sanofi. As an electrical engineer, she is passionate about STEM, diversity and inclusion, and global health causes. Lakshmi volunteers her time across several leading organizations including the Orbis Flying Eye Hospital which delivers groundbreaking surgical treatment and medical training to remote regions of the world. She is also a guest lecturer at McMaster University and speaks at national conferences including the Society of Women Engineers and Society of Asian Scientists and Engineers.