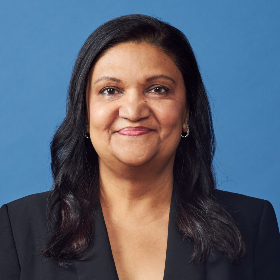 Archana Deskus
PayPal Holdings, Inc.
Executive Vice President, Chief Information Officer
PayPal Holdings, Inc.
Archana (Archie) Deskus is Executive Vice President and Chief Information Officer (CIO) at PayPal. In this role, Archie oversees PayPal's global information technology operations and is responsible for PayPal's Employee Technology and Experiences, Enterprise Data Platforms, Business Transformation Office, and Site Reliability and Cloud Engineering teams. Archie leads the planning, management, delivery, and transformation of our technology stacks, systems support, and infrastructure. Archie joined PayPal from Intel, where she served as Senior Vice President and CIO. As Intel's CIO, her organization capitalized on information technology to accelerate the company's significant growth goals across a diverse portfolio of businesses. Previously, she served as Senior Vice President and CIO for Hewlett Packard Enterprise (HPE). She oversaw NextGen IT, a company-wide transformation program, standardizing business policies, processes, and the underlying IT systems globally. Earlier in her career, she held CIO roles at Baker Hughes, Ingersoll Rand, Timex, and United Technologies. She serves on the board of directors of East West Bank and Cognizant. Archie earned her MBA from Rensselaer Polytechnic Institute and holds a Bachelor of Science in Business Administration and Management Information Systems from Boston University.