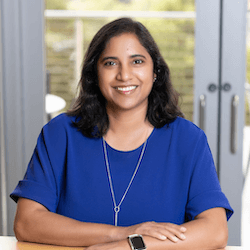 Karuna Annavajjala
Silicon Laboratories Inc.
Chief Information Officer
Silicon Laboratories Inc.
Karuna Annavajjala serves as Chief Information Officer for Silicon Labs, where she oversees IT services for the company's global business operations including strategic planning, infrastructure services, business application platforms, cybersecurity and data privacy, and IT service delivery. Prior to joining Silicon Labs, Karuna served as CIO of Corporate Functions at AIG and as the executive director of technology delivery at TIAA. Karuna holds an MBA from the University of Michigan, a master's degree in computer science from West Virginia University, and a bachelor's degree in engineering from Osmania University. In addition, she completed an executive leadership certificate at Cornell University, S.C. Johnson Graduate School of Management. Karuna is passionate about STEM education for girls, is an advocate for women in technology, and is actively involved in various local and international nonprofit causes including Thinkery where she serves on the board of directors.