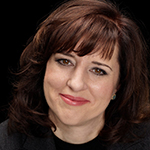 Mary McDowell
President & CEO
Board Director: Mitel, Autodesk
Mary T. McDowell is an experienced technology leader who brings more than 30 years of industry expertise to her role as President and Chief Executive Officer, leading Mitel's global strategy and business performance.
Mary's strong operating experience in both public and private companies and deep international background have given her an intimate understanding of how to drive successful transformations and revenue growth across mobile, enterprise, and consumer technology sectors. Most recently, Mary was CEO and member of the board for Polycom, Inc., a leader in enterprise communications and collaboration, where she led the company through a strategic transformation and successful sale to Plantronics in 2018.
Previously, Mary served as Executive Partner at private equity firm Siris Capital, LLC., and Executive Vice President at Nokia, where she was in charge of the company's $15 billion global feature phone business and oversaw Nokia's developer and app store organization. She also held senior positions at Compaq Computer and Hewlett Packard. Mary currently serves as a board member for multinational software company Autodesk, Inc. and multinational events and publishing company, Informa, plc. She is also a member of the board for the Committee of 200, a nonprofit dedicated to the advancement of women in business.
Mary holds a Computer Science degree from the Grainger College of Engineering at the University of Illinois.