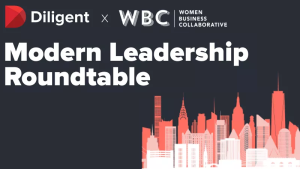 WHAT IS THE MODERN LEADERSHIP ROUNDTABLE?
This one-day roundtable event will feature CEOs, C-Suite, and leading change agents stepping forward and putting sustainability, diversity, and accountability at the heart of business. From the Boardroom to the CEO and C-Suite and to partner organizations, we will spend the day discussing how to drive transparency, impact, and accountability for gender equity, DEI, and corporate purpose.

Agenda (All Times in ET)
---
8:45 AM – 9:00 AM
Welcome
Wells Fargo Introduction by Bei Ling, Senior Executive Vice President, Head of Human Resources
High Level Welcome by Edie Fraser, CEO, WBC and Lisa Edwards, COO, Diligent on Modern Leadership: Gender Equity and DEI Roundtable
---
9:00 AM – 9:50 AM
Diversity with Purpose: Don't get left behind: Why DEI is a competitive advantage
Moderators
TheFind, Felicity Hassan, Co-Founder, WBC Board Director
Panelists
Accenture: Nellie Borrero, Managing Director, Senior Strategic Advisor, Global Inclusion & Diversity
Diligent: Greg Vargas, Vice President, Talent + Diversity, Equity, Inclusion & Intersectionality
Paradigm 4 Parity: Sandra Quince, CEO
AESC: Lynn Murphy Rivera, Managing Director
---
9:55 AM – 10:45 AM
Diversity with Purpose: How Chief Diversity Officers are working with their CEO and Leadership team to effect change.
Moderator
Felicity Hassan, TheFind, Co-Founder, WBC Board Director
Panelists
Akamai: Khalil Smith, Vice President, Inclusion, Diversity, and Engagement
Newscorp: Joanne Dowdell, Senior Vice President, Global Government Affairs
P&G: Shelly McNamara, Chief Equality and Inclusion Officer
IBM: Lindsay McClain, Director, D&I Strategy & Capability Development
---
11:00 AM – 12:30 PM
Voice of Women Board Leaders
Moderator
Pam Craig, President, NY Women's Forum, Honorary WBC Advisory Council, Progressive Board, Chair, Technology Committee, Corning Board, Chair, Audit Committee, Merck, Chair, Compensation Committee, 3M Board
Panelists
Lisa Edwards, Diligent, President & COO, Colgate-Palmolive Board
Tonie Leatherberry, Zoetis Board, American Family Insurance Board
Mary McDowell, Chair, Mitel Board, Autodesk Board
Maria Morris, Wells Fargo Board, S&P Global Board
Paula Price, Accenture Board, Bristol Myers Squibb Board, Warner Brothers Board
---
1:30 PM – 2:35 PM
Companies of Purpose: Gender, Equity and Diversity to Build Talent, Brand and Community: Driving Purposeful Leadership with Company and Community
Opening Remarks
Zoetis, Kristin Peck, CEO
Companies of Purpose ESG:
Tata Consultancy Services (TCS), Balaji Ganapathy, Global Head of CSR and Chief Social Responsibility Officer, WBC Board Director
Moderators
Gender Fair, José Zeilstra, CEO
Women Business Collaborative (WBC), Edie Fraser, CEO
Panelists
CBRE, Rachel Vinson, President, Debt & Structured Finance, U.S.
DSG, Aileen Alexander, CEO
Genworth, Lynn White, SVP and Chief of Staff
IMPACT Group, Lauren Herring, CEO
Kolar Design, Kelly Kolar, President & Founder
USAA, Randy Termeer, Property and Casualty Division President
---
2:40 PM – 3:40 PM
Companies of Purpose: Gender, Equity and Diversity to Build Talent, Brand and Community: Championing Purpose from Talent to the Marketplace
Moderators
Gender Fair, Johanna (José) Zeilstra, CEO
Women Business Collaborative (WBC), Edie Fraser, CEO
Panelists
IBM, Justina Nixon-Saintil, Vice President and Global Head, Corporate Social Responsibility
My Powerpak, Krista O'Malley, CEO
Pinnacle Global Network, Allison Maslan, CEO
Sanofi, Lakshmi Eleswarpu, Global Chief Information Officer
Syndio, Maria Colacurcio, CEO
Verizon, Krista Bourne, COO
---
3:45 PM – 5:15 PM
Action Leaders/Partners for DEI and Purpose
Special celebration with WBC partners to highlight the landmark successes of boards and companies in the last year have made towards driving diversity, equity and inclusion across the business landscape
Moderator
Gwen Young, COO, WBC
Panelists
Christine Bongard, President, The WIT Network
Noreen Farrell, Executive Director, Equal Rights Advocates
Judith Goldkrand, Senior VP. Commercial Banking Leader, Wells Fargo, WBC Board Director
Lorraine Hariton, CEO, Catalyst
Gail Coles Johnson, Vice President and Chief Human Resources Officer, The Executive Leadership Council (ELC)
Kimber Maderazzo, Chair of the Board, C200
Loretta McCarthy, Co-CEO and Managing Partner, Golden Seeds
Rosina Racioppi, President and CEO, Women Unlimited
Sharon Reynolds, President & CEO, DevMar Products, LLC, WBC Board Director
Cid Wilson, President and CEO, HACR
Senior Leadership: Board, CEO & The C-Suite
Action Leaders: Underrepresented Industries
Diversity, Equity, and Inclusion: Gender Parity and the Pipeline
---
5:15 PM – 5:20 PM
Closing
---
Diligent is the global leader in modern governance, providing SaaS solutions across governance, risk, compliance, audit and ESG. Serving more than 1 million users from over 25,000 customers around the world, we empower transformational leaders with technology, insights, and confidence to drive greater impact and lead with purpose.
Women Business Collaborative (WBC) is an unprecedented alliance of over 75 women business organizations and hundreds of business leaders building a movement to achieve equal position, pay, and power for all women in business. Through collaboration, advocacy, action, and accountability, we mobilize thousands of diverse professional women and men, business organizations, and public and private companies to accelerate change.