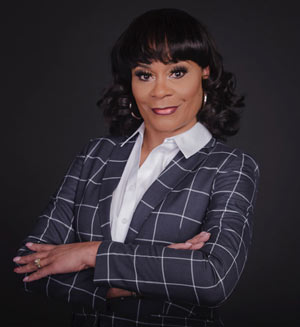 Sharon Reynolds
President/CEO,
DevMar Products, LLC
Sharon W. Reynolds, President/CEO, launched DevMar Products with an idea to distribute
environmentally-conscience, pathogen remediation products. 
Sharon is the founder of DevMar Global Healthcare Solutions, a distributor of human donor milk for at-
risk infants in the NICU, Bryla J Couture Clothiers, designer-inspired fashion for a purpose for the
fashion conscience woman, and DevMar Manufacturing, a facility providing quality control oversight
for its specialty products.
A serial entrepreneur, Sharon was named the Top 20 in 2020 for Enterprising Women, 2019 WBE Star
by the Women's Business Enterprise National Council (WBENC), and the 2019 Enterprising Woman of
the Year award by Enterprising Magazine. She recently received the 100 Black Men/Women
President's Organization Women of Color Achievement Award and was honored with the Power Moves
Award as Best Entrepreneur of the Year in 2018. Sharon received honors for the 2018 Nashville
Business 100 Leading Women and was awarded the MBE magazine's WBEs Who Rock award and a
2019 cover photo biographical story.
Sharon was named to the Women Business Collaborative Board of Directors and co-chair of the WBC
Advisory Council.
Sharon was selected to serve on the Enterprising Women Magazine's Advisory Council, Second Harvest
Food Bank Board and Women Business Enterprise-South Board of Directors.