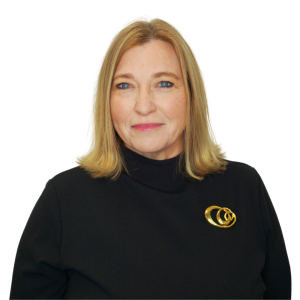 Amy Bunton
Amy Bunton oversees all operational aspect of Pathway Lending. In the role of Chief Operating Officer Ms. Bunton provides leadership and direction of the organization in keeping with the annual operating plan and strategic plan. Ms. Bunton provides strategic oversight of all programs of the organization as well as develops and manages financial, philanthropic, and community partnerships – all contributing to stronger outcomes for Pathway Lending and the clients it serves. Amy worked in the Tennessee Department of Economic and Community Development where she served as Deputy Commissioner and at the TVA as the leader of the Existing Business and Industry Initiative and Economic Development Loan Funds. Amy also has a background as a small business owner.
Amy Bunton joined Pathway Lending as Senior Vice President and the Tennessee Rural Opportunity Fund Manager for West Tennessee in March of 2008. Amy was previously at the Tennessee Valley Authority where she oversaw the TVA's Existing Business and Industry initiatives and Economic Development Loan Funds. She was responsible for the oversight of TVA's efforts with power distributors, communities, and industry to create new jobs and generate capital investment in the
Tennessee Valley. Under Amy's leadership, TVA funded more than $100 million in investments to firms and communities throughout the Southeast and helped create more than 200,000 jobs. Prior to her role with TVA, Amy served as the Assistant Commissioner of Administration in the Tennessee Department of Economic and Community Development. She was responsible for managing the daily operations of the department including all federally funded programs such as CDBG and
Appalachian Regional Commission (ARC). While at ECD, Amy also served as the Director of Existing Industry and through the Manufacturing Means Jobs Initiative, coordinated federal and state agencies to assist Tennessee's manufacturing sector. Amy's team was hailed as the Top Economic Development Group in 2002.
Amy has extensive experience in working with small businesses. While at the University of North Carolina and the University of Tennessee, she consulted with a portfolio of firms to help attract public contracts and obtain financing. She has also served as a logistics analyst for the Department of Defense. Amy obtained her Bachelor of Arts Degree from Virginia Wesleyan College with honors as well as a Master's Degree in business administration. She has served as a board member of the Tennessee Manufacturing Extension Program, the Tennessee Automotive Manufacturers Association, the Nashville Association of Women Business Owners, Technology 2020, and Pathway Lending. She is the
past president of Business Retention and Expansion International, a professional economic development organization committed to the economic development strategy of assisting existing business and industry.